We have seen how this pandemic has changed the way people interact with each other. So and so that multinational organizations are also adapting to the new norm of letting their employees work from home. This has given rise to video calling and the first thing that comes to our minds, that has gained popularity and has seen a surge in its usage is the Zoom app. After which all other tech companies started venturing or polishing their already available video calling apps. The same is the case with Google Meet and Google Chat.
In the past few months, Google has tweaked and added tons of features to the Google Meet to make it on par with the Zoom app. In fact, it has also replaced Google Hangouts with Google Chats. Both Google Chat and Meet are now available to everyone owning a Google account. And taking things a bit more forward, Google has integrated both Google Chat and Meet straight into the Gmail app. Exaggerated it may sound but Google stuffed both the apps right on the sidebar. Many people have found this pretty annoying.
Good thing is that we have a solution for all those who are looking at how they can hide this forced Google Meet and Chat option under the Gmail sidebar. The solution is pretty simple, only when you know it. This post aims exactly to do that. So, with that being said, let us jump straight into the article and see how you can hide the Google Meet or Chat from the sidebar.
How to Remove Chat or Meet from Gmail Sidebar?
It is good to have easy access to two of the important things that Google is offering as a solution for all the users who are either working from home or are attending their classes online. However, for normal users, it is pretty annoying. One of the biggest concerns that users have raised regarding this is that they have now limited visibility to Gmail options. Moreover, if you do not use Google Meet or Chat, then the options are pointless and will simply lye around in the sidebar.
Let us see the steps that you can follow to disable Google Chat and Meet from the Gmail sidebar
Open the web version of Gmail.
Click on the gear icon or Settings icon.

Click on the See all settings option.

Head over to the Chat and Meet tab as shown in the image below.

Simply select Chat off option for Google Chat and Hide the Meet section in the main menu option for Google Meet.

That's it!
After this the page will reload automatically and will make the Google Meet and Chat option dissappear from the sidebar. Here is how your Gmail ap will look once you have disabled both the Google Meet and Chat options: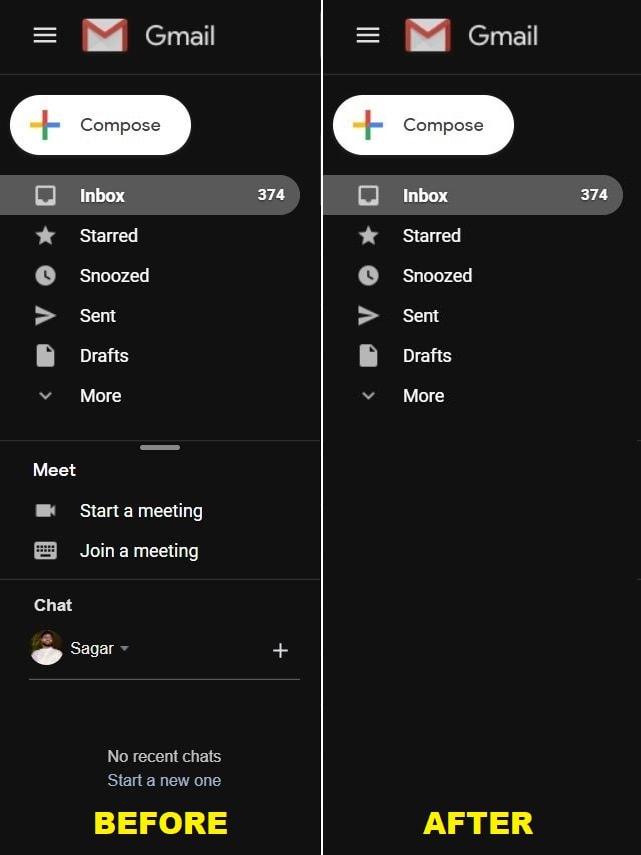 Wrap Up!
So, there you have it from my side in this post. The steps are pretty simple and straightforward. There is no complex steps involved in turning off Google Chat and Meet option from the Gmail sidebar. If you liked this content and want to read more content, for more such awesome coverage, you can head over to our check out our Windows Guides, Gaming Guides, Social Media Guides, iPhone, and Android Guides to read more. Make sure to subscribe to our YouTube Channel for awesome videos related to Android, iOS, and Gaming. So, until the next post…Cheers!