Described as "soccer with rocket-powered cars," the vehicle-based soccer video game by Psyonix, Rocket League, has been doing very well with the gaming community. The game was initially released for Microsoft Windows and PlayStation 4 in 2015 before being ported over to the Xbox One and Nintendo Switch later. The game has been largely praised for its engaging graphics and dynamic gameplay. It went on to win a number of prestigious awards, including PlayStation Universe's "Best Sports Game of E3" and Gaming Trend's "Best Multiplayer Game of E3". It sold over 10 million copies and had at least 40 million players by early 2018. Today our guide will deal with VCRUNTIME140.dll or MSVCP140.dll Missing or not found error.
However, the PC version of the game has also been facing a lot of bugs and technical errors. Overcoming these has been proving to be a significant challenge for players. One of the most troublesome of these issues is the MSVCP140.dll or VCRUNTIME140.dll Missing or Not Found error. This glitch interferes with other programs in the system as well, such as Adobe Photoshop and Skype. Thankfully, it's possible to fix it. Given below is our guide that will help to fix the VCRUNTIME140.dll or MSVCP140.dll Missing or not found error in Rocket League.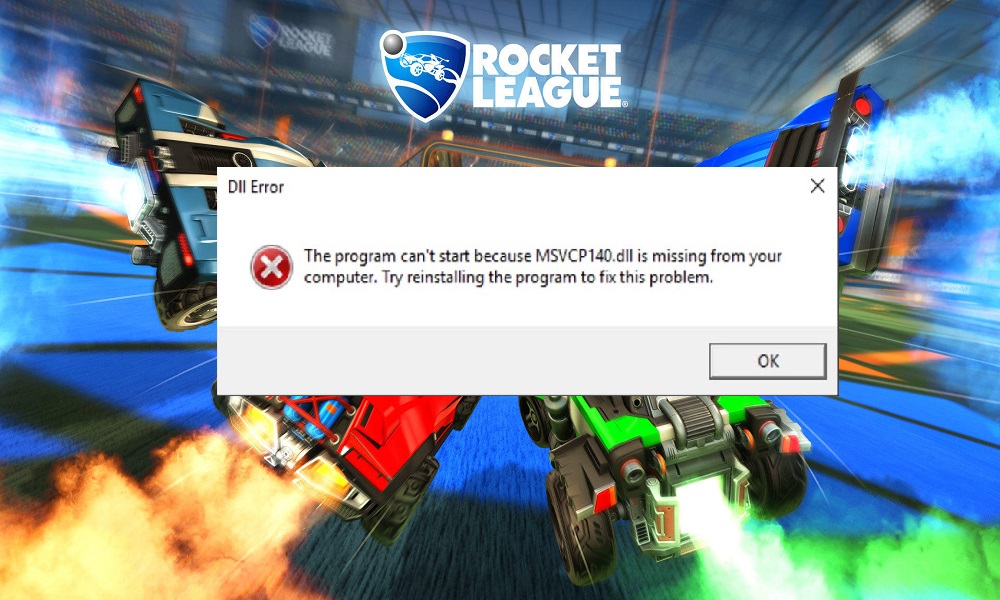 What is the Issue?
The issue is neither a critical error nor a bug. It is a visual C++ and runtime error that is caused in a system due to corrupt visual C++ data files. Whatever the reason might be, but the main problem is the users are facing a tough time dealing with it. So it must be fixed as early as possible. We should mention that this error is exclusive to Microsoft Windows and generally turns up after installing or updating the Windows OS version on your computer. The actual file itself, VCRUNTIME140.dll, is a Dynamic Link Library file that is loaded when an application or the system itself requires it. In case the .dll file gets corrupted, the application will not be able to run as well. Here's what you can do to fix this issue at hand.
How to Fix Rocket League MSVCP140.dll or VCRUNTIME140.dll Missing or Not Found?
Now we will provide the best fixes that will help you solve the issue of MSVCP140.dll and VCRUNTIME140.dll errors together or whatever you get. We advise all the users to go through each fix carefully. Moreover, if one of the other does not work, do continue with the next fixes, and eventually, your problem will be fixed. So here are the fixes.
Fix 1: Register the VCRUNTIME140.dll File
Registering your VCRUNTIMe is essential since sometimes the operating system is unable to find the necessary files that are required. So registering this visual C++ file fixes most of the issues. Follow the steps below to register.
Click on Start and type cmd.
Right-click on "Command Prompt" and choose "Run as Administrator."
Type the following command:regsvr32 /u VCRUNTIME140.dll
and then press Enter. This will de-register the file.
Re-register the file with this command:

regsvr32 VCRUNTIME140.dll

Restart your PC and check if the error has been fixed. If not, move onto the next step.
However, if this did not help, move on to the next fix.
Fix 2: Install Microsoft Visual C++ Redistributable (Visual Studio 2015)
This is by far the best and the easiest fix of this guide. Moreover, reinstallation is always known to fix most of the runtime error issues, and VCRUNTIME140.dll is no different. Follow the steps below to install and reinstall.
Download and install the Microsoft Visual C++ 2015 Redistributable Update 3 RC file from the official Microsoft site (Link Below)
Launch the .exe file and choose the x64 or x86 files when prompted according to your system.
Agree with the terms and conditions and then click on "Install." Restart your PC.
Download Microsoft Visual C++
This is a tried and tested method and works with almost all users. However, in some exceptions, it did not help you, then go for the next fix.
Fix 3: Repair Microsoft Visual C++ 2015 Redistributable
Repairing Microsoft Visual C++ is quite easy; you just have to select Repair instead of uninstalling. So follow the steps below to try it out yourself. However, this is too known to solve most of the issues.
Navigate to Control Panel > Add/Remove Programs and select Microsoft Visual C++ 2015 Redistributable (x64 or x86). Click on "Change."
You will have a choice to Uninstall or Repair it. Choose Repair, and restart your PC when done. If the issue still isn't resolved, read the next section below.
If you still face the runtime error code, then probably it is not the problem of Visual C++. There might be some malware attack on your system that has deleted some essential file system arrays. Follow the next fixes to solve the error.
Fix 4: Search for System Malware
Searching for system malware or virus is not that easy nowadays. You should always be careful before downloading any file or prohibit the following of unknown links. However, to check for system malware, open your antivirus, and proceed for a full scan. Don't click on a quick scan. Moreover, we have created a separate guide that will help you protect in this cyber world. You can check it here. After checking, you can move on to the next steps.
Fix 5: Run a System File Checker scan
This system file checker is quite helpful in solving most of the system errors. This checks whether there is an issue like missing or corrupted files in the system.
Click on Start > Type Command Prompt and right-click on it. Select "Run as Administrator."
Type the following command:

sfc/scannow

Then hit Enter.
Wait for the issue to be checked by the system. When it's done, restart your computer and re-launch the game.
If all of this fails or succeeds, the last fix must be followed to fix all the issues in the PC.
Fix 6: Update your Windows OS
Windows updates cannot always be blamed for introducing new system errors. They even solve most of the errors a system has. To update your operating system, follow the steps below.
Navigate to Start > Settings > Update & Security > Windows Update > Check for updates
Download any latest update there, if available. Wait for it to be installed, and then restart your computer and re-launch the game.
After all, if you still face the issue, it is best to opt for the reinstallation of the Rocket League. Just go to the control panel, go to add or remove programs. Then find your game and uninstall it. Now restart your computer and install the game from steam.
We hope our guide comes in handy to help you fix the VCRUNTIME140.dll Missing error in Rocket League. GetDroidTips works seamlessly for you people day and night to offer the best iPhone Tips and Tricks, PC tips and tricks, Games and Android Tips and Tricks. So it does become your task to subscribe to our YouTube Channel. Moreover, there, the benefit is yours. We are offering a $150 giveaway contest for all our subscribers who watches our videos there. Now signing off here, to prepare another best guide for you. You can also comment down below with your feedback and queries with your name and e-mail ID, and we will love to help Happy gaming!