Call of Duty: Vanguard is one of the first-person shooter video games that has been released in 2021, developed by Sledgehammer Games and published by Activision. As a Call of Duty instalment in the franchise, it seems that most of the titles do have their own share of issues from graphics to controls to crashing to other errors, etc. Now, we can see that the COD Vanguard Mic Not Working issue on PC, PS4/PS5, or Xbox has become another major thing.
When it comes to online multiplayer FPS games, mic or voice chat-related issues affect the gameplay experience whatsoever. It's one of the frustrating things players may encounter during the gameplay that needs to be addressed earlier. Well, the chances are high that you're encountering such an issue due to several reasons that may occur at your end. So, it would be best if you tried fixing this issue at your end, and then you can ask for developer support.
Fix: COD Vanguard Mic Not Working on PC, PS4/PS5, or Xbox?
According to multiple reports on several online forums, Call of Duty Vanguard mic or voice chat-related issues are creating unexpected chaos and nothing else. This particular issue appears to a lot of players, no matter whether you're a PC or a console user. The mic bug is preventing COD Vanguard players from talking with other players in the gameplay. Luckily, here we've shared all the possible workarounds to try to fix it.
1. Restart the Game
It seems that a normal restart of the problematic game on the PC or console can fix multiple glitches or temporary cache data issues whatsoever. If in case, you're experiencing it even after rebooting the game then make sure to follow the next method.
2. Reboot the PC or Console
Try rebooting the PC or console whatever you're using to refresh the system glitch or any kind of temporary cache issues. Some affected players have already fixed the mic-related issue after restarting the gaming device. So, it's a better idea to try it once.
3. Check If Microphone is Turned OFF
Sometimes the microphone isn't turned on which may eventually trigger the mic not working issue. Make sure to turn on the microphone or unmute it to check if that fixes the issue.
4. Test Out Connected Microphone
Make sure to check out the input device on the PC or the console to which one is connected. Connecting the microphone at a different port or selecting the different audio device from the settings can also cause such an issue in most scenarios. If you're using a PC then navigate to Windows Settings > Click on Sound > Click on Troubleshoot.
5. Check the Volume of Microphone
It's also worth mentioning to check out the volume of the microphone so that you can understand whether the volume level is set to a maximum side or not. A low volume level or the turned-off microphone will obviously gonna lead to mic not working or voice chat not working issue because you won't be able to talk with other players or vice versa. You can check the same via the sound settings menu on Windows.
6. Use Another Microphone
Try using another microphone on your PC or console to check whether the problem has been fixed or not. It looks like that using another microphone has fixed the mic not working issue for some COD Vanguard players. Whereas try connecting the microphone to another USB port or jack as well.
7. Check for Physical Damage
Check out whether your microphone is physically damaged or not. Sometimes the jack or the wire may have any fault or physical damage that can cause this issue.
8. Update Microphone Drivers
Try updating microphone or headphone drivers on the PC (if any). To do so:
Press the Windows + X keys to open the Quick Link Menu.
Click on Device Manager > Double-click on Audio inputs and outputs to expand the list.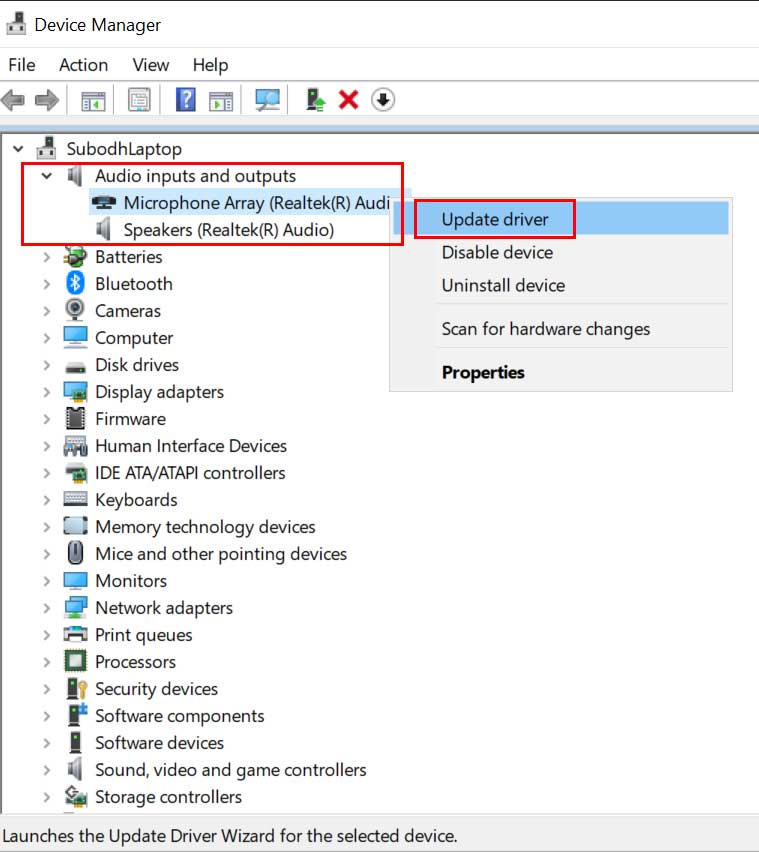 Now, right-click on the particular input device that is connected and you're trying to use.
Select Update driver > Click on Search automatically for drivers.
The system will check for the available update and start installing it.
Once done, make sure to restart the computer to apply changes.
9. Turn On In-Game Voice Chat
If you're tired of trying out all of these methods then make sure to turn on Voice Chat from the in-game menu. If it's turned off for you by default then turn it on right now and check for the issue again.
Open the Battle.net client > Launch COD Vanguard.
Head over to the Main menu > Click on Multiplayer.
Go to Settings > Select Audio.
Finally, turn ON the Voice Chat option.
Make sure to increase the Voice Chat Volume by around 50% or higher.
Set the Microphone Volume to 50% or higher.
Select Voice Chat Effect to No Effect from the list.
10. Enable Crossplay Communication
If none of the methods worked for you then make sure to turn on the Crossplay Communication option in the game menu to cross-check whether the problem has been fixed or not. If the crossplay communication is disabled then your account may not allow voice chat between multiple platforms. To do this:
Launch the Battle.net desktop client > Open Call of Duty Vanguard.
Go to the Main menu > Click on Multiplayer > Click on Settings.
Select Account & Network > Navigate to Crossplay Communication and Turn it ON.
Now, you should be able to fix the mic not working issue on Call of Duty Vanguard.
That's it, guys. We hope this guide was helpful to you. For further queries, you can comment below.