War Thunder is very upfront about what it is; it says this is a game about tanks and planes. This is generally pretty good, especially for a free-to-play game. The models for background objects like buildings or trees obviously take a backseat to vehicle models, which is fine. They do their job though both suffer from what I'm going to call a legacy problem.
Yes, War Thunder has been around for so long that the older models are noticeably dated when compared to the newer ones. However, that might also be the reason why users have to face many problems day by day. Talking about the recent case, then many users started reporting that they were furious about any error due to which War Thunder stuck on never-ending connecting to server screen.
When we investigated this issue, shockingly, our team found out-of-the-box facts behind this error. However, on behalf of that, our team gathered some fixes that can help you fix if the War Thunder is stuck on connecting to the server screen.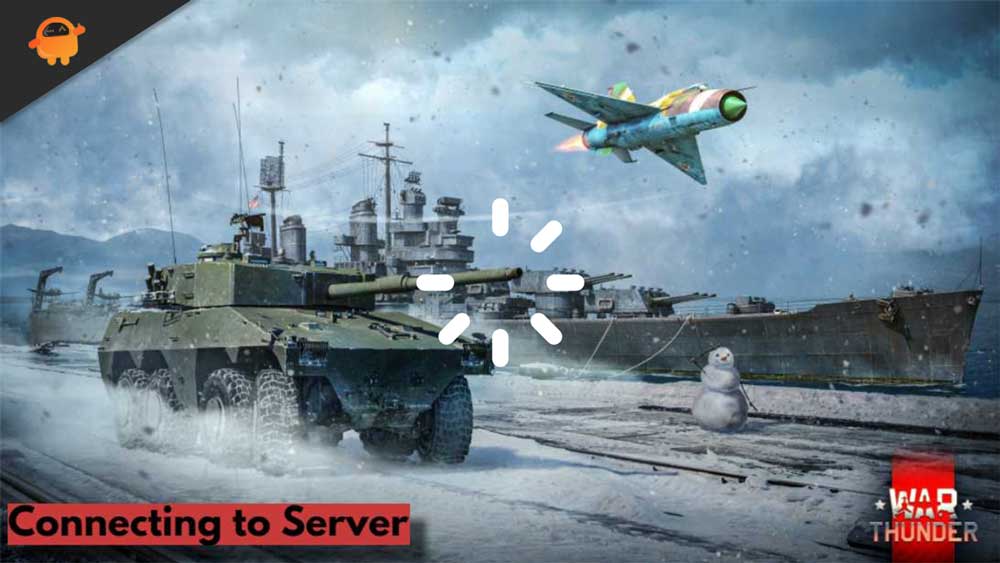 How To Fix War Thunder Stuck on Connecting to Server
I know it is very disheartening to see our favorite game facing criticism due to some problem causing bugs. But that doesn't mean we have nothing to do with fixing the error. If you are also stuck for hours on connecting to the server screen while trying to play War Thunder, then follow the methods we have discussed below to fix the issue permanently.
Fix 1: Restart Game as Well as PC
The very first method, you can try is to restart the game because sometimes it is just caused due to temp files. So, once you rerun the game, it removes them and gives you a fresh new start. So, rerun the game and check if the issue gets fixed or not. Meanwhile, if you are still stuck connecting to the server screen, we suggest you reboot your whole system and not just reboot; you must power cycle your PC.
So, to do so, shut down your system and plug out all the cables and wires. Then, wait for at least 20 seconds before plugging them in. After that, boot up your PC and run the War Thunder to check if the issue gets resolved or not. Well, most probably now the error gets fixed. But, if not, follow the next methods.
Fix 2: Check For Server Outage Issue (DownDetector)
If, even after rebooting your PC, the error won't get fixed, then there are chances that the game server is down due to some reason. So, to confirm that whether the server is live or not, you can simply head towards the DownDetector and verify if there are other players who reported the same error or not.
We suggest you hit the I have a Problem with War Thunder button to report your issue. If there is an issue going on, except waiting, you have no other choice because once the developer makes their server live, the game starts working again.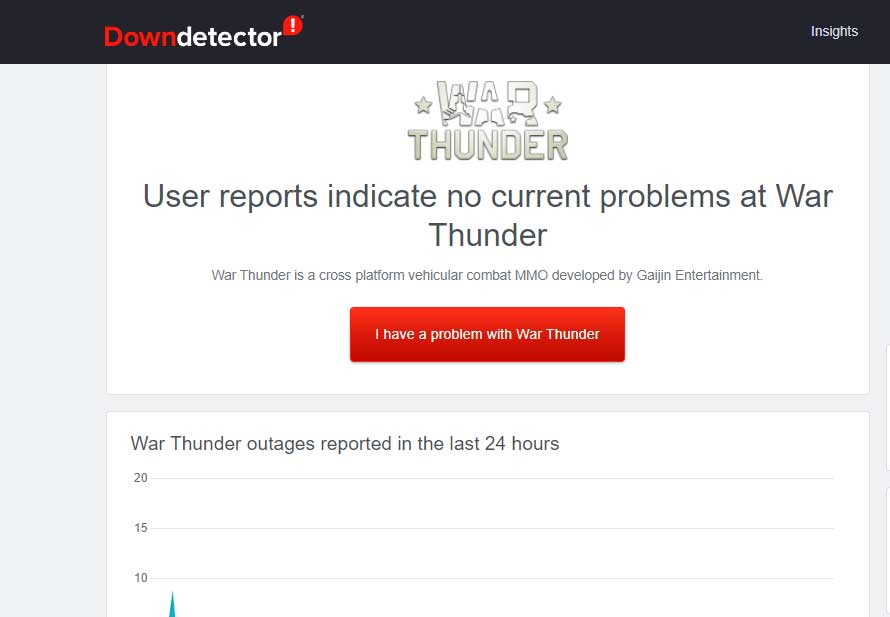 Fix 3: Follow Official Twitter Handle
You can also make sure to follow the War Thunder on their official Twitter handle as the officials keep their users updated if there is anything going on with their server or game. However, not only that, but you'll also get the latest news and upcoming event details there. So, we highly suggest you follow them on Twitter using the link we have given.
Fix 4: Make Sure You Have a Good Internet Connection
It is also very crucial to have a good internet connection, especially when you are playing a server-based game, because if your internet connection fluctuates continuously, then chances are there that your game keeps disconnecting from the server, which further results in never-ending connecting to the server screen.
Therefore, to check your internet speed, simply hover to the Ookla speed tester website and check your internet connection speed. However, if you find that your WiFi connection is not providing you with proper speed, then we suggest you contact your ISP provider and ask them to fix it.
Fix 5: Power Cycle Your Router And Modem
Well, in case your WiFi router is not giving a good connection speed, then before contacting the ISP provider, you must power cycle your router and modem to make sure that if the issue is pop-ups due to some temporary glitch, then it should get resolved just by power cycling the device. So, to do so, simply turn off the power of your router and modem and then plus out all the wires.
Then, wait for at least 30 seconds; thereafter, plug them in and wait until all the lights start blinking, especially the internet light. After that, again, hover to the Ookla speed tester website and check the connection speed. If still it won't get fixed, then contact the ISP provider.
Fix 6: Update Windows
An outdated version of Windows may also be the reason behind this error. However, it is very crucial to keep our system OS up-to-date because this ensures better performance. So, here are the steps that you need to follow to check if any update is there for your device:
Firstly, hover to the Windows Search bar and search for Windows Update Settings.

After that, on the next page, hit the Check For Update button.

Then, wait until it searches for updates. Thereafter, if an update is available, then download and install it on your PC.
Fix 7: Change DNS Settings
Changing the DNS settings may also help you fix the War Thunder is stuck on connecting to the server screen issue. So, you can try this out by following the below-mentioned steps:
Open

Control Panel.

Then, go to the

Network and Internet

>

Network and Sharing Center.

After that, go to the

Change adapter settings

.

Then, select the connection for which you wish to configure DNS such as Ethernet or WiFi, and if you ask for an admin pass, then give it for confirmation.

Then, shift to the

Networking

tab. Thereafter, select

Internet Protocol Version 4 (TCP/IPv4)

or

Internet Protocol Version 6 (TCP/IPv6)

located inside

This connection uses the following items

section and hits the

Properties

option.

After that, click on

Advanced

and choose the

DNS

. Then, hit the

OK

.

After that, choose the

Preferred DNS server

or

Alternate DNS server

and use the following IP.
IPV6: 2001:4860:4860::8888 or/and 2001:4860:4860::8844.

IPV4: 8.8.8.8 or/and 8.8.4.4.
Also Read: Fix: Mount and Blade 2 Bannerlord Stuck on loading screen
Fix 8: Update GPU Driver
Another potent reason behind this error. It is very crucial to update your drivers updated, especially the GPU drivers. So, hover to the Device Manager and expand the Display Adapter tab. Then, right-click on your GPU manufacturer name, and from the drop-down menu, select the Update Driver option.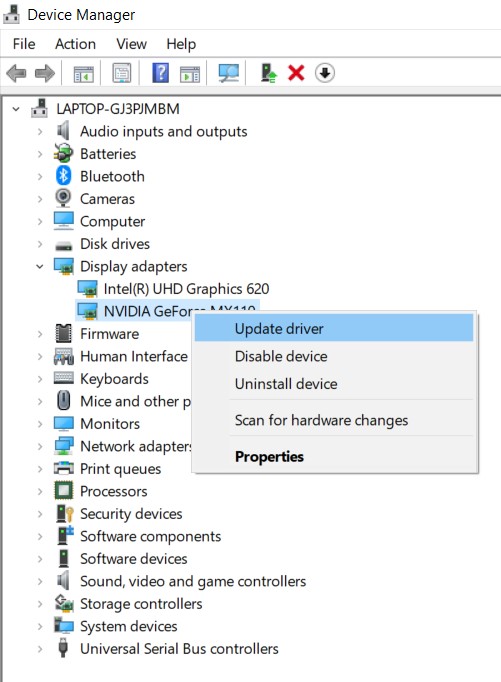 Then, wait until it searches for updates. But, suppose you've noticed that there is no update available for you. Then, you can use the model number of your GPU and check out the official manufacturer's website for updates. After that, if available, then download and install it manually on your Windows PC.
Fix 9: Reinstall The Game
In a very unfortunate situation, if the connection to the server screen still does not get fixed, then we suggest you reinstall the game. Although it consumes a lot of data, but you have no other choice. So, simply uninstall the game completely from your PC. After that, open Steam client and search for War Thunder. Then, again download and install it on your Windows PC.
Fix 10: Contact To Support Team
We regret if nothing helps you fix the connection to the server screen on War Thunder. But, there's still a way using which you can fix this issue. Yes, you can simply contact the support team and explain to them what you are facing. After that, most probably, they will for sure help you fix this issue.
From Author's End
So, that's all from my side on how to fix War Thunder is stuck on connecting to the server screen. We hope the methods as mentioned earlier worked for you. Furthermore, in case you have any doubts or questions, comment below. Also, let us know which trick worked for you to fix the related issue.