Call of Duty: Warzone is one of the most popular free-to-play shooting video games available for various devices and operating systems. The latest edition of this battle royale game, Warzone 2, was released this year with several optimizations to offer a better first-person gaming experience. However, the game is not getting positive responses from all players. As reported by many players, Call of Duty: Modern Warzone 2 is not taking full advantage of CPU and GPU.
Those affected say the game does not use 100% CPU and GPU capacity, which results in a bad gameplay experience. Due to less CPU and GPU usage, Warzone 2 often runs into problems such as stuttering, crashing, etc. Even though the game does not necessarily require a high-end CPU and GPU, players with high-performing computers have reported the same problem.
If your computer is not taking full advantage of CPU and GPU, it could be due to bad game configurations, outdated graphics drivers, or bad system configurations. Regardless of the problem, this guide has the solution to increase CPU and GPU usage for Call of Duty: Warzone 2.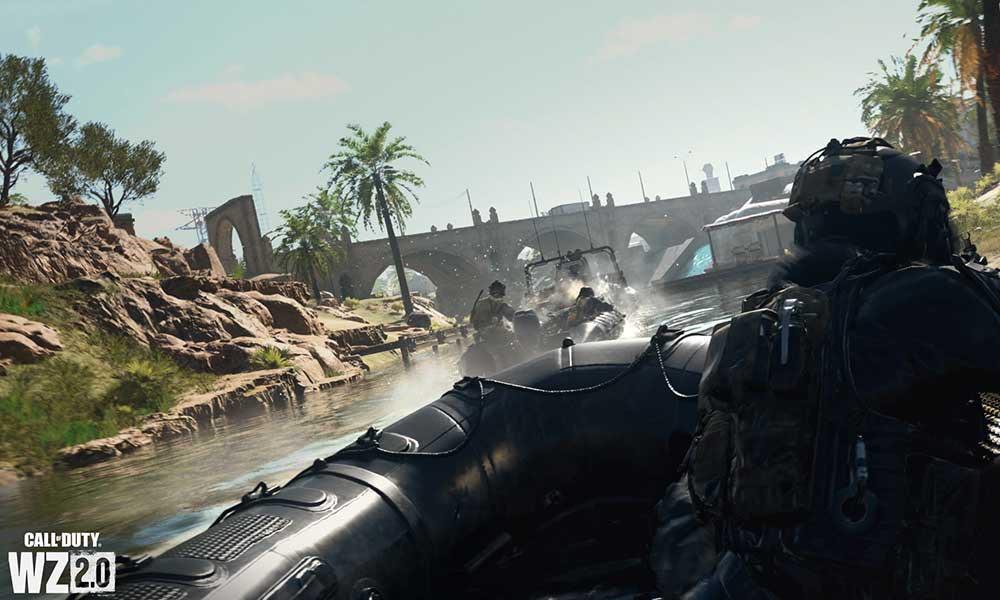 Fix: COD Warzone 2 Not Using 100% GPU and CPU
Here are some effective solutions to increase the CPU and GPU usage for COD Warzone 2 on your computer. Not only it improves the CPU and GPU usage, but players have said that applying the solutions we've mentioned below helped them in achieving a far better and more stable FPS. So, without further ado, let's begin the troubleshooting.
1. Turn the Game Mode On
Windows has a built-in Game Mode feature that can improve your gaming experience. Once you turn on this setting, the computer will automatically turn off background tasks to offer better gameplay.
To turn the Game Mode feature on, open click Gaming from the left-side menu, and click Game Mode. From there, you can easily turn on the Game Mode. If it's already turned on, do nothing here, and move on to the next solution.
2. Change the Power Mode
By default, Windows sets the Power Mode to Balanced to offer better screen-on time and performance. However, to get the best performance you need to change it to Best performance, but it will come at the cost of battery life.
To change the Power Mode, open Settings and go to System → Power & battery → Power Mode. Click the drop-down next to the Power Mode and select Best performance.
After you've changed the Power Mode to the Best performance, you'll experience an increase in the gaming performance, but there may be a slight decrease in the battery usage.
3. Tweak These Game Settings
This solution has been suggested by a Reddit user and it has worked for so many people. I would suggest you test this solution and let us how much CPU and GPU increase you notice.
Change Graphics Preference
Step 1: In the search box, type GPU and hit Enter. You will be taken to Graphics settings.
Step 2: Scroll down and find Call of Duty Launcher. Now, tap on it.
Step 3: Click Options and select High performance.
Step 4: Do the same for Call of Duty HQ.
Change Game Folder Properties
Step 1: Go to the game folder, right-click on it, and select Properties.
Step 2: Go to the Compatibility tab.
Step 3: Check the Disable fullscreen optimizations and Run this program as an administrator boxes.
Step 4: Click Change high DPI settings. A dialogue box will open.
Step 5: Check the box for Override high DPI scaling behavior. Leave the Scaling performed by: value to Application.
Step 6: Click OK.
Step 7: Click OK again to save the changes.
Change RendererWorkerCount
Step 1: Go to Documents / Call of duty / options.3.cod.22.
Step 2: Change the RendererWorkerCount to half the number of threads your CPU has. For example, if your processor has 6 cores and 12 threads, put 6 and change the VideoMemoryScale to 2.000000.
This solution has worked for dozens of Call of Duty: Warzone 2 users who were facing the same issue with GPU and CPU. For some users, this solution has increased the GPS from 70-80 to 100-110.
4. Update Graphics Drivers
Updating the graphics driver could help you fix the low graphics usage while playing Call of Duty: Warzone 2. After downloading the latest version from the official website, you can manually update the graphics. Or, follow the steps we have mentioned below to update the graphics driver automatically:
Type Device Manager in the search box on your Windows PC and hit the Enter button.
Expand the Display adapters option.
Right-click on your graphics and select Update driver.
If you've already downloaded the latest driver version from the official site, click Browse my computer for drivers. Otherwise, click Search automatically for drivers.
The computer will look for new drivers. Follow the on-screen instruction to download and update the driver if an update is available.
After updating the graphics driver on your Windows PC, launch the game and check if the GPU usage increases.
That's it for this post. I hope the solutions effectively fix the Call of Duty: Warzone 2 is not using 100% GPU and CPU problem. How much has the performance increased after applying the solution? Do let us know in the comments below.