A touchpad or trackpad is a tactile sensor, a specialized surface that can sense your finger motion and position on your OS that is made output to your screen. However, the Touchpad works similarly to a mouse; you can control your screen using this. If you are a laptop user, you may know how painstaking it is when the trackpad or touchpad gestures are missing or stop working.
Sadly, users face this issue after the recent Windows 11 patch update. However, Microsoft has already stated that they are very well aware of the touchpad gestures missing error, and their team has started working on it.
This means that they will soon roll out some fixes to resolve this error, but until they provide something, what options are available for you that you can use? Well, don't worry, as, in this guide, you will learn different methods to fix this issue. So therefore, make sure to read until the end.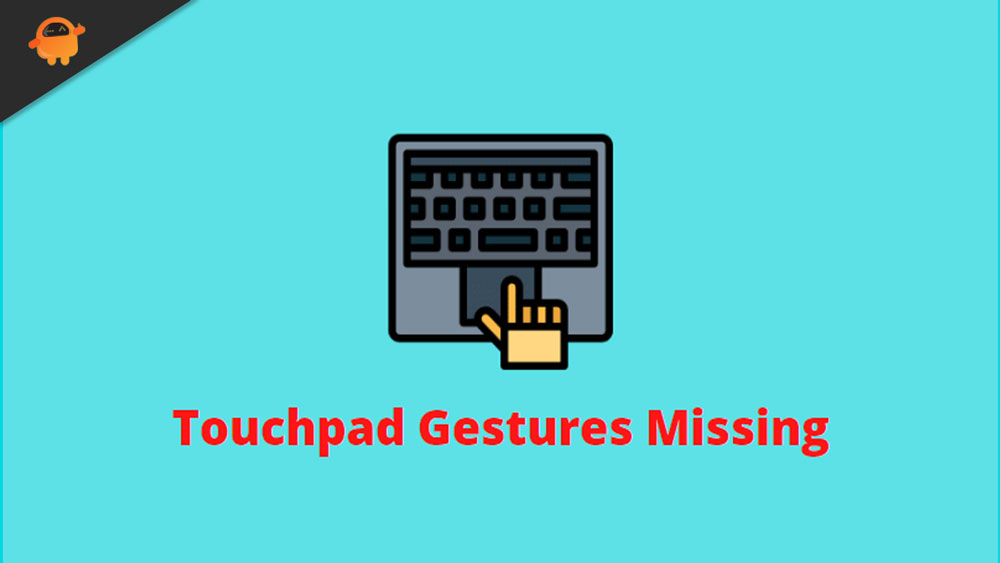 How To Fix Windows 11 Touchpad Gestures Missing
There are many workarounds that you can try to resolve this issue. But, here, we have mentioned only those that we have personally tried and successfully fixed the issue. However, we are pretty much sure that these fixes will surely work for you. So, let's get started with them:
Fix 1: Reboot Your Device
It sounds weird, but rebooting your device will help you resolve many factors on your PC. Also, we have reports in which users claim that they successfully fix the error just after rebooting their PC. Therefore, you should also try this out. But, how does rebooting help us? Well, let's find out:
There are many systems or software updates that are not completed until the PC gets restarted.

It will help you to clear your computer's memory.

It will also help you close the programs you may need not run, which further free up your processor and give your system a fresh new start to work properly.
Fix 2: Enable Advance Touchpad in BIOS
The Touchpad or trackpad of your laptop is not just a point-and-click device. Its capabilities have increased dramatically as Windows PCs have improved over time. With the new features, you can now customize the settings as per your requirements based on the tasks you perform.
However, it is possible that you may not have enabled the advanced Touchpad in the BIOS. So, let's take a look at the instructions that you need to follow in order to enable the advanced Touchpad via BIOS:
Initially, shut down your device and then boot. But, before entering into the Windows logo window, press the function key (F1-F12) depending upon your device model.

After that, hover over to the

Main

option and then

Touchpad

.

Now, select the

Advanced Mode

and save the settings that you have changed. Then, boot into your PC.
Fix 3: Re-install Touchpad Driver
If you are still stuck with the touchpad gestures missing error, then there are chances that some of your touchpad driver files are missing, due to which you are getting this issue.
So, we advise you to try reinstalling your touchpad driver on your Windows 11 PC, as many users have already reported that this helps them fix the error. So, let's take a look at how you can reinstall the touchpad driver:
First of all, open the Device Manager.

Then, click the

Human Interface Devices or Mice and other pointing devices

.

After that, right-click on it. Then, hit the

Uninstall The Driver

button.

Now, finally, reboot your Windows 11 system to reinstall the Human Interface Device driver.
Fix 4: Enable Gesture Support in Settings
You can also enable the gestures from the Windows 11 settings menu because it might be possible that you are getting the gestures missing error because the gesture is disabled on your Windows settings option. So, you need to enable it, but how? Let's find out:
With Mouse:
Launch the Windows 11 settings using the Start menu.

Then, tap on the

Devices

tab using your external mouse.

Now, toggle the

Touchpad

button. This will turn on the gesture.
Without Mouse:
Open the Windows 11 settings by pressing the

Win+I

key.

After that, tap on the

Devices

tab with the help of

tab, arrow,

and

Enter

key.

Thereafter, choose the

Touchpad

option using the same keys.

Now, toggle the

Touchpad

button using the

tab

key to On position.
Fix 5: Use Fn Key
If your Windows 11 PC's touchpad or trackpad is still not working, use the Fn key. So, to enable it, press the Fn key and a key between F1 and F12 simultaneously. This will help you in restoring the touchpad gestures on your Windows 11 PC. So, try this out and let us know if the Fn key trick really helps or not.
Fix 6: Check Your Antivirus
Did you check if your third-party Antivirus plays a vital role in this error? Well, there are huge possibilities that your Antivirus prevents your Touchpad from working properly. Therefore, we suggest you disable it if you are using a third-party antivirus.
Fix 7: Update Windows 11
Updating windows will be another option that will help you fix the gestures missing error on your Windows 11 PC. Well, there are chances that the last Windows patch update may contain some bugs due to which this type of error occurs.
Therefore, now as we have already mentioned, Microsoft's developer team has started working on this issue. So, chances are there that they roll out the new patch update to fix this. Hence, it is necessary to regularly check for updates using the steps given below:
Initially, using the Windows search bar, search for the Windows Update and open it.

Thereafter, choose the

Check For Updates

option and click on it. Now, wait until it searches and installs the latest updates on your Windows 11 PC.
Fix 8: Contact To Support Team
Still, no luck? Well, if you are still getting the gestures missing error on your Windows 11 PC, then chances are there that the issue is not occurring from your side. So, in that case, contacting the support team will be the right option.
Therefore, contact them and explain about this issue; they will surely provide you with some temporary fixes that will help you use the gestures on your Windows 11 PC until Microsoft provides a new patch update.
Also Read: How to Fix If Laptop Touchpad Not Working?
From Author's Desk
So, that's all on how to fix the Windows 11 Gestures missing issue. We hope that this article has helped you. However, in case you need any further help, make sure to comment below and let us know about that.