It seems that plenty of Xbox Series X users are experiencing the Error Code 0x80832003 while trying to play games on the console. This particular error code appears whenever there is a problem with the Xbox Live service. Meanwhile, some other players have reported that they're getting the same error while trying to log into the Xbox Live.
Luckily, there are a couple of possible workarounds mentioned below that can easily fix this error code. The first and most common reason is that there might be an issue with the Xbox server connectivity whenever the Xbox Live service going through an outage problem or any kind of technical fault. The error code indicates that "There's a temporary network problem."
Fix: Xbox Series X Error Code 0x80832003
As we're now aware of this problem and the possible reasons too, let's get into the troubleshooting methods below.
1. Check Xbox Live Status
It's highly recommended to check for the Xbox Live Status without any second thought because it's quite common for such a giant service platform to face outage or server downtime issues. If so, Xbox users will definitely gonna experience major or minor connectivity issues until the problem gets solved.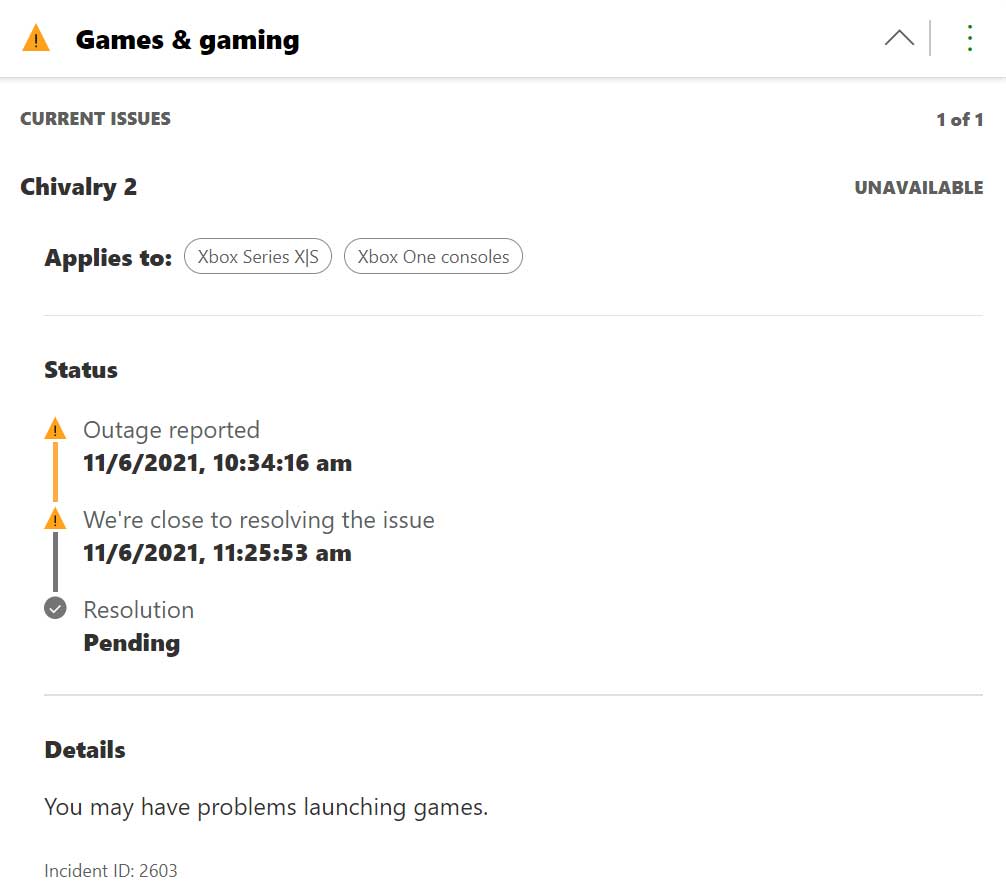 At the time of writing this article, we can clearly see that there is a possible service outage problem running in the games and gaming department. This particular outage issue is happening for both the Xbox Series X and Xbox One consoles mainly. The Xbox support team has acknowledged this issue and they're working on it.
However, if you're not seeing any kind of service outage then try following the rest of the methods one by one.
2. Check Your Internet Connection
Make sure to check your internet connection properly before going to any conclusion. Sometimes it might be possible that your network isn't fast or stable enough to run the specific game online. If you're using a wired ethernet connection then try switching it to Wi-Fi or vice versa.
3. Power Cycle Wi-Fi Router
By performing the power cycle of your router, you'll be able to resolve multiple issues with the network connectivity or strength in a jiffy. Sometimes the router may not work properly due to networking glitches or poor connectivity. After power cycling it, the router refreshes itself and works as expected. To do so:
Power off the Wi-Fi router and wait until the LED indicators turned off completely.
Now, unplug the power adapter of the router from the power source as well as from the router.
Wait for around 30 seconds and plug back the power adapter in.
Then turn on the router, connect to the Wi-Fi, and check whether the Xbox Series X is still receiving the Error Code 0x80832003 or not.
4. Try playing the game offline
If there is an Xbox Live service outage then you can try playing the game offline until the service is back and running again. To do this:
Press the Xbox button on your controller to open the guide.
Now, select Profile & system > Go to Settings.
Head over to General > Select Network settings.
Select Go offline.
You're good to go.
However, if you want to go back online again, then do the same steps and select Go online to get the job done.
5. Cross check your valid account
Ensure that you're using the same Microsoft or Xbox account that you've used to purchase the specific game on your Xbox Series X console. Additionally, plenty of users make the mistake of not having logged into the same account.
Instead, they do the mistake of logging into another Microsoft or Xbox account that'll definitely lead to such kind of errors whatsoever.
6. Wait for a while and try again
This particular error is basically a server-side issue and there is nothing to do from your end in most scenarios. So, it's always a better idea to just wait for a couple of hours and try checking the Xbox Live service status again to get updated with the situation.
Once you see that there are no issues with the Xbox Live service then you can simply restart your console and try running the specific game again. Usually, the developers try to fix such kinds of server issues as early as possible.
But sometimes it may take a much longer time than usual. So, you'll just have to wait to get it fixed itself.
That's it, guys. We assume this guide was helpful to you. Feel free to ask in the comment below.