Adobe suite including Photoshop and Lightroom are two important pieces of software any content creator or graphic designer has to keep. But with the recent Windows 11 update or installation, many users have been reporting complaints regarding the issue of Adobe Lightroom crashing or freezing on Windows 11. The app crashes without any warning or error message making it difficult to troubleshoot. If you are a professional photographer or freelancer who edits photos for a living, crashing Adobe Lightroom can definitely put you in a bad spot.
Since the launch of Windows 11, many new features were launched with the emphasis on more compatibility of apps and software across devices. But to the contrary, much important software such as Adobe Lightroom has been stopped working or either crashed on Windows 11 PC. This issue is most likely to be installation file-related or graphics-related. So here are some troubleshooting steps you can use to fix this.
Also Read: Fix: Adobe InDesign Crashing / Freezing on Windows 11
Fix: Adobe Lightroom Crashing Freezing on Windows 11
Before going through this guide, it's a good idea to check basic troubleshooting steps. Sometimes the app crashing issue is due to low ram or low CPU resources. So restart your PC and see if the issue persists. Below are some methods which will help you out.
Method 1: Remove Plugins
With Windows 11, many apps are been seen with crashing reports and this is due to non-compatibility with third party plugins. It will still be time for third-party developers to reconfigure their modules/plugins to work on windows 11. But until then, it's a good idea to remove such plugins.
The most common plugins that cause Adobe Lightroom to crash on Windows 11 are:
1) AdobeStock
2) Facebook
3) Flickr
4) LogiOptions
5) Nikon Tether-Zusatzmodul
6) SmugMu
Method 2: Update Graphic Driver
It's important to keep your graphic driver updated as its the major component Adobe uses to run its applications. We have a complete detailed post on How to Update Graphics Card Drivers.
Below are the links for your graphics card, head over to their respective website and download it:
You will have to select the exact model of your computer's graphics card, which we got from the previous step.
You also have the option of letting the site scan your system to automatically determine what drivers you need. Just be aware that sometimes, you'll be asked to install a utility that performs the scan.
Note: A lot of users have Intel integrated graphics in place of actual GPU units. For Intel users, they have to manually update their graphic card drivers as the Windows 10 version of drivers will not work for Windows 11. So head on to the Intel website and download the latest drivers.
Method 3: Delete the temp folder of Lightroom
In Windows 11, many apps are crashing unnecessary. And the main reason behind this is the temp folder. When software fails to override the data in the temp folder, it usually crashes. So you can easily fix this by deleting the temp folder inside your C drive.
Temp folder usually stores temporary information, so make sure to save your unsaved files or project before deleting this folder.
Open File Explorer and navigate to C: Users >> [Your username] >> AppDataRoaming >> Adobe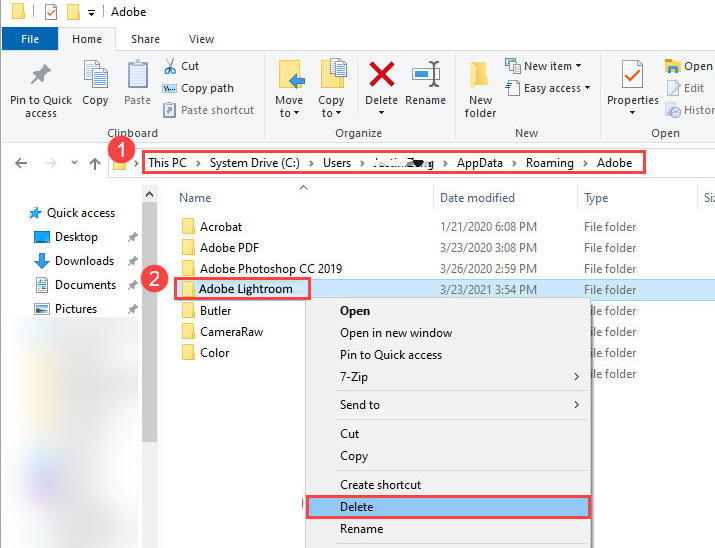 Find the Lightroom folder and delete it. Now Launch Lightroom to see if this issue persists.
Method 4: Reinstall codecs and plugins
Codecs are used to encode and decode your video files in Lightroom. When codecs are corrupted or installed incorrectly, it may trigger the Lightroom crashing issue. This can happen with incompatible plugins as well. So make sure to disable any unnecessary plugins and update all the codecs.
Tip
If you are not sure where to download the right codecs, then don't worry. As these codes are already a part of the Adobe bundle. But we recommend you to install VLC media player, as it comes with additional video codecs which will fix the crashing problem with Lightroom on Windows 11.
Method 5: Turn Off GPU in Settings
For many users, the issue of Adobe Lightroom Crashing / Freezing on Windows 11 is due to GPU issues. Even after you update the graphics on your computer, there are still changes that are not compatible with the software. So once you disable the GPU access, the software should run fine.
Open Adobe Lightroom settings.

Here go to GPU section and turn off the graphic processor option.
After you are done with these settings, restart Lightroom and see if the crashing issues persist. The software may take a longer time to load files and previews, but it will reduce the chances of crashes and data loss.
Method 6: Purge memory & disk cache
As we said above, Adobe Lightroom is resource hungry and may eat all the available memory in your PC. And it may crash further when your computer is running out of memory. So to resolve this issue, you can try purging memory and cache.
Launch Lightroom and go to Preferences > Performance.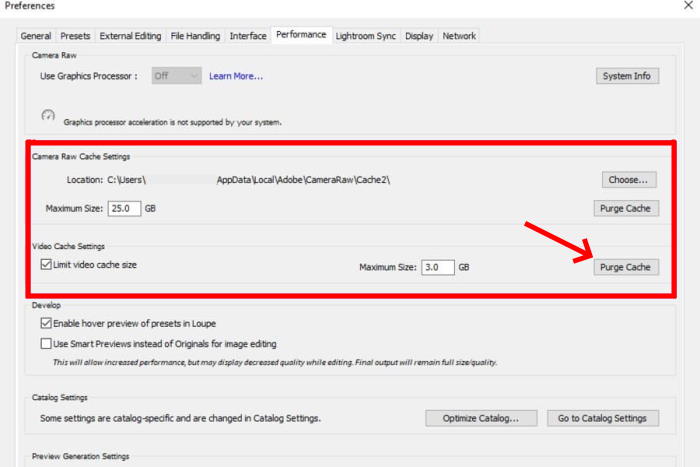 Here click on Purge Cache to delete all files from your disk cache.
Launch Lightroom again to see if it crashes or not. If it still crashes, try the next fix below.
Method 7: Optimizing Catalog
Optimizing the catalogue tells Lightroom to examine the way you keep your images and photos. It is very unlikely that this will cause the crashing issue, but it's good to check.
Launch Lightroom and go to Preferences > Performance.
Click on Optimise Catalog button.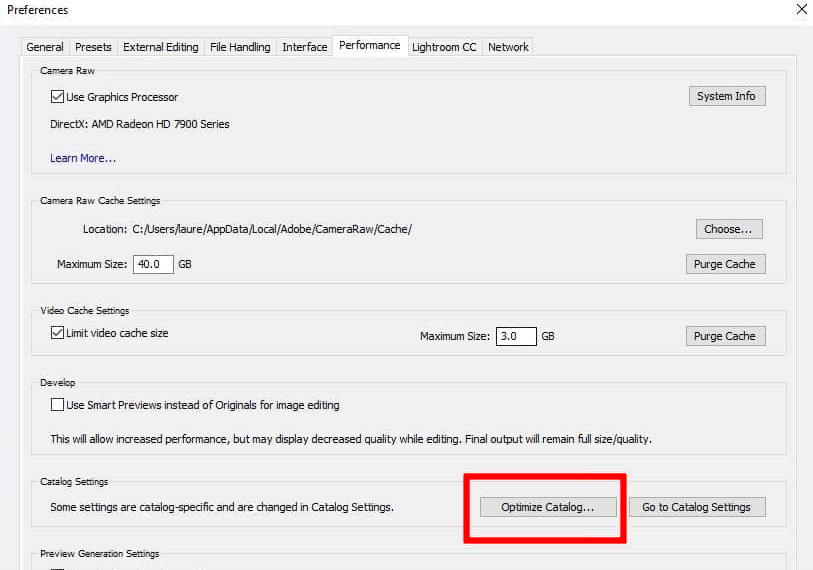 Once it's completed reboot Lightroom and see if the crashing continues.
Method 8: Update / reinstall Lightroom
If none of the above methods works for you, then it means that your installation is corrupt. It usually happens when one or more important files from the software directly are missing or deleted. So you have to reinstall Lightroom to fix this issue.
Method 9: Disable Fullscreen Mode
This can be thought of as a temporary method but it works for the majority of users. You can think of it as a bug that when you move Adobe Lightroom in fullscreen mode, the app crashes. So make sure to run the app in windowed mode.
When the app starts, click on the "Windows" button on the keyboard and the app will run in window mode only. I hope this works for you until Adobe comes with an official fix.
Conclusion
This brings us to the end of this guide for Adobe Lightroom Crashing or Freezing on Windows 11. Although most of these issues may vary from person to person, updating the Lightroom application along with graphic drivers will fix the issue. If none of these works for you and using Adobe Lightroom is very essential for you, then we recommend you to re-install Windows 10 on your PC and wait until an official fix is released for compatibility on Windows 11.