The highly popular online multiplayer from Digital Extremes, Warframe made its debut on Microsoft Windows in 2013. Not long afterwards, the exciting free-to-play roleplaying game was made available on the PlayStation 4, Nintendo Switch, and Xbox One. You get to step into the role of a skilled Tenno warrior, participating in a plethora of multiplayer matches with over 50 million players across the globe. The game was subsequently nominated for "Best Ongoing Game" at The Game Awards 2017, the People's Voice Award for "Action" at the 2018 Webby Awards, and the People's Voice Awards again for "Action Game" and "Best Sound Design at the 2019 Webby Awards.
Digital Extremes has been making efforts to provide exciting new updates in the game. With the Update 27.5.4 came four new Augments – new potential builds for one's Warframes of choice. There's a new Augment each for Atlas, Nidus, Valkyr and Saryn. You will be able to obtain all of these Augments as Syndicate rewards. Given below is our guide covering the advantages of these new Augments at the max rank, and about the Syndicates, you should be loyal to in order to obtain them.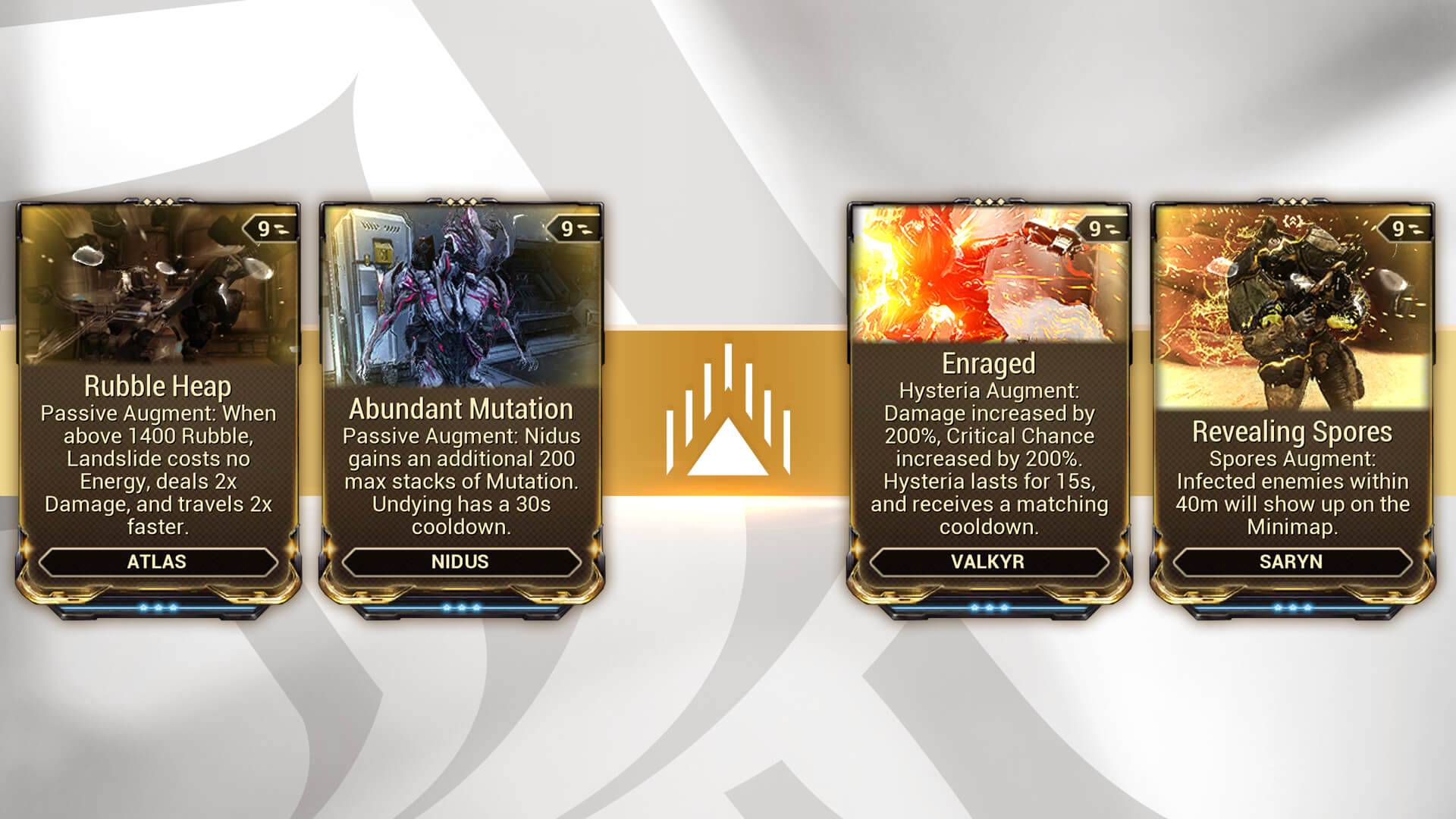 Atlas – Passive – Rubble Heap
The Landslide will not cost you any energy, will produce twice the damage, and travel twice as fast, once above 1400 Rubble. Obviously, this will make Atlas conserve your reserves of energy more efficiently. It will also make Landslide a seriously devastating move, considering the effort already required to maintain the amount of Rubble.
You can obtain the Rubble Heap from Red Veil (at the Exalted rank) and Steel Meridian (at the General rank) after handing over 25000 Standing.
Nidus – Passive – Abundant Mutation
This allows Nidus to obtain a bonus of 200 max stacks of Mutation. Undying will have a cooldown period of thirty seconds. The resulting effect is so seriously powerful that Nidus will be rendered more or less invincible.
You will be able to obtain Abundant Mutation from Steel Meridian (at the General rank) in exchange for 25000 Standing.
Valkyr – Hysteria – Enraged
There will be a 200 per cent boost for both Critical Chance and Damage as a result. The effects of Hysteria will persist for fifteen seconds and will also result in a matching cooldown. This seems like the developers' efforts to balance things out after the recent melee and mod alterations made her such a ridiculously powerful character. Perhaps we could look at this as an alternative for a full replacement of Valkyr.
You can get Enraged from New Loka (at the Flawless rank) and Perrin Sequence (Partner rank) after handing over 25000 Standing.
Saryn – Spore – Revealing Spores
This will make infected enemies within a radius of forty meters on your map visible. You might have noticed that enemy spawn rates in late-game activities tend to get rather erratic. Therefore, this tool can come in handy if you are out farming for items.
You will be able to obtain Revealing Spores from Red Veil (at the Exalted Rank) and Steel Meridian (at the General rank) in exchange for 25000 Standing.
So that's it for now. We hope our guide proves helpful in making your decisions and choices about the newly implemented Augments in Warframe. If you have any queries or feedback, feel free to comment down below with your Name and E-mail ID. Likewise, check out our iPhone Tips and Tricks, PC tips and tricks, Games and Android Tips and Tricks for more such tips and tricks. We urge you to participate in our third week $150 giveaway by subscribing to our YouTube Channel. Thank You!