Since the launch of the Dynamic Island feature in iOS 16, users have gone crazy about it, and sales of iPhone 14 Pro & Pro Max models are skyrocketing. However, there are still many users who do not particularly like this feature and have their opinions otherwise. Today in this article, we will take about what Dynamic Island is, and how you can disable this feature on your iPhone 14 Pro and 14 Pro Max.
With iPhone 14 Pro and 14 Pro Max models, Apple has given an unusual screen cutout instead of the traditional notch. Now Apple is the first company to give surprises like that when they first announced notch, but people liked it anyway. But in case of the Dynamic Island, it is quite different as it obstructs the view of your screen, and the features are not really usable, especially for people who have big thumbs.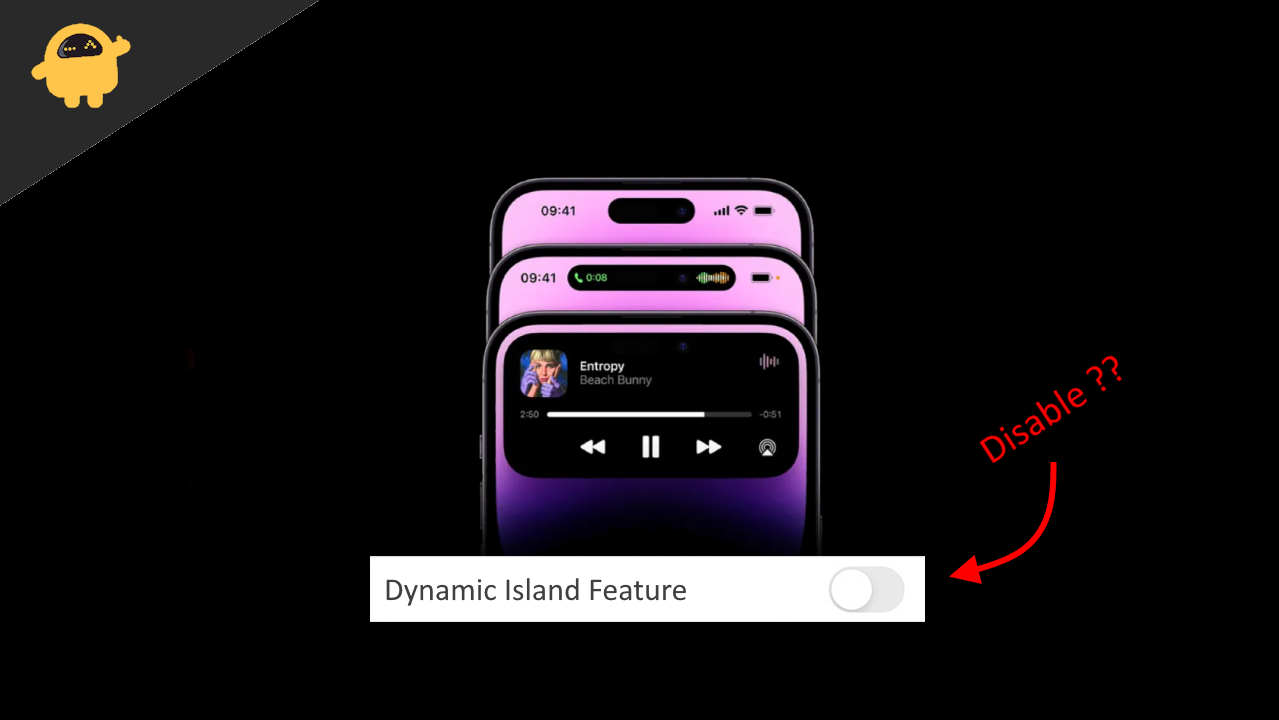 Can I Disable Dynamic Island on iPhone 14 Pro and 14 Pro Max?
Instead of thinking of it as a feature, many users have come to realize that its a desperate attempt to hide the cutout for the front camera & other sensors. Now, Apple already has the solution of the old generation notch to tackle this kind of problem. However, Dynamic Island is what Apple came with and the majority of users are happy with it. But many users do believe that this feature feels gimmicky for the following reasons:
Also read: How to Install iPhone 14 Pro's Dynamic Island on Android
Dynamic Island cutout is intrusive: So the dynamic island seems intrusive when not in use, eg. watching youtube videos.
Attract camera smudges: Since Dynamic Island is dynamic, people tend to interact with it and might smudge the front camera a lot. So every time you have to use the front/selfie camera, make sure to wipe it.
Difficult for big thumbs & fingers: Apple did not really think about people who have big thumbs who are not necessarily able to use the feature to its full potential.
Cannot disable the feature: It's true that a lot of people do like Dynamic island, but many users don't. And it's sad that the Dynamic Island feature is so baked into the iPhone 14 Pro lineup, that it cant be disabled. So you have to stick with the feature with no way of disabling it.
Dynamic Island Features on iPhone 14 Pro and 14 Pro Max
It is true that you don't have any option or possibility of disabling the Dynamic Island feature on your iPhone 14 Pro or Pro Max. However, the feature is still quite new and it would be fun to see how app developers make use of this.
The new project I designed arrives today – the Dynamic Island.

Its goal is to feel like a living, elastic bubble that can fluidly shape shift into different alerts and experiences.

This is just the start, but I'm excited to see it begin its life! pic.twitter.com/HTkhSK69LU

— Chan Karunamuni (@chan_k) September 16, 2022
How will Dynamic Island look in the future, only time will tell? But according to the main developer of this feature, Apple will continue to grow it and expand its features.
Conclusion
This brings us to the end of this guide for can I disable Dynamic Island on iPhone 14 Pro and 14 Pro Max. It's unfortunate to say that the feature is so baked into the latest iOS 16, that you cannot disable it fully. However, if you do not like this feature at all, then you might have to purchase iPhone 14 or 14 Plus model which comes with the usual notch design and no dynamic island feature.