WhatsApp is the most popular social messenger app with more than 1.5 Billion users in recent days. WhatsApp uses iCloud to back up all your data of WhatsApp to the cloud memory. Since Whatsapp messages can be very crucial and important for some users, that is why you can export Whatsapp chat history in iCloud so that you can further restore it.
It will save and secure all your Data where you left off even if you lost or damage your device. You will lose all your essential memories if you don't back them up regularly. If you're not backed up, and something happens to your iPhone, all those Whatsapp memories could be gone forever.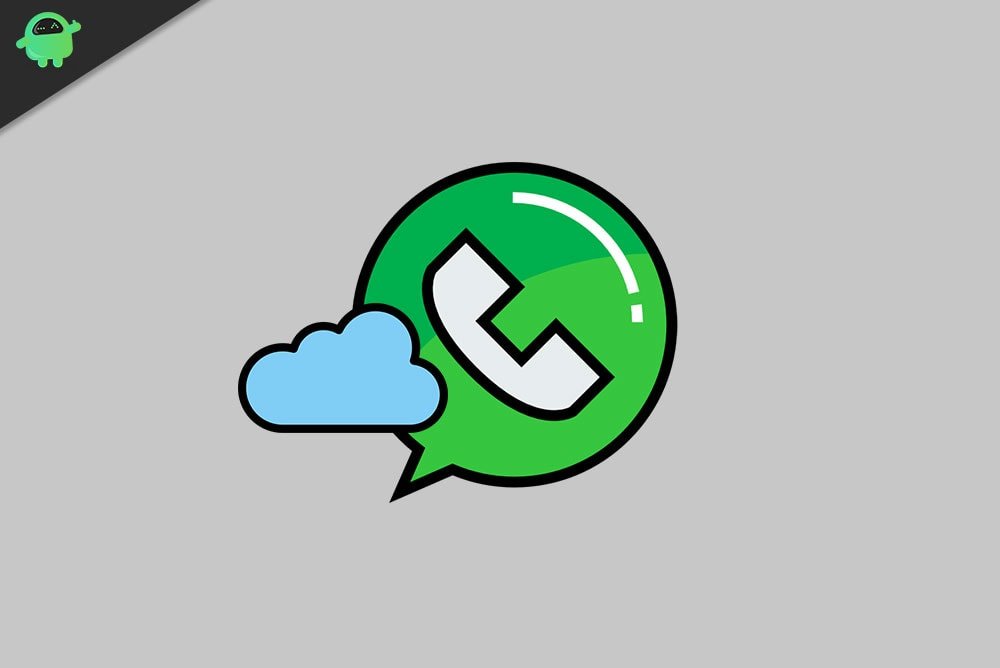 How to Export WhatsApp Chat History in iCloud
This feature of WhatsApp chat export helps to keep our data safe. Also, if you have an iCloud WhatsApp backup, you can easily switch your phones while still retaining your chats. Let's look at how to backup WhatsApp, so your chats are safe from unexpected problems.
Pre-requisites to backup and export Whatsapp chat to iCloud:
It would help if you were signed in with the Apple ID you use to access iCloud.
The operating system is iOS 10, or the latest available, and turn on the iCloud from the device's setting.
Make sure there should be enough free space on iCloud as well as on your device. You need to have at least twice of free space as the actual size of your backup in your iCloud account and on your device.
If you're worried about your cellular data usage, we suggest that you limit your iCloud to only back up on Wi-Fi.
Steps to back up WhatsApp Data to iCloud
WhatsApp chat history can be back up with iCloud. Also, you can make a manual backup of all your WhatsApp chats at any time.
Open iPhone Settings and tap on your iCloud profile.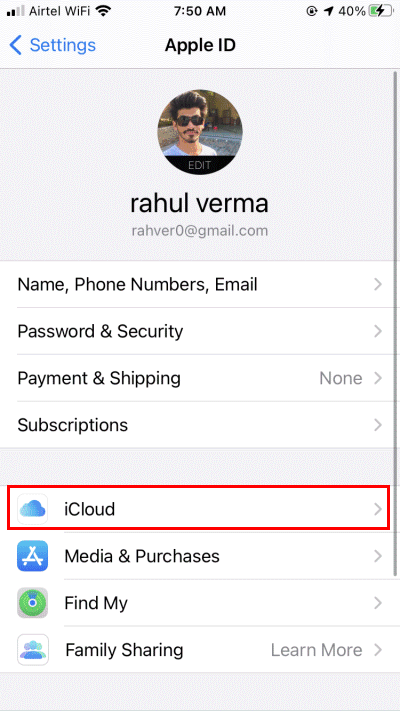 Tap on iCloud.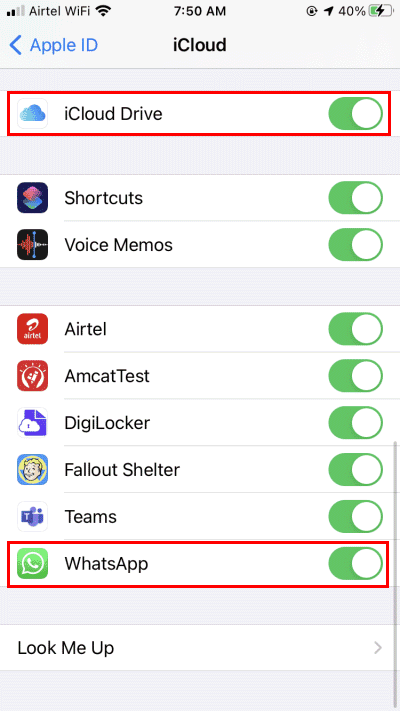 Scroll down and make sure iCloud Drive & Whatsapp is enabled.
Go to WhatsApp Settings from the App.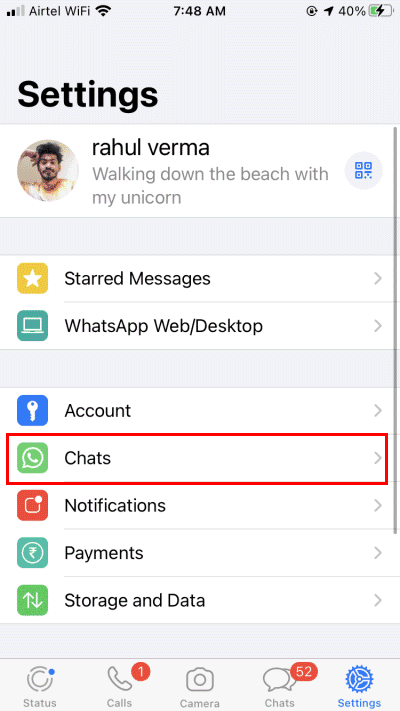 Then tap on Chats.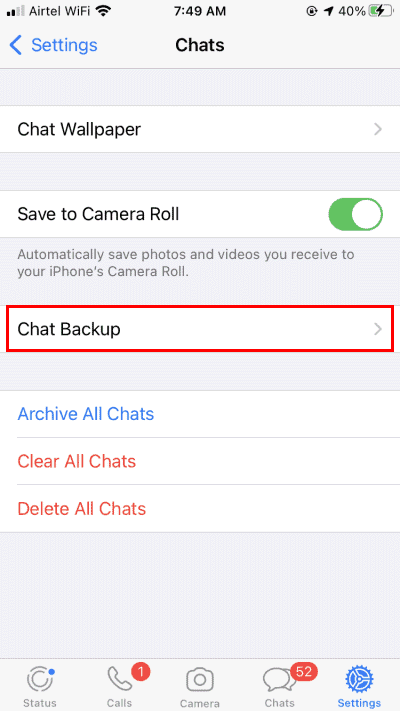 Next, tap on Chat Backup.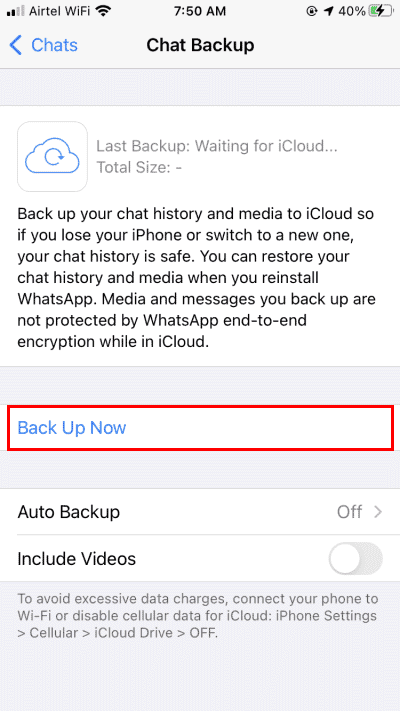 You can select whether to include or exclude videos from the backup. The process of iCloud backup may take time to complete, depending on your Internet connection and backup size.
At last, click on Back-Up Now.
By tapping on Auto Back up in the setting, you can enable automatic, scheduled backups and select your backup frequency. It will make a backup of all your chats and media to your iCloud account.
Restore Chats from a previous Whatsapp backup
The user might be able to retrieve all WhatsApp chats by restoring the iPhone from a previous backup. For more information on the backup and restore of your iPhone, visit the official Apple Support website.
If you are taking a backup of your WhatsApp data, these are few things you should keep in mind:
WhatsApp chat histories aren't stored on servers of WhatsApp.
The backup media and messages aren't protected by WhatsApp end-to-end encryption while the data stored in iCloud.
WhatsApp can't retrieve any deleted messages for users.
How to Export chat history to Email
You can email yourself your chat history if you want to save a chat.
First, Open the individual or group chat you'd like to save.
After that, Tap the contact's name or group subject.
Then tap on the Export Chat option from the three dots icon.
Select whether you want to Attach Media or email the chat Without Media.
Open the Mail app. You can also tap More for additional options.
Enter your email address and tap Send.
Conclusion
After everything's backed up, you can restore your chats even if you reinstall WhatsApp on any iOS device. If you want to transfer all your data to a new device, you must ensure everything is backed up to iCloud. Then when you are going through the WhatsApp setup process on your new device, restore your chat history when prompted at startup.