If you are an active user in WhatsApp, you might have encountered instances where people are using foreign numbers on their WhatsApp Contact. But in reality, they belong to some other country. Mostly, these promote products and services, or sometimes people are just playing the fool. The actual question is, how do they manage to get international numbers even without having a SIM?
Well, in case you are not aware, there are various apps on the internet that provide you with a fake international number. Suppose you are someone living in Russia, you can still get a USA number starting with +1. In fact, there is nothing technical at all; download the app and assign a number for yourself. Interestingly, you can call, text, or simply send voicemails to anyone and anywhere in the world without getting recognized. Isn't that amazing?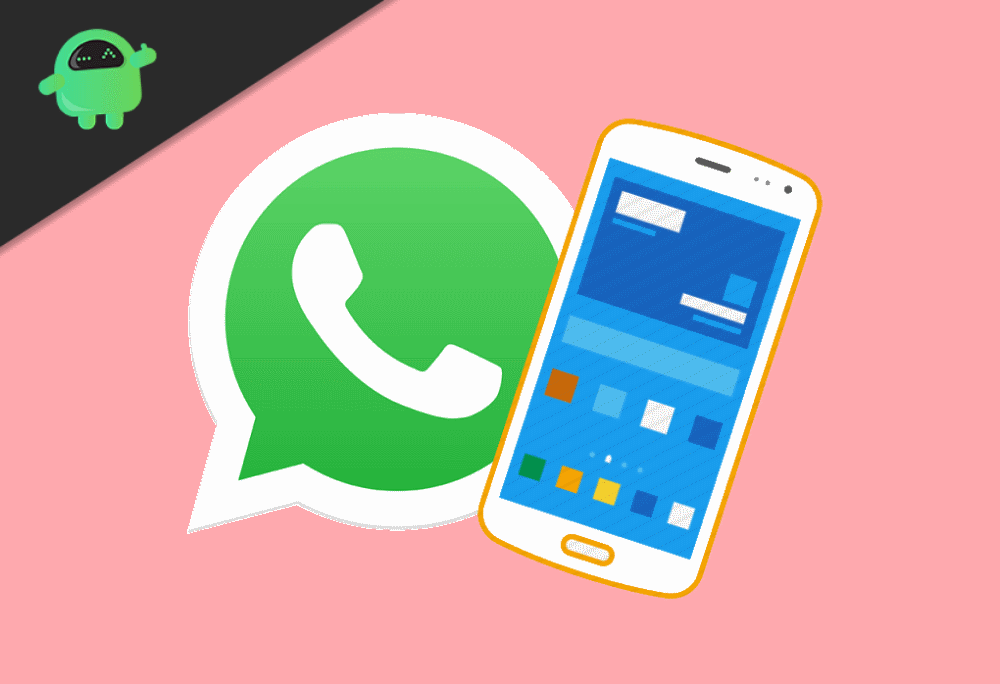 Why Use A Fake Number To Make WhatsApp Account?
Well, there might be several reasons behind using a fake number in your WhatsApp account. If you are running a business and want to be in complete touch with your consumer, WhatsApp is the best way to do so. Plus, it also increases their trust in your service, since you are choosing a much-secured way to reach them.
However, it might be inappropriate to showcase your personal WhatsApp number to unknown people. So, a fake number might be useful to you under such scenarios. Moreover, it also looks more delicate and professional too.
Best Fake Phone Number Apps To Make Whatsapp Accounts
1-AnonymSMS
AnonymSMS is a website that allows users to generate fake phone numbers for free. These numbers can be used to protect the user's privacy, particularly when verifying accounts on apps like WhatsApp. With AnonymSMS, users simply need to visit the website, choose a country, and generate a fake phone number. The process is easy and completely free. AnonymSMS offers numbers from various countries, including the US and UK, giving users the flexibility to choose the number that works best for them. Whether looking to verify a WhatsApp account or just protect personal information, AnonymSMS is a valuable resource.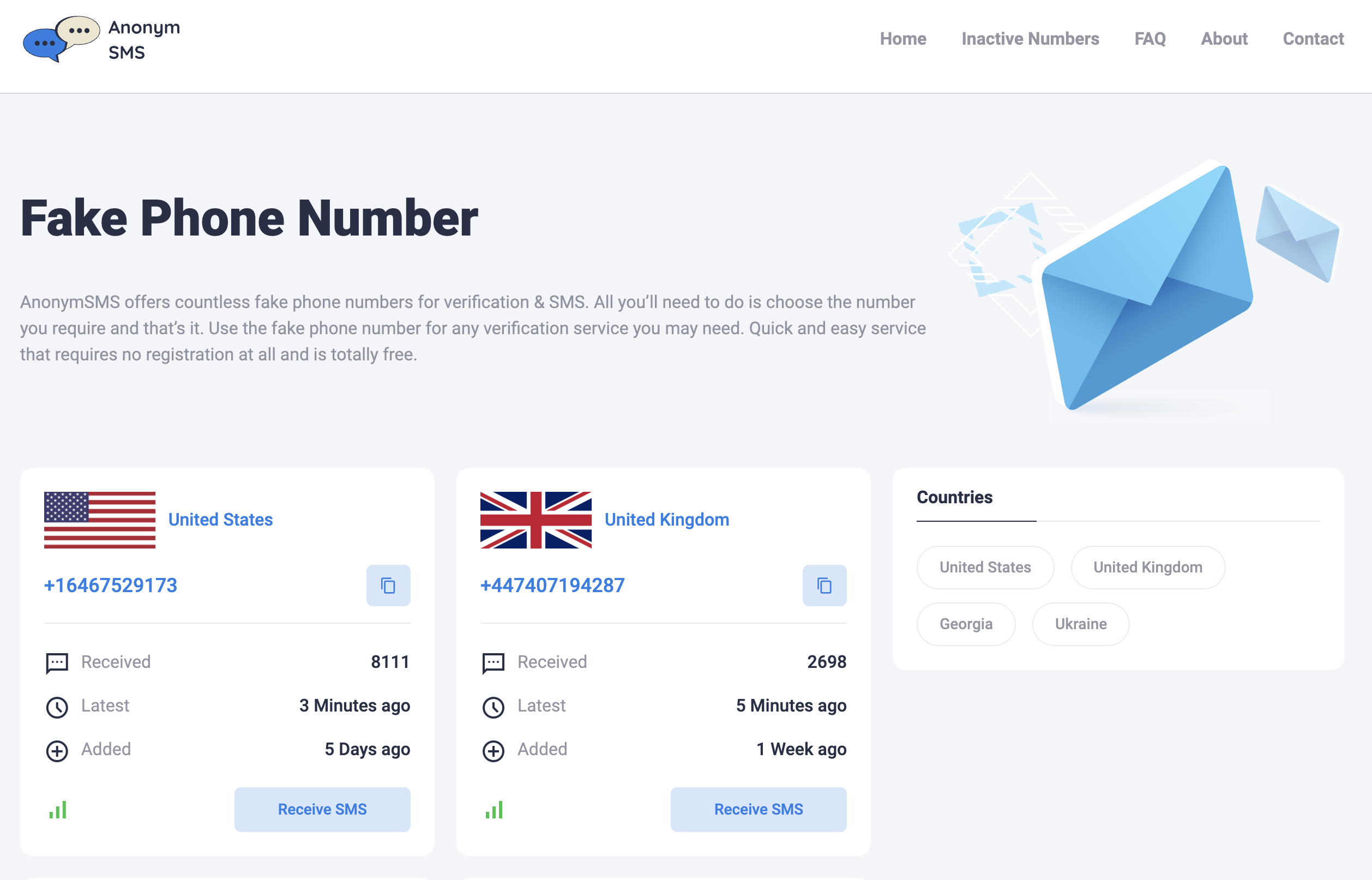 2. Burner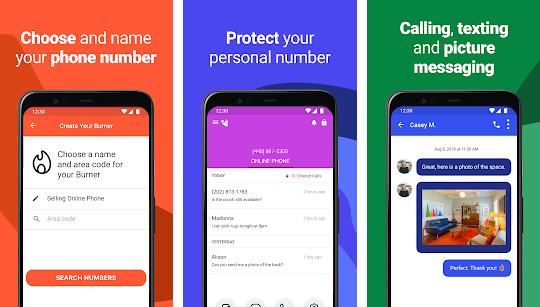 Burner is, fortunately, the best fake phone number apps available on the internet. It features a clean and straightforward interface that is easy to navigate. It offers a second phone number along with the local area code using which you can do all the normal stuff. You can make calls, text messages, voicemails, register WhatsApp account, and more. Besides, it can be integrated with other services such as Dropbox, SoundCloud, etc.
However, to use this app, you must be a citizen of the US and Canada. Burner provides you the complete control over the contacts, who can call you and who cannot. Once you are done with the number, you are allowed to remove it with just a single click. It comes with 7 days of trial after which, you are free to decide whether to buy it or not.
3. Cover Me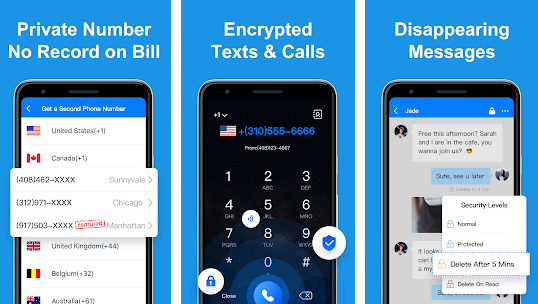 If you are concerned about your privacy, Cover Me will protect all your personal data like a shield. It basically focuses on maintaining its user's privacy more than others. It provides you with fake phone numbers from the US, the UK, Mexico, China, and Canada, which can get easily verified for WhatsApp account.
Wit Cover Me, you can send messages and call others from a burner line. It helps in hiding your number from prying eyes, and offer you a military-grade encrypted call. Apart from these, all your content is end-to-end encrypted by Cover Me Private Messenger and is stored in its private vault. However, a few of its features only function if the person on the other side has installed the app too.
It offers some of the breathtaking latest features adding an extra layer of protection to your data. Surprisingly, you can download the app for your Android or iOS for free. Of course, you have to pay a subscription fee once the trial is over.
4. Sideline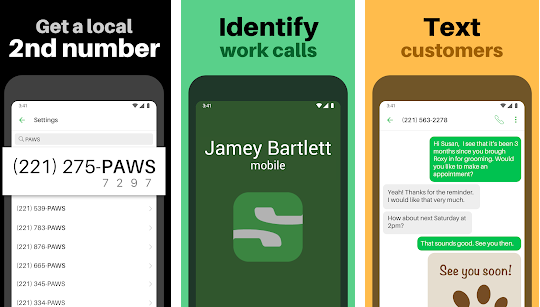 Sideline is worth mentioning on the list because it offers a free service to the users. You can install it from Google Play or App Store for free, also available in-app purchases. The app helps you get a second number on your phone. The numbers are genuine and are quickly verified in WhatsApp. You can use their app to look more professional in your work field by introducing your business contact with an international phone number.
Along with a fake number, it also brings several other essential features to improve your productivity. Like in case, you missed any work call, Sideline will leave an auto-reply to the caller with a custom private message. You can split one single number on multiple devices which encourage better teamwork and a lot more.
Apart from all these, Sideline features ads on the free version. However, if you are willing to go for its premium one, you can remove them with a reasonable subscription fee.
5. Hushed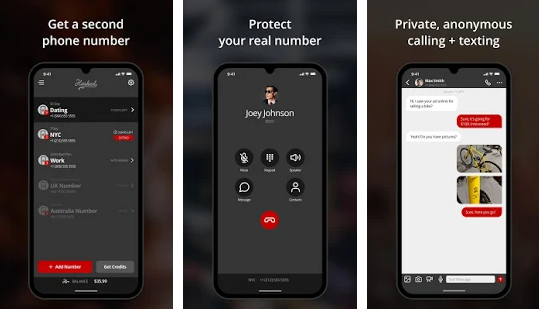 Hushed provides its users with a VoIP phone number using which you can perform all tasks normally. From phone calls, messages, voicemails, registrations, you can use it anywhere. And obviously, you can create a fake WhatsApp account using their fake numbers as well. It comes with a 3-day trial, which is quite less if compared to the others. After that, you can get its subscription at a charge of $5 per month, but that only for getting American numbers.
In case, you want a number from other than Canada or the US, and the charges vary accordingly between $3 to $13 per month. Hushed is much similar to Burner, and the only thing is it includes numbers from more than 60 countries around the world. Some other highlights include unlimited calls and messages, customizable voicemail greetings, call forwarding, call routing, and so on.
On average, the service is quite satisfactory and comes equipped with everything you might need while using a fake number. However, do not forget to check their pricing plans as they differ based on the availability of country and area code.
6.SMS-man
SMS-man provides virtual phone numbers that you can use to create an account on WhatsApp, Facebook, Tinder, Telegram, etc. This online service gives you the opportunity to get a virtual number for a period of 10 minutes to several months.
Virtual phone numbers from over 250 countries are available on SMS-man. Other advantages include a simple and user-friendly interface and low prices from $0.20.
7.SMS4YOU

SMS4You is a website that provides users with the ability to generate free virtual phone numbers. These numbers serve as a safeguard for users' privacy, especially when it comes to verifying accounts on platforms like WhatsApp. By visiting SMS4You, users can effortlessly select a country and create a fictitious phone number. The entire process is simple and does not involve any charges. AnonymSMS offers a wide range of numbers from various countries, including the US and UK, allowing users to choose the most suitable number for their needs. Whether the intention is to verify a WhatsApp account or to secure personal information, SMS4You proves to be a valuable tool.
8.Temporary Number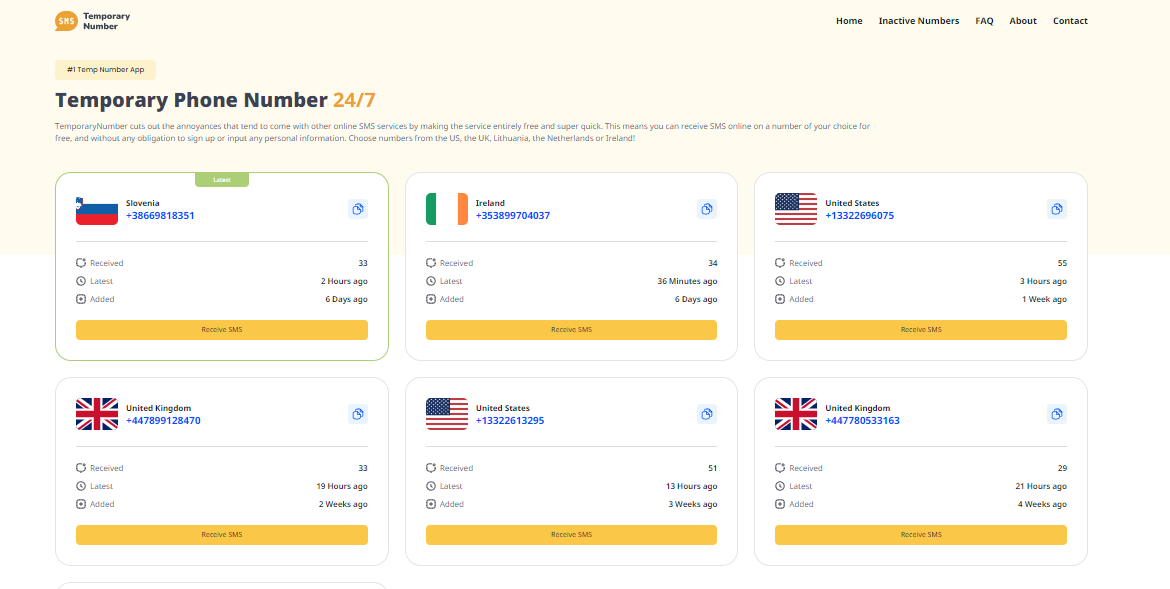 What is it and how does it works?
There at TemporaryNumber, they've made things super easy and user-friendly. If you're looking to receive SMS online for a specific website, service, or app, like WhatsApp you can receive your verification code within mere minutes with them. Simply choose the country code you'd like to receive it on – choose from the US, the UK, Lithuania, the Netherlands, or Ireland – double-click on a specific number from that light, and hey, presto! You're ready to input this number into your WhatsApp or whichever service you're trying to register with. Seconds later, you'll receive your verification code right there on their website. You can use those numbers however often you wish!
Regardless of the country code, every single one of the numbers is entirely free to use, with no catches! In fact, you won't even need to register or enter a credit card to use this service, meaning it is 100% free to use.
Conclusion
A fake number app can be useful in many cases, such as hiding your identity while dealing with strangers, making business deals, etc. These apps would ensure you a completely safe service, and you won't ever have to face complications with your WhatsApp verification as well. If you are too protective about your data getting stolen, you better go with Cover Me to ensure complete security and privacy.