The Repeller System is a crafting element that acts as a modular component that helps a single user to manipulate and operate heavy objects. The Repeller Sytems in Warfram is an extremely rare component that the players can farm. This means that getting the Repeller Systems might take multiple tries, extreme patience, heavy efforts, and dedication. So if you really want, you'll keep farming until you get it.
If you've been someone trying to figure out the most effective way to grab it but couldn't find it for some reason, then you're in the right place. Today in this guide, we'll be discussing the Repeller Systems in Warframe, how to farm it, and what the effective method is to find it in the game. So without any further ado, let's see how to farm Repeller System in Warframe.
How to farm Repeller Systems in Warframe
In order to get Repeller Systems in Warframe is a crafting component, which is extremely rare to lay hands on. In order to get the Repeller System, you are to complete Heist Bounties. For this, you need to take up the special bounties from the Vox Solaris Syndicate. This takes you to a fight where you should battle and take down the Orb Mother that guards the Orb Vallis. Completing this mission will drop the Repeller Systems along with the rewards.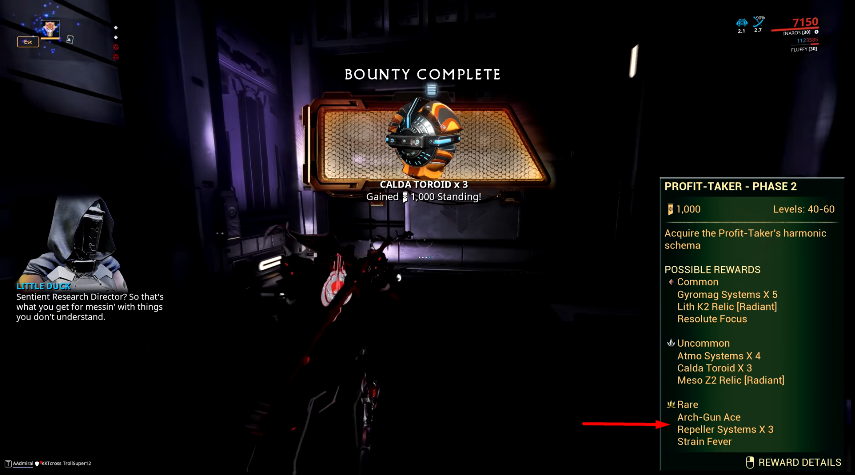 To get into this mission, just speak with Eudico in the secret room in Fortunate. Since our objective here is the Repeller Systems, we suggest that you take up the second phase multiple times as this has a higher probability of dropping Repeller Systems. The mission is pretty straightforward. After speaking with Eudico, go to Orb Vallis. From there, kill the 3 Corpus Directors and then make your way to the Harmonic Schema. There, you'll encounter two Terra Ambulas, take them out, and get the harmonic schema from the room inside.
Summing up our guide, all you have to do in order to get the Repeller Systems is to complete the special bounties from the Vox Solaris Syndicate. Simply speak with Eudico and go through the second phase multiple times until you get the Repeller Systems. The Repeller System is a really rare crafting element, hence it will take some time to farm it. That said, we hope reading the guide above has brought some valuable information and help to you. Please let us know by commenting down below if you have any further queries regarding the same.
Also, check out our iPhone Tips and Tricks, PC tips and tricks, and Android Tips and Tricks if you've got queries for it or want help. Thank you!