Talking about The Sims 4 life simulation video game, it's very popular among players but some of the players are somehow getting affected with their game saves. It seems that The Sims 4 Save File goes Missing for several players which isn't good news at all. Whenever players are trying to get into the gameplay, the saved progress data went missing in most cases. If you're also one of the victims, make sure to check out this troubleshooting guide to quickly resolve this issue.
According to reports on EA Forum, plenty of affected players are having the same problem. Though there can be a couple of saves found, the recent or primary game save may become disappeared. That means you may find the older save in the game but not the last or recent one which includes all of your recent game progress, households, etc. Even after advanced players have tried renaming the game save files that are available but nothing works.
How to Fix The Sims 4 Save File Missing
While some of the players have tried synced the game save files with the cloud via OneDrive but that didn't work too. Luckily, EA Forum Support has mentioned some of the possible workarounds or you can say steps to check out before saving the game progress to ensure everything is working fine and you'll get your recent save whenever you want.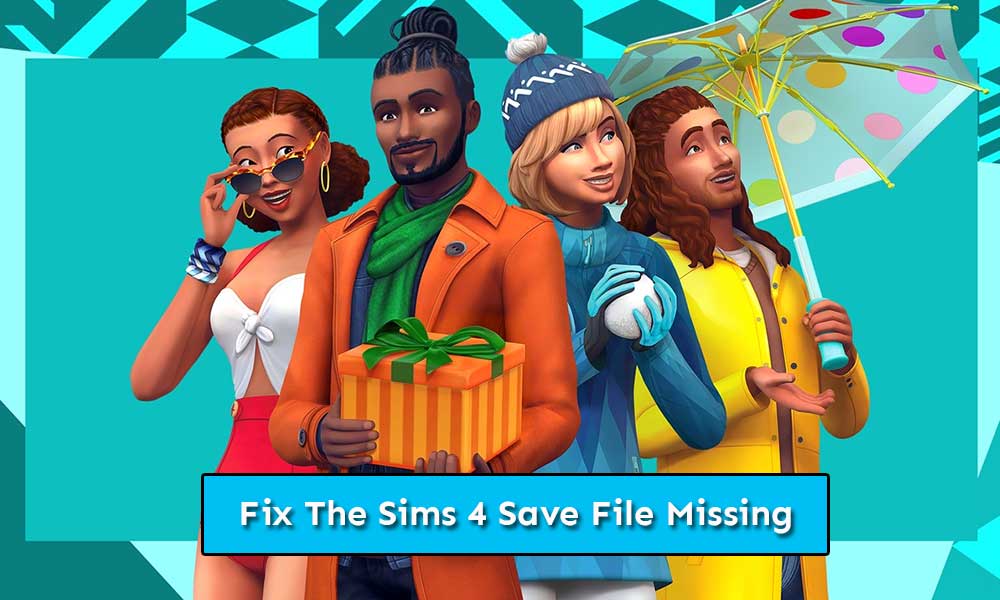 1. Check Local Drive for Game Save
Make sure to check whether all of your recent game saves are getting stored locally or not. If in case, your game progress data are stored on your local drive (PC) then you can easily find them from the installed game folder. But if the game saves are just storing in the game, it'll be hard to find them out because somehow they may get either deleted or corrupted.
By default, the game saves location should be: This PC\Documents\Electronic Arts\The Sims 4\saves. If you've installed your game on another drive or location, check for the saves folder.
2. Turn Off OneDrive Cloud Sync
Another important thing we need to mention that if you don't want to save your game progress on OnDrive cloud storage, make sure to turn off the OneDrive cloud sync anyway. The chances are high that most of the bigger file size game saves are storing on OneDrive and somehow conflicting with your local drive saves too. It's always a good idea to save game data on your local drive completely.
If in case, you're able to see a couple of older game saves on your drive locally and then you try to sync OneDrive, it'll basically overwrite your local files which will become a huge mess.
3. Update Your Game
Try updating your game always to get a stable gaming experience with fewer bugs or errors. Sometimes an outdated game version can cause multiple issues with the game saves. To ensure that your game saves aren't going to be affected, follow the steps below:
Launch your Origin client > Click on My Game Library.
Right-click on The Sims 4 > Select Repair.
Once done, right-click on the game again.
Choose Update Game.
If any latest update is available, the client will automatically download and install it.
Finally, run The Sims 4 game and check whether the save file missing issue has been fixed or not.
4. Check Your Antivirus
Maybe your antivirus software is troubling you a lot when it comes to keeping your game progress data. It can possible that your antivirus software is either blocking the game saves or removing them due to some security reasons. If that's the reason, try whitelisting the installed The Sims 4 game folder to the antivirus software as an exclusion. You should also exclude the game folder to Firewall protection so that the game files won't gonna be affected by any means.
5. Check the Autosave file
Sometimes it can possible that the autosave file of your game is having issues. Therefore, whether the autosave file is doing well or not, you should check it out.
First, go to this location: This PC\Documents\Electronic Arts\The Sims 4\saves. [If you've installed your game to another location or drive, go to the saves folder]
Next, try moving the slot_00000001.save file to your desktop completely.
Then launch the game and check the game saves by loading one of your game files.
If in case, the load button isn't there, start a new game and play for a while.
Now, save the game progress and exit the game.
Run the game again and check whether you'll be able to load saved game data or not.
So, if in case, the load button isn't there or you're getting an error message like "The game failed to save. Error Code: 0" while trying to save the game, follow the steps below:
Head over to this location: This PC\Documents\Electronic Arts\The Sims 4\cache.
Delete all the cache files completely.
Move your saves folder to the desktop > Start over a new game. This will basically create a new game save folder.
Now, move all the previously saved game data to the newly created game saves folder. Make sure to move a folder individually and check if it loads in the game or not.
It seems that the slot_00000001.save file is one of the main reasons behind the save file missing or can't save issue. You can also try checking the .save. file by removing .ver0 from the end of the save game file whether it's working or not.
That's it, guys. We assume you've found this guide useful. For further queries, you can comment below.