Since its launch, the Pixel A-series has been the best Android smartphone in its midrange class. There are a few differences with the Pixel 6A. The company is shifting priorities with Google's Pixel phones, and competitors such as Samsung are closing the gap. Even though it still offers great performance and camera quality at its price, the 6A is not as popular as it once was.
The reason is evident as not many users are happy with this mid-range beast as it has many issues. Meanwhile, talking about recent problems, some users reported that the Pixel 6A is not charging or charging very slowly. But, our team has found some basics that can resolve the Pixel 6A not charging or charging very slowly. So, let's check out those fixes: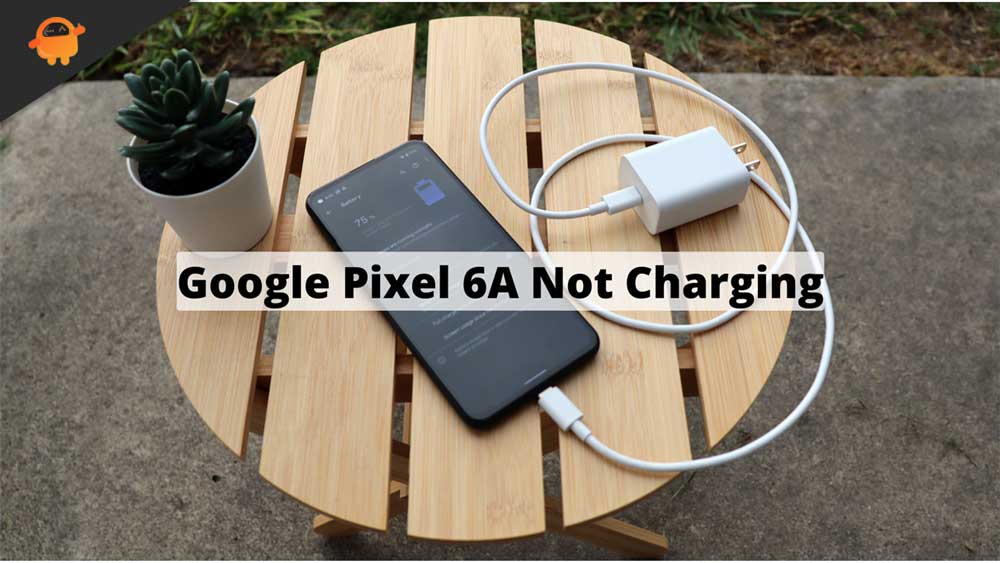 Google Pixel 6a Device Overview:
The Google Pixel 6a features a 6.1 inches OLED panel with a 60 Hz refresh rate. It is an FHD+ panel with a resolution of 1080 x 2400 pixels and an aspect ratio of 20:9. Under the hood, we get the Google Tensor processor built on a 5nm manufacturing process. It is an octa-core processor with two Cortex-X1 cores clocked at 2.8 GHz, two Cortex-A76 cores clocked at 2.25GHz, and four Cortex-A55 cores clocked at 1.80 GHz. For handling graphics-intensive tasks, we have the Mali-G78 MP20. The smartphone comes with stock Android 12 out of the box.
In optics, we get a dual camera setup at the rear and a single selfie camera at the front. The dual camera setup consists of a 12.2 MP primary sensor paired with an f/1.7 lens and a 12 MP ultrawide sensor paired with an f/2.2 lens. The selfie camera at the front is an 8 MP primary sensor paired with an f/2.0 lens. The front and back camera systems are limited to 1080p video recording.
The smartphone comes in a single storage variant with 6GB of RAM and 128GB of internal storage. We also do not get a hybrid microSD slot for storage expansion. In terms of communications, we get Wi-Fi 802.11 a/b/g/n/ac/6e, Bluetooth 5.2, GPS, NFC, and USB Type-C 3.1. And for sensors, we get an under-display optical fingerprint sensor, accelerometer, gyro, proximity, compass, and barometer. Powering it all is a 4410 mAh battery that can be topped up quickly using an 18W power adapter. The smartphone has three color options: Chalk, Charcoal, and Sage.
How To Fix Google Pixel 6A Not Charging or Charging Very Slow
Don't worry if you are facing the Google Pixel 6A not charging or charging very slow problem because we have some fixes to this issue, and guess what? We have mentioned all the fixes right here in this article. So, let's have a look at those fixes:
Fix 1: Try Charging It Overnight
Google Pixel 6A devices may take longer to charge if you use them while still charging. This is because a few apps installed on the phone consume a lot of battery power. The more your phone is charging, the more it is already spending, especially if you use the same application during the charging process.
You should charge your batteries overnight for the battery to be fully charged. After that, you should check if the charging issue gets resolved or not. We recommend this to know whether your phone has any issue or charger. After doing this, you will know the issue behind this problem.
Fix 2: Check The Adapter
Did you check if the Pixel 6A charging adapter is working or not? Well, chances are there that the charging adapter may not work properly, due to which your Google Pixel 6A is not charging or charging slowly. Therefore, we advise you to check the adapter and, if needed, then replace it.
Fix 3: Check The Cable
In many cases, we have noticed that, due to damage charging cable users are facing this kind of charging problem. Therefore, you must make sure that the charging USB cable you are using to charge your Google Pixel 6A doesn't have any type of damage. If so, then consider replacing it.
Fix 4:

Calibrate the Battery on Your Google Pixel 6A
One solution for your Pixel 6A's battery issue is to calibrate it. On the other hand, you can only proceed with it if your phone still has some battery life left. A battery needs to be drained completely to be calibrated. It's a fine solution when dealing with a sudden need, but it may also have some side effects.
You can drain your Google Pixel 6 Pro's battery completely. To do this, ensure the phone is used until it turns off automatically to accomplish the same.

Allow it to turn On and then off (automatically).

Charge the mobile until it reaches 100%. During charging, the indicator will let you know how much percentage of your battery is being charged.

Restart your Pixel 6A phone after disconnecting the charger, turning it on, and then turning it off.

Once more, use your phone normally until its battery runs out.

You should charge it again at 100% to restore its full potential.

Turn on the phone and disconnect the charger; the battery has now been calibrated.
Fix 5: Soft Reset Your Phone
Your Google Pixel 6A may be able to charge more quickly with a soft reset if it is experiencing glitches or bugs. You can use this solution if your Google Pixel 6A still has some battery life.
Start by pressing and holding your phone's Power Button.

Now, tap Power Off on the screen.

Once the device is turned off, wait about 30 seconds, then press the Power button again to turn it back on.

Finally, connect the charger to the mobile and let it charge for a while.
After that, make sure to notice if it takes too much time to get fully charged or not.
Fix 6: Hard Reset Your Pixel 6A
If you are still getting the Pixel 6A not charging or charging very slowly issue, you must try hard resetting your Pixel 6A as it is the last option left to resolve this problem. Now let's see how we can do it:
Switch Off your mobile.

Then hold both Volume Down and Power buttons simultaneously for a few seconds. You will see a screen on your device.

Navigate to Recovery mode using the Volume keys.

To select it, click on the Power key.

After that, hold the Volume Up and Power buttons simultaneously once you see the Android Robot image.

Again, click the Power key after moving to Wipe data/factory reset with the Volume key.

You must select Factory data to reset and click Reboot system to begin the process.
So, that's how to fix Google Pixel 6A not charging or charging very slowly. We hope that this guide has helped you. Meanwhile, for more info, comment below and let us know.