iPhone users often complain about several issues from time to time, whether it be screen freezing issues, boot loop or black screen issues; finding a solution can be a tedious task. Since Apple service centres are very costly if you go out of your warranty, having a go-to software fix all your iPhone program is a great choice. FoneGeek Software is just the right choice for people who don't want to waste any further minute when their iPhone goes down, stuck at the boot screen or any software glitch.
Modern problems require modern solutions – someone said it right as with most people approaching DIY or Do It Yourself approach, it is fun for people to tweak and fix their own devices. Having a professional tool can certainly help you understand how these devices work and save you hundreds of dollars in iPhone repairs.
What is FoneGeek iOS System Recovery
iPhone has a record-breaking experience when it comes to software glitches or errors. Issues such as boot loop, stick screen, black screen, software issues are hardly viable to users. But still, such errors are inevitable as technology errors are bound to happen. FoneGeek Software focuses on solving this problem of people having to go to professionals and spend a lot of money and time getting their devices fixed.
FoneGeek Software provides an all-in-one solution package to all possible iPhone errors and problems. Whether it is an iPhone stuck in recovery mode or not able to boot properly, iOS system recovery can detect and fix the problem without any assistant for professional help. Save yourself the hassle of risking your private data, time and money to fix your devices now. As with FoneGeek iOS system recovery, it is possible for a fraction of the price.
Features
FoneGeek iOS system recovery tool can solve majority of your problems, including:
Repair iTunes Errors:

iPhone can show you multiple errors while the backup, restore or update process. With the iOS recovery tool, you can fix them.

Downgrade iOS Version:

Want to upgrade your iPhone to the latest version? Upgrade with one click.

iPhone Update Failure:

Updating to a new version via OTA but failed, and now your iPhone doesn't turn on? No issues.

iPhone Frozen:

iPhone frozen screen problem where it doesn't respond to touch or inputs.

iPhone Won't Turn On:

Not able to turn on your iPhone? With the iOS recovery tool, you can fix these issues with simple steps.

iPhone Stuck in Recovery Mode:

Not getting out of recovery mode after a failed software update via iTunes? These issues are very common but can be fixed easily with the use of FoneGeek iOS system recovery toolkit.

iPhone Stuck on Apple Logo:

iPhone not booting up completely and stuck on the boot logo problem.

iPhone Boot Loop:

iPhone restarting, again and again, fix it with iOS system recovery
These are just the common problems, but you will be surprised to know that FoneGeek iOS system recovery can fix up to 150+ problems related to iOS and iPhone.
Steps to fix your iPhone problems with FoneGeek Software
No matter what problem your iPhone is facing, you can get it to fix it at your home with your local computer or laptop. It works on both Mac and Windows devices. Here is how you can use it.
Download and install FoneGeek iOS System recovery on your PC.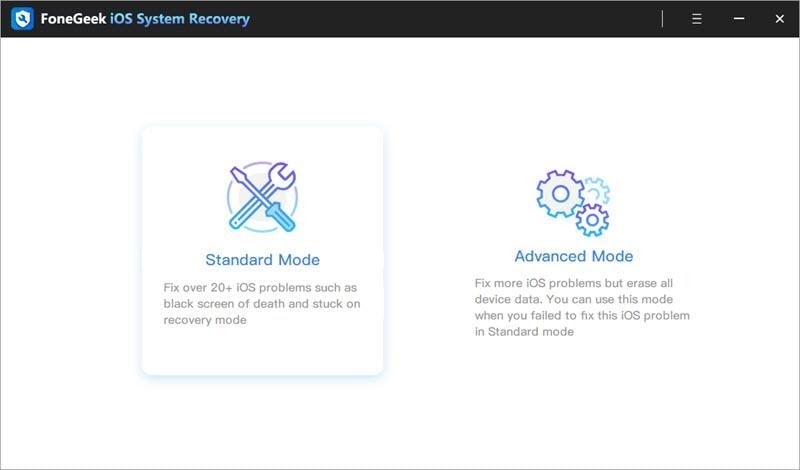 Open the software and choose repair mode. There are two repair modes depending on your problem situation.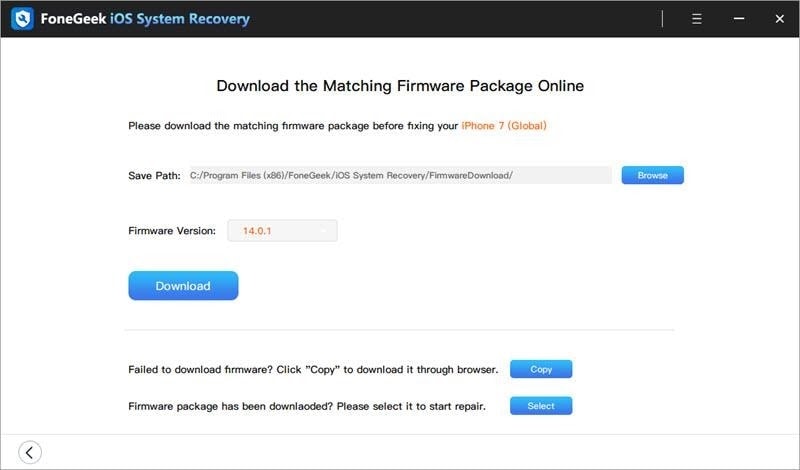 Download the firmware for your specific model. If you're not sure about your iPhone model, don't worry; FoneGeek will automatically search and download the right software for you.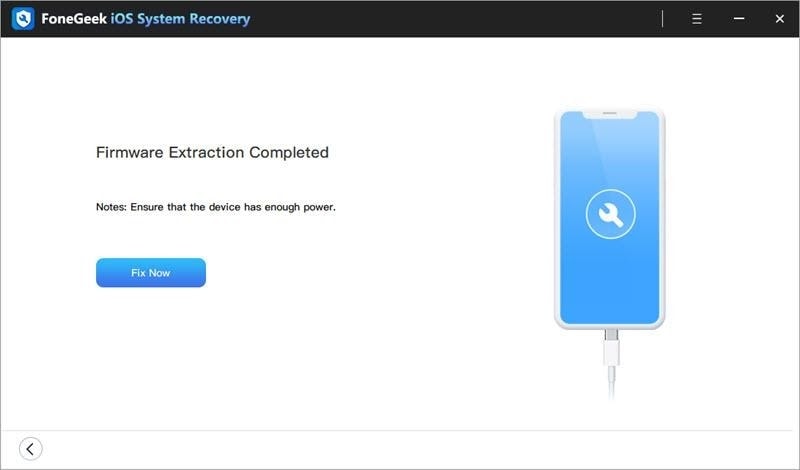 After firmware extraction is complete, click on the "Fix Now" button to solve the issues. It will reinstall the firmware to your phone without losing any data.
Conclusion
FoneGeek iOS System Recovery is such a simple to use virtual iPhone repairing centre at the disposal of public hands. You can solve almost 150+ software problems on your iPhone without stepping out of the comfort of your home. It can save you hundreds of dollars you have to spend if you get your iPhone repaired by a professional. And not to mention the time the technician will take to fix it. With this technology, now you can fix your iPhone at your own home without risking your smartphone data and save money in the long run.