Connectivity is the most important factor of communication in the modern world; with this, a lot of people share their connectivity with other users in need in the form of Wifi Hotspot. iPhone 13 series come with the latest Wifi 6 technology, which gives more powerful wifi connectivity. But despite the new hardware, many users are complaining about their iPhone 13, 13 Pro, and 13 Pro Max hotspots not working. So what's the reason behind such an issue, and how you can fix it – read below to know more.
There are numerous reasons why your iPhone 13 hotspot is not working, but the number one primary reason is the non-compatibility of your iPhone to run the cellular network. This usually happens when you buy your iPhone from the international market and purchase the wrong model no which is affiliated with your country. This is why the cellular network might work, but the Wifi hotspot won't. Apart from this, there are other factors that come into the picture as well, which we are going to discuss down below.
Fix: iPhone 13, 13 Pro, 13 Pro Max Hotspot Not Working
iPhone Hotspot is by far the best and energy-efficient Wifi sharing service across all smartphones. It actively checks and shares your cellular bandwidth with other users by creating a local area network with your iPhone 13 hotspot. But recently, there have been many complaints regarding iPhone 13, 13 Pro, 13 Pro Max hotspot not working. The reason why such an issue is happening is due to either cellular network settings, hotspot settings, or physical damage. Down below are some troubleshooting methods that helped me to fix the issue on my own.
Connect to Personal Hotspot with Bluetooth: In order to connect with a Bluetooth hotspot, you need to first pair the device with your iPhone. Once it's finished, you can start the Bluetooth tethering from your iPhone settings.
Connect to Personal Hotspot with USB: In order to connect with USB tethering, you need to have to install the Apple USB driver on your PC. Please note that this feature will only work with PC and not mobile devices.
Turn Personal Hotspot Off and On
In some cases, the hotspot services do not start immediately or get paused in between due to some software glitch. So you have to reset your Personal Hotspot to get it working again but tapping the slider on or off.
Open the Settings app on your iPhone and navigate to Personal Hotspot.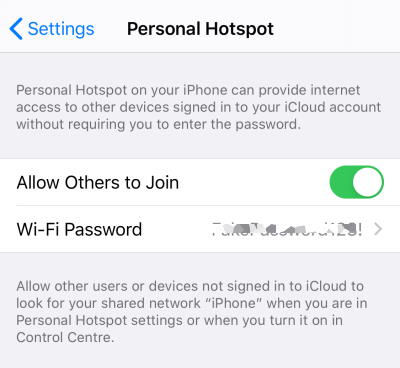 Here move to allow others to join the slider, and turn it off and on again.
Turn Cellular Data On and Off
The wifi hotspot needs an active cellular connection, where your iPhone will share the cellular network with others. You need to make sure that the cellular network is turned on and working as per your plan.
Open the Settings app on your iPhone and navigate to cellular data options.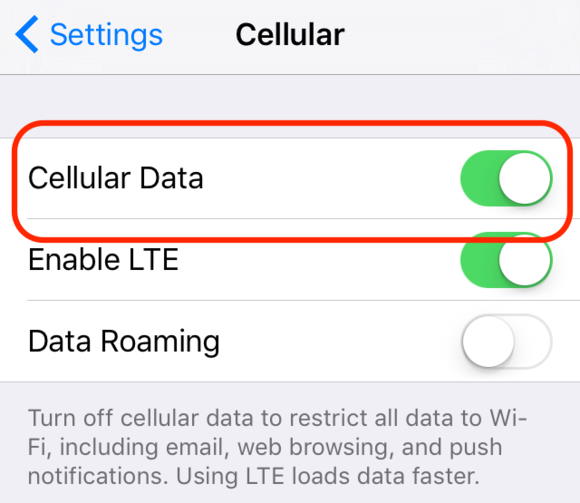 Here turn off the cellular data slider on or off.
Confirm that your Phone Plan Includes a Personal Hotspot connection. Many SIM operators have separate plans if you wish to use hotspot or internet sharing services.
Restart iPhone to Fix Personal Hotspot
In many cases, such connection issues can be fixed via a simple device reboot. Usually, when we are using our SIM connection for the internet and start a hotspot sharing service, iPhone software gets buggy, and the service services do not start. If this is the case, restarting your device might help.
Enable Maximize Compatibility on iPhone 13 Series
iPhone 13 series comes with the latest hardware capabilities, which can connect with routers with the latest Wifi 6 services. Although this feature is not enabled by default. So if you wish to connect with an old device, you can enable this feature which will increase the hotspot sharing capability.
Open the Settings app on your iPhone and go to hotspot options.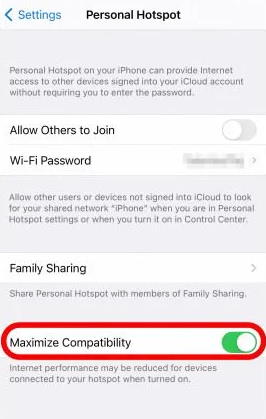 Here turn on maximize compatibility option.
Update Carrier Settings to Fix Personal Hotspot
Sometimes when you switch SIM cards to your device, you need to install specific carrier network settings in order to set up the internet services. Such settings are updated automatically, but in case not, you can request the latest carrier settings by requesting to your carrier provider.
Update iOS
Updating your operating system is the best way to fix such minor issues on your iPhone 13 device. Apple gives timely updates to all iPhone users to make sure they get the best software experience. It also protects you from many cyber-attacks and other software-related vulnerabilities.
To update your iPhone 13, open the Settings app and navigate to General.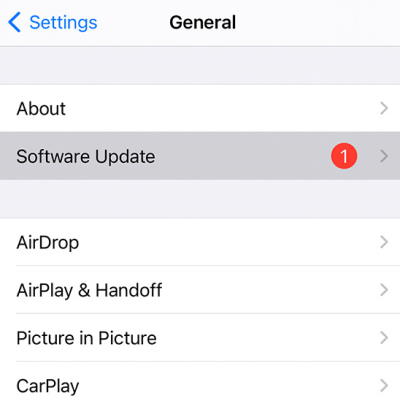 Here go to the software update option and check if new updates are available.
Opt-out of Beta updates: Beta updates are experimental updates where developers allow Apple community users to test the update and report back with errors or bugs. This is a great way to test out new features and advancements, but this also makes your iPhone device prone to many software glitches. So make sure to opt-out of any beta updates plan if subscribed.
Conclusion
So as you see, when the hotspot is not working on your iPhone 13, 13 Pro, or 13 Pro Max, the above methods will definitely allow you to fix the problem on your end. Please note that sometimes hotspot connectivity is also hampered due to external connection. So make sure to use a high-security password and connect with limited numbers of devices so your internet bandwidth doesn't wipe fast. And in case none of the above methods works for you, then it might be the case of a wifi hardware issue. In such a case, kindly get your iPhone checked from the nearest Apple care center.