'How to know who viewed my Instagram profile?' – This might be a common question in every avid Instagrammer's mind. Well, if you are a social media freak and have a public profile on Instagram, most of the time, we have a keen desire to know who viewed our profile bio. Today when many users are still following the 'Like & Follow' method, it is not necessary for all to do the same. There is a majority of users who like to check out your profile without following the account.
So, all these behavior sometimes makes us curious to think about how to track visitors who don't actually like to follow. Does Instagram let you see the list of your profile visitors? Sadly the answer is no. But do check this article to know different ways to do so.
How To Know Who Views My Instagram Page or Profile?
Well, if you are looking forward to finding out away, you must be curious enough. So, before we move on, you must know that Instagram doesn't provide an in-app functionality to track down your profile visitors.
If you are using a business account, you will be allowed to see the number of people who checked your profile in the last 7 days. But again, Instagram won't reveal their names, not even to you. Therefore, let's check out some of the alternate apps to do so.
Third-Party Applications
Since Instagram doesn't provide the in-app functionality, let us search for some third-party applications built for the same purpose. During our search, we found tons of similar applications that claim to have this functionality. These apps are available both for Android and iOS.
Now the important question is, do these apps really work? Well, the answer is again a big NO.
Most of these apps are fake. They randomly pick up some Instagram names and show them to fool you. Also, some of the apps ask for small payments to show your profile visitors. Moreover, new ads will pop-up every other minute, which is a good way to earn revenue. The reason why these apps don't work properly is that Instagram API doesn't share any such information with the third-party applications. So in case you have installed one such application, you should delete them as they are FAKE!
Easy Alternate Way To See Who Viewed Your Profile
If you are still curious about tracking your visitors, the Instagram Story feature might be helpful for you. As your Instagram stories posted publicly are accessible by almost everyone except if you have blocked someone from viewing it. So, you can use this trick to get an idea about your profile visitors.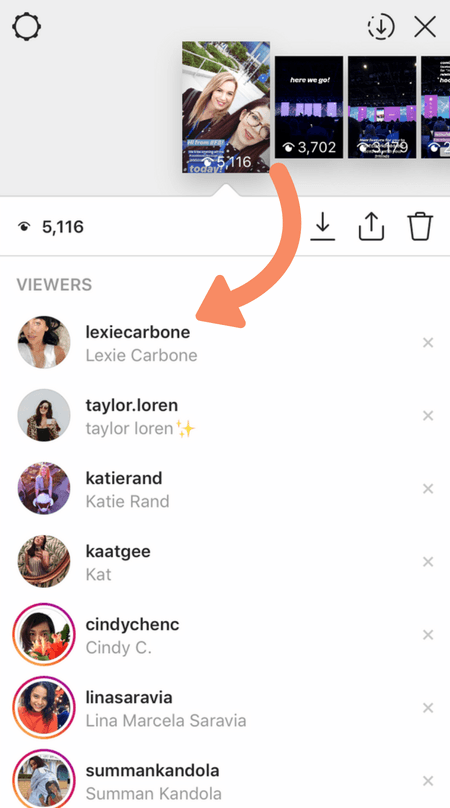 All you need to do is open your story and swipe up. Next click on the eyeball icon, it will display the list of people who have seen your story. Thus, it also includes people who are not your followers. If you find any creepy stalker, you could simply click on the cross icon next to the name. This will block that particular user from viewing your future posts, or you can simply switch to a private account if you wish to.
Conclusion
It is sad to tell you that there is no way you can view the exact names of the people who visited your Instagram profile. At least for now, you can use the views on your stories to get an idea. However, this trick is quite boring, but it's the only way. So, the next time you get madly curious to know your visitor's name, we hope you won't fool yourself by using any third-party application. After all, we have no idea that if these apps are even secured or not.