In this post, we would be dealing with an issue that has frequently reported by the users lately. You might have also come across this issue where after installation of Microsoft Office, there is an issue with Microsoft Word. Notably, every other software works well, but whenever you open Microsoft Word, it shows an error "Microsoft Word has stopped working." If you are also experiencing such issues in your Windows 10 or any other version of desktop or laptop and are looking for a fix for this issue, then you are at the right place.
Because we will be looking at the potential solutions that would fix Microsoft Word has stopped working in Windows 10 or any other versions. Note that this issue might pop up on any version of the Microsoft Office Word, i.e. 2016, 2013, 2010, or 2007. And if any of the above versions is causing the same issue, then this guide is just for you. There are some ways and workarounds that have reportedly helped the users fix this issue, which we will be checking in this post. So, with that being said, let us jump right into it.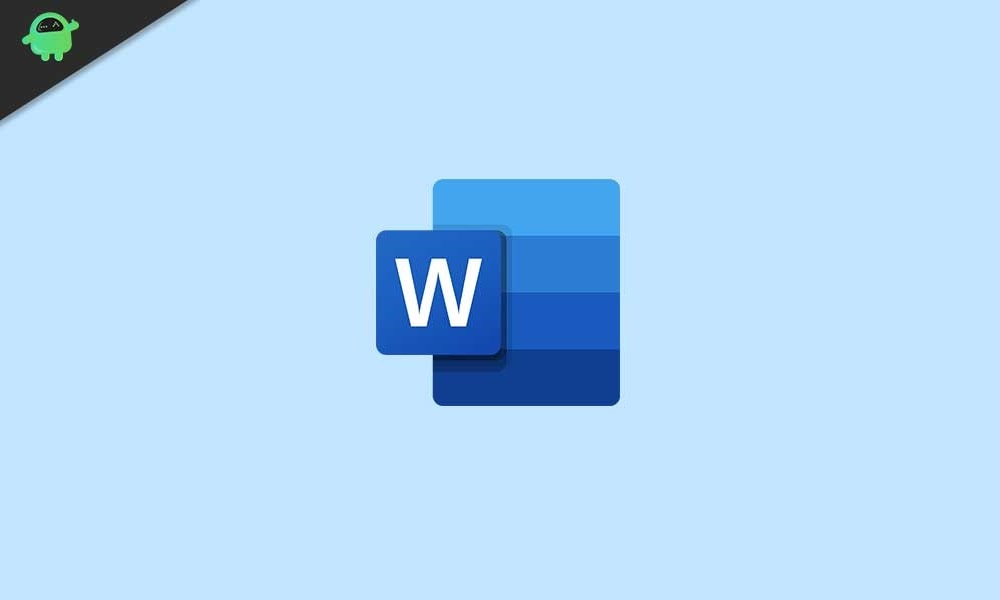 How to Fix If Microsoft Word has Stopped Working in Windows 10
Let us take a look at the potential solutions that will help you to fix Microsoft Word has stopped working in Windows 10 desktop or laptop.
Disable Add-ins in Safe Mode
Well, several users have reported that disabling the incompatible add-ins in safe mode as helped them overcome this issue. For the unaware, add-ins are small programs that could be installed to enhance the functionality of Microsoft Word. Or in simpler words, it is a template that loads every time you open Microsoft Word.
Press Windows + R key to open the Run program.
Type in winword.exe /a and hit the Enter button on your keyboard.

The above operation will open Microsoft Word in Safe Mode.
Alternatively, you can also enter winword /safe to start Microsoft Word in Safe Mode without plugins.
If Microsoft Word starts you need to head over to File>>Options>>Add-Ins.

Now go to the end at Manage and select COM Add-ins. Click Go.
Delete the older add-ins from here by selecting and tapping the Remove button.
Once that is done, restart Word.
That's it!
Quick Repair Microsoft Office
Another thing that you can make use of, is the quick repair option in the Windows Control Panel. This will help you fix some common errors occurring on your software.
Open Control Panel.
Under that tap on View by – Category.
Then Select Programs.
Open Programs and Features.
Select Microsoft Office.

Right-click and select Change.
You will be shown multiple options, tap on Repair.

Click on Continue.
Let the repair finish and restart the computer once that is done.
That's it!
Install Latest System Updates
Very often the issue is related to the older version of Microsoft Windows OS installed in your system.
Press Windows + I button to open Windows Settings.
Then click on Update & Security option.

Select Check for updates under Windows Update.

If there is a new update available, then tap on the Download button to update your system.
Once the updates are installed, restart your PC.
Install MS Office Updates
Similarly, old Microsoft Office versions can be an issue and can cause the Microsoft Word not working issue on your Windows laptop or desktop.
Open any Office application and click on File.
Head over to Account>>Product Information>>Update Options.
Then based on the version of the MS Office installed on your PC, select Enable Update and then select Update Now option.


If there is no update option, then the automatic update option is enabled.
That's it!
Try Inserting Word Document into Another File
Microsoft Word has stopped working error can very often be caused if you try opening previously saved or unsaved documents. They might contain some unsaved elements that are causing the issue in the MS Word. To fix this, you should try inserting the Word document into another file. Follow the steps below:
Open MS Word and open a blank file.
Tap on the Insert option and click on the Text button.
Click on Text from file option.

Select the Word file that is causing the issue and click on Insert.
See if this procedure helps or not.
Fix Using Registry Editor
Press Windows + R button.
Type in Regedit to open Registry Editor.

Head over to the below path:

HKEY_CURRENT_USER\Software\Microsoft\Office\15.0\Word\Options

Locate on the left side pane and right-click on Options and press Export.

Now you need to save the Options key as Wddata.reg on your Desktop.
Head over to Registry Editor and locate the Options key, and delete it from the menu.
Then exit the Registry Editor.
Restart your PC and see if this helps.
Replace the Normal.dot Global Template File
Many of you might not know that the Microsoft Word stores formatting and macros data in a global template file. And if this file has issues or gets corrupted, then you will experience a Microsoft word stopped working error message. To fix this issue, we will need to replace the Normal.dot global template file. However, note that customizing the global template file will also replace some of the features like styles, macros, etc.
Press Windows + X.
Select Command Prompt/Windows Powershell (Admin).

Enter the below command and hit Enter.

ren %userprofile%\AppData\Roaming\Microsoft\Templates\OldNormal.dotm Normal.dotm

Let the command execute.
Once done, exit Command Prompt or Windows Powershell.
Restart your PC.
That's it.
Reinstall Microsoft Office
Well, as a last resort, if nothing works for you, then it is probably better to reinstall the Microsoft Office software package on your Windows 10 operating system. Note that you need to activate the copy once again if you reinstall MS Office on your PC. Simply uninstall the program from the control panel and reinstall the copy of MS Office.
Wrap Up!
So, there you have it from my side in this post. I hope you guys liked this post and were able to fix the Microsoft Word not working issue on your Windows 10 PC. However, some of the methods require your attention like the editing registry. So be careful as this could damage the copy of your Windows PC if not done with proper attention. Let us know in the comments below if any other trick or method worked for you.
For more such awesome coverage, you can head over to our check out our Windows Guides, Gaming Guides, Social Media Guides, iPhone, and Android Guides to read more. Make sure to subscribe to our YouTube Channel for awesome videos related to Android, iOS, and Gaming. Stay tuned to GetDroidTips for more. Until the next post…Cheers!