When it comes to the multiplayer role-playing third-person shooter video game, Outriders is one of the latest titles in 2021 by People Can Fly and Square Enix. But as a newly released game or an online cooperative game, Outriders have also multiple bugs or issues like Crashing and Freezing on PC, PS5, and Xbox devices. If you're one of the victims, follow this guide.
The particular crashing and freezing or lagging-related issues are preventing players from enjoying the Outriders players on their respective platforms whatsoever. Even the powerful gaming rigs and next-gen gaming consoles are having difficulties with crashes and lags which is quite frustrating. Any kind of game crash or lag can happen due to outdated systems or game files mostly.
Alternatively, issues with the graphics driver on PCs can also be another reason behind such an issue. Without having any common bug in the game, most players may experience such issues due to their own faults or you can say lack of software/hardware compatibility. So, there is nothing developers can do in such scenarios except for you. Only you can try fixing them manually.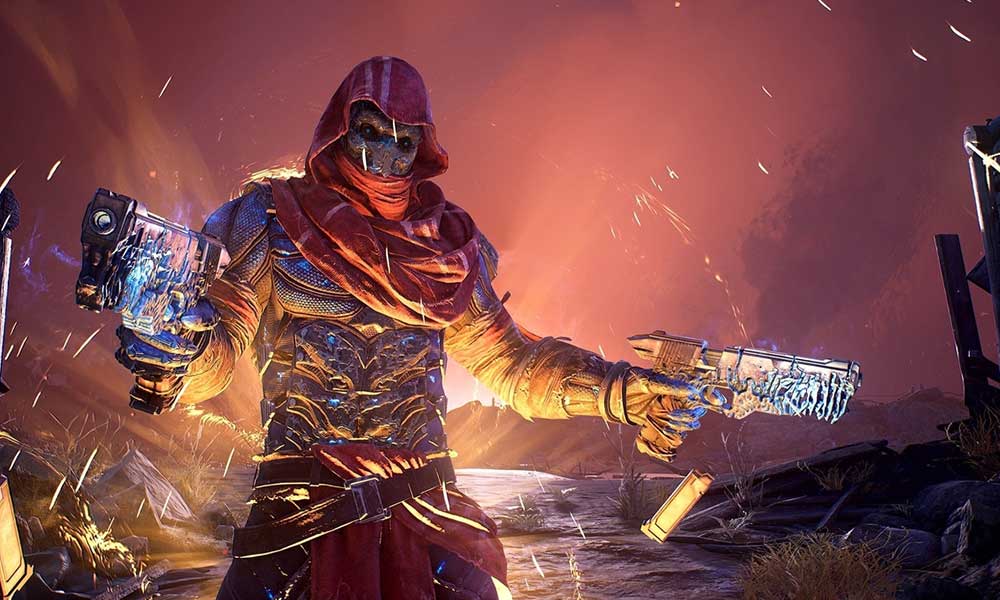 How to Fix Outriders Crashing and Freezing on PC
As a Windows computer user, you may find game crashes while startup or during the gameplay, lags, stutters, frame drops, visual glitches, force closing the game, etc which are quite common in PC games. Here we've shared a couple of major reasons and possible solutions below that you should try out.
Make sure that your graphics driver is installed to its latest version whether you're using AMD or Nvidia GPU.
Ensure that there is no unnecessary or heavy task running in the background. This is also important.
Update your Windows OS Build to its latest version whichever is available to you.
Try lowering the in-game graphics settings to reduce the CPU/GPU stress (if applicable). It includes lowering the FPS count, turning off V-Sync, set shadow, or other extra visual effects to low or medium, etc.
You can also turn off the Cross-Play option in order to reduce several bugs or crashes because the game is still in its early stage which indicates there are plenty of fixes expected to arrive soon.
We have already made a dedicated guide on it where you can find possible reasons and workarounds to fix the Outriders crashing issue on your PC. It's highly recommended to follow this link and go through all methods until the problem gets fixed for you.
How to Fix Outriders Crashing and Freezing on PS5 and Xbox
Gaming console users can try following the mentioned steps below in order to fix the crashing and lagging issue.
1. Update Outriders
For PS5/PS4:
Make sure to highlight the Outriders game from the list on your PlayStation.
Press the Options button > Select 'Check for update'.
If there is an update available, ensure to download and install the update properly.
Once done, you should reboot your console to apply changes.
For Xbox Series:
Navigate to 'My games & apps' from the home screen.
Next, select 'Manage' > Go to 'Updates'.
The system will check for the available Outriders update. If yes, make sure to download and install it.
Once done, restart your console to change effects.
2. Disable Cross-Play
If you're still experiencing multiple issues with the gameplay like crashing or freezing then make sure to Disable the Cross-Play feature right now because it's in the beta mode. You can turn it off from the in-game Options menu very easily.
3. Update Firmware
It's needless to say that updating the console firmware to its latest version is always a good idea if you're having several issues with the game launching or gameplay.
For PS5/PS4:
Make sure that your PlayStation console is connected to the Wi-Fi or Ethernet network.
Now, open Settings from the home screen.
Select 'System Software Update' > Press the X button on your controller.
It'll search for the available software update. If found, make sure to download and install it properly.
Once done, reboot your console to apply changes.
For Xbox Series:
Make sure that your Xbox console is connected to the internet.
Now, press the Xbox button on your controller to open Guide.
Then select Profile & system > Go to Settings.
Select System > Choose to Updates.
If you see 'Console update available' then select it to start updating the firmware.
Once done, make sure to reboot your console to apply changes.
4. Reduce Overheating and Maintain Ventilation
When it comes to gaming consoles, it's recommended to place your console in a well-ventilated area where the airflow is going properly. Meanwhile, if your console feels overheated due to excessive usage or warm temperature, you should power off your console temporarily to cool it down.
Sometimes overheating of the hardware on your gaming console can also cause game crashes, freezes, lags, frame drops, input lags, etc for online titles.
That's it, guys. We assume this guide was helpful to you. For additional queries, you can comment below.