There are few differences between these Pixels and last year's Pixel 6 and Pixel 6 Pro. Despite the minor cosmetic updates, they look classy. For the Pixel 7, the rear camera band is polished, and for the Pixel 7, it's matte. It features a fresh color palette and a more refined chassis for the Pixel 7 and 7 Pro. You'll always find Google's signature camera bar on the back.
There is a major difference: the case now wraps seamlessly around the phone's sides, improving durability. However, the new Google Pixel 7 and 7 Pro has everything, along with many bugs. Yes, it has bugs due to which Google Pixel 7 and 7 Pro have black screen problems. However, we have investigated this issue and found some fixes that helped users resolve the Google Pixel 7 and 7 Pro black screen issue. So, let's check out the fixes.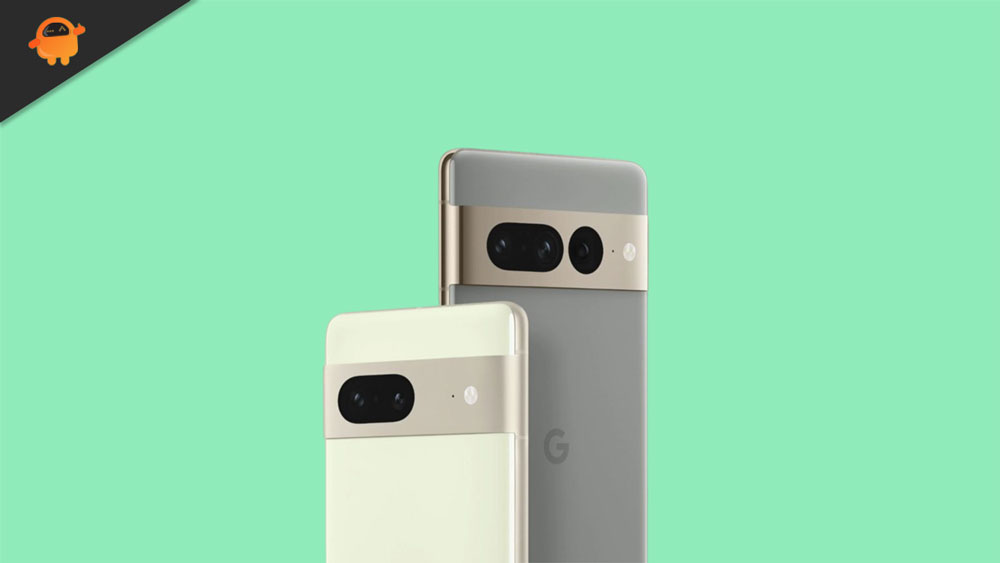 Fix: Google Pixel 7 And 7 Pro Black Screen Problem
So, here are some fixes that will surely help you resolve the Google Pixel 7 and 7 Pro black screen problem. Therefore, in case you want to fix this problem for your device, make sure to perform the fixes mentioned below:
Prerequisites:
Before we start with the fixes, let's first check out some of the initial steps that you need to check on your Google Pixel 7 and 7 Pro:
Ensure your phone screen is free of cracks, chips, and damage.
Remove any cases or screen protectors you have.

Take off your gloves if you are wearing them.

Any stickers you have placed over the screen or sensors should be removed.

Keep your screen clean.

Charge your phone before using it.
Fix 1: Perform a Force Restart
There is a probability that the issue is the result of a software glitch. A Pixel 7 screen that's black might be due to an unresponsive or frozen device.
Hence, you should force Reboot your phone in order to fix this issue. By rebooting the phone and reloading all of its services, you will be able to restore the normal operation of the device. You will not lose any data or apps related to your personal information.
For a couple of seconds, press and hold the Power button.

Select Power off from the power menu that appears.

By pressing the Power key, you will be able to turn on your smartphone after a few seconds.
Fix 2: Start the Google Pixel in Safe Mode
Google Pixel black screen issue can sometimes be caused by apps downloaded from the Google Play store. Your phone may not work properly if the app isn't compatible with the OS version you are currently running.
You will need to start the Google Pixel in Safe Mode to verify if a third-party app is causing the problem.
Keep holding the Power button until the 'Power off' prompt appears on the screen, then release.

Once the

Reboot to safe mode

prompt appears, touch and hold Restart.

To confirm, tap OK.

You will find Safe mode when you restart the phone in the lower left-hand corner of the unlock / home screen.
You can definitely assume that a downloaded app causes the black screen of death issue if it does not occur in this mode. You need to find out what app it is and uninstall it.
You only need to restart your phone to exit Safe Mode.
Fix 3: Perform a Factory Reset on Your Google Pixel Device
The Android system recovery screen may need to be reset in the Android system recovery screen if the black screen problem persists. It is advisable to back up your phone data before attempting a reset, as it will erase all your data.
Make sure the device is turned off.

Thereafter, press and hold the Volume down and Power buttons.

You should release both buttons once you see the triangle with an exclamation point and Fastboot.

Afterward, hold the Power button and press Volume Up until the words No Command appear, and then release both buttons.

Press the Power button after you've highlighted Wipe data/factory reset on the volume keys.

You can highlight Yes by holding down the volume key and pressing the power button. The deletion of your information will take some time.

Then, by pressing the Power button, highlight Reboot system now and press the Volume keys.
Check if the black screen issue persists after the factory data reset has been completed.
Fix 4: Connect Pixel 7 and 7 Pro to Computer
In case you have a computer, you can use it to fix the problem.
The charger should be plugged into a wall outlet, and the cable should be unplugged.

Ensure that your computer is turned on before you begin.

If your phone comes with a USB cable, you can connect it to the USB port on your computer.

Give it a few minutes.

It is essential to disconnect the cable and reconnect it within 10 seconds.

If you wait for a minute, you might see a battery icon or a red light. An icon indicating battery life appears on the phone when it is charging and powered off. When a red light appears, the battery is fully discharged.

You should wait at least 30 minutes before charging your phone.

You will need to hold down the power button for a few seconds before you can restart your phone. You can restart your computer by tapping the Restart button.
Fix 5: Charge your Google Pixel
Your Pixel phone might not be turning on because the battery is drained. It is recommended that you charge your Pixel phone for another 30 minutes if the phone does not turn on after at least 30 minutes of charging.
Make sure the power adapter is plugged into an electrical outlet that is working.

A USB-C charging cable is required to charge your Google Pixel.

If you plan on using your phone for the first time, ensure that it has been plugged in for at least 30 minutes.
Before charging your phone, check that both the charger and the outlet work.
In the event that the Pixel charging cable is connected to the phone, a red light indicates that the battery has been fully discharged. Tap Restart after leaving the phone connected for 30 minutes, then hold the power button and press the power button again. If you see an Android robot with an arrow around it and the words "start" on it, you need to follow these instructions.
With the volume-down button pressed, the device will be turned off.

When the power button is pressed, select

Power off

.

Before using your phone, make sure that it has been charged for at least 30 minutes.

Thereafter, hold down the power button for a few seconds.

The power button can be tapped for about 30 seconds to restart your device, or you can press Restart on the screen to restart it.
Fix 6: Find an Authorized Repair Center
Contact an authorized repair center near you if this black screen problem is due to a damaged component. There is a possibility that the damage is covered by the phone's warranty, which will cover the cost of fixing it.
So, that's how to fix the Google Pixel 7 and 7 Pro black screen issue. We hope that this guide has helped you. Meanwhile, in case you have any doubts or suggestions for us, comment below and let us know.