The high-octane vehicular soccer video game by Psyonix, Rocket League, has been racing ably past its peers five years into its initial release. Described as "soccer with rocket-powered cars," the game was initially released for Microsoft Windows and PlayStation 4 before being ported over to the Xbox One and Nintendo Switch eventually. The game has been widely praised for its engaging graphics and dynamic gameplay. It went on to bag a number of prestigious awards, including PlayStation Universe's "Best Sports Game of E3" and Gaming Trend's "Best Multiplayer Game of E3". As of 2018, it sold over 10 million hard copies across the globe. Also, it had at least 40 million active players in its community.
However, the game is still affected by a number of technical issues and bugs. One of these is the Rocket League Error 71 ("Your connection to the game timed out"), which is being experienced by a lot of players. So we decided to bring up this guide that will help the players solve this issue. If you are one of those, then you have landed on the right page. So without any further ado, let's get started.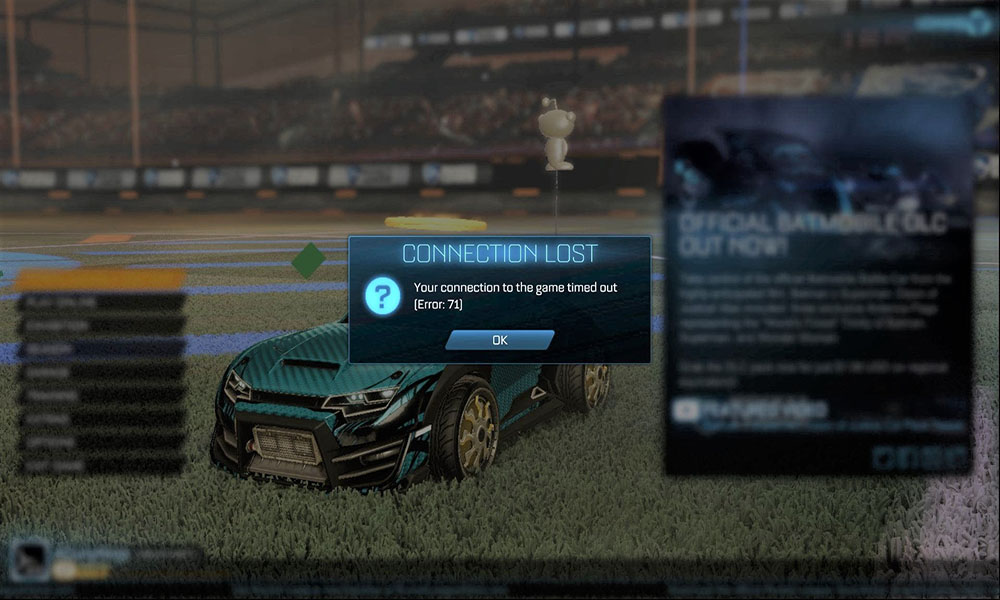 How to Fix Rocket League Error 71?
This is believed to be a kind of matchmaking error that could be due to the following reasons:
The remote server has gone down.
Your version of the Rocket League is outdated.
A network issue is hampering communication with the game's server.
As you proceed to fix this error, we recommend taking the following steps in order:
Check if it's a widespread problem with the game's servers.
Try restarting or resetting your router and see if it fixes the issue.
Install the latest updates for your router's firmware.
Manually forward the ports used by Rocket League.
Fixes to Error 71
Let's take a detailed look at each of these fixes. We recommend going through each fix carefully. Moreover, none of them are hard, so making them easily accessible for every gamer out there. One more thing to consider here is that no one should skip a single step and follow them accordingly.
Fix 1: Confirm whether it's an issue with the Servers or Not
If the problem is something being experienced on a large scale by the game's servers, there's not much you will be able to do about it from your end.
It's best to first check the server's status on Xbox One or PlayStation 4.
In case you are playing on your PC, check the game's official Twitter account for any updates regarding the same.
If it's not an issue with the servers, keep reading below to find out how to fix the problem.
Fix 2: Reset or Restart Your Router
In regards to Error 71, Psyonix has confirmed that if it's not an issue with the servers, then it's likely a case of network inconsistency. The best way to solve this is via a simple reboot that will refresh the IP and DNS being used by your system. This is what you need to do:
Switch off your router using the On/Off button and unplug the cable from the power outlet.
Wait for at least 30 seconds for the capacitors to get drained. After that, restore power to your networking device.
Launch Rocket League and see if the problem is solved.
If you are still facing Error 71, it's time to go for a proper reset. Here's what you need to do:
Use any pointed object to hold down the dedicated button on the back until every light flashes simultaneously together.
Release the button and wait for the connection to be re-established. This method will also clear any router-related customizations you have added prior to this, so bear that in mind.
Check if the error has vanished or not.
If the error persists, keep reading below for more potential fixes.
Fix 3: Manually Forward the Ports Used by Rocket League
One of the possibilities in the case of older routers is that the ports used by Rocket league might be closed due to UPnP (Universal Plug and Play) not being supported. In that case, you will be able to solve the problem by manually forwarding the ports used by the game. This has been confirmed to fix the issue for a number of players.
Although the exact procedure of doing this varies from router to router, the steps given below should give you a good general idea about how to go about it.
Bring up your router's settings by typing its IP address in your browser's navigation bar. Usually, the default IP is either 192.168.0.1 or 192.168.1.1. If neither of these works, try looking online for your router's custom address.
Enter your login credentials to gain access to the main settings window. Usually, the default credentials are "admin" for a user and "1234" for the password. In case that doesn't work, you will then have to look online for the default credentials attached to your router model.
Expand the "Advanced" menu and search for an option titled "NAT Forwarding" or "Port Forwarding." After finding it, click on "Virtual Server" (VS) and manually add all of the ports that the Rocket League requires.
Ports for Different Devices
Steam
TCP: 27015-27030, 27036-27037

UDP: 4380, 27000-27031, 27036
Play Station 4
TCP: 1935, 3478-3480

UDP: 3074, 3478-3479
Xbox One
TCP: 3074

UDP: 88, 500, 3074, 3544, 4500
Nintendo Switch
TCP: 6667, 12400, 28910, 29900, 29901, 29920

UDP: 1-65535
Remember that the ports required will be different depending on the platform being used to play the Rocket League.
After you've finished forwarding every port, restart both your router and system or console. See if the problem is solved or not.
If the error persists, keep reading below for more potential solutions.
Fix 4: Update Your Router's Firmware
If your router's firmware is outdated, then you could fix Error 71 in Rocket League by updating it to the latest version. Every router manufacturer has its own unique ways of enabling end-users to update their networking device's firmware. It can range from proprietary tools to a manual approach. You will have to check with them to update your router's firmware. An alternative is to ask a technician to do it for you, or to simply purchase a newer model.
However, you can log into the settings page of the router from your computer and then try updating it from there. After following all the fixes here, your problem should be solved.
We hope our guide comes in handy to help you overcome the infamous Error 71 in Rocket League. GetDroidTips works seamlessly for you people day and night to offer the best iPhone Tips and Tricks, PC tips and tricks, Games and Android Tips and Tricks. So it does become your task to subscribe to our YouTube Channel. Moreover, there, the benefit is yours. We are offering a $150 giveaway contest for all our subscribers who watches our videos there. Now signing off here, to prepare another best guide for you. You can also comment down below with your feedback and queries with your name and e-mail ID, and we will love to help Happy gaming!