The vehicular soccer video game by Psyonix, Rocket League, has been doing remarkably well with gamers five years into its initial release. Described as "soccer with rocket-powered cars", the game was initially released for Microsoft Windows and PlayStation 4 before being ported over to the Xbox One and Nintendo Switch later. The game has been widely praised for its engaging graphics and dynamic gameplay. It went on to win a number of prestigious awards, including PlayStation Universe's "Best Sports Game of E3" and Gaming Trend's "Best Multiplayer Game of E3". It sold over 10 million copies and had at least 40 million players by 2018.
That said, the PC version of the game is still facing a number of technical issues. Two of the most disturbing problems being faced by players are the Fatal Error and the Crash At Startup Error. If you have been experiencing these issues, don't worry. Right here, we have a guide to help you fix the Fatal Error and Crash At Startup error in Rocket League.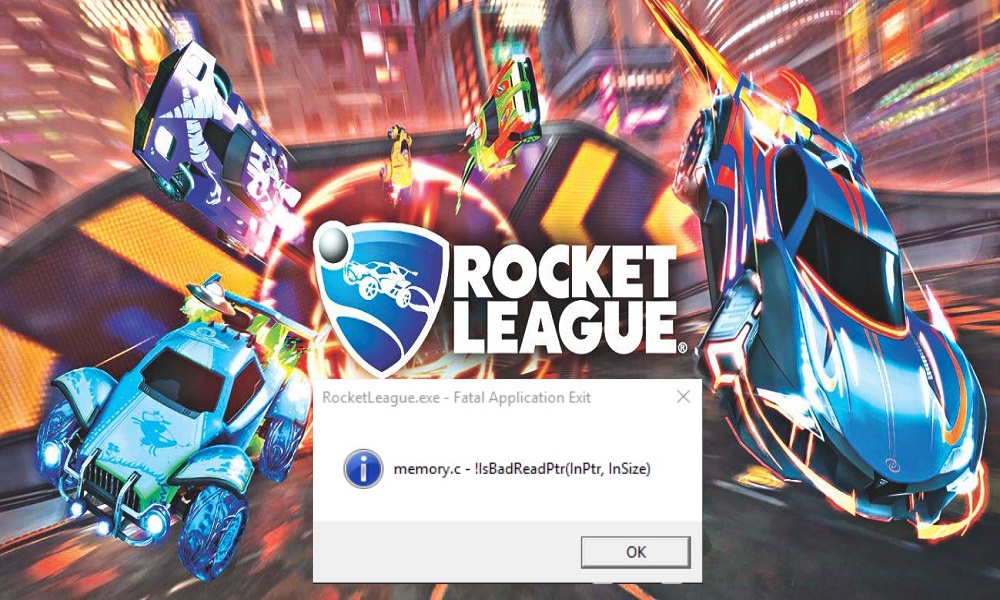 How to Fix Rocket League Fatal Error and Crash At Startup Error?
We will discuss the guide in two separate parts. In the first section, we will solve the Fatal Error issue while in the next section we will work out on solving Crash at startup. So without any further ado, let's get started.
Fix Fatal Error in Rocket League
This issue is likely to be caused by a fault with the display driver. It is often experienced when players get into random crashes while playing, followed by this error. There are some ways to correct this, which we have listed below.
In case you updated your GPU drivers recently, switching back to an older version could fix this error.
If you have overclocked your GPU or it is outdated, try restoring its original clock speed.
In case you still do not succeed in fixing the error, try reducing the maximum FPS of the game. Navigate from Nvidia Control Panel > Manage 3D Settings > Program Setting and select the game from the list. Turn on the "Max Frame Rate" and try to set an optimum FPS value.
If you're facing this error when launching the game, you can fix it by disabling cloud synchronization. Navigate from Steam > Settings > Cloud and de-select "Enable Steam Cloud Synchronization". Now go to Documents > My Games and delete the Rocket League folder. You may have to do this every time you start the game.
Do make sure that your GPU fully supports DirectX 11. Partial support for the same could likely lead to the Fatal Error.
Fix Crash At Startup Error
There have been a number of complaints about the game failing to launch or crashing upon doing so. Here is a list of possible reasons and their fixes.
It could be due to incompatibility with Windows 10. Navigate from Steam > Rocket League > Manage > Browse local files > binaries > win32. Now right-click the game's .exe file and go from Properties > Compatibility (tab) > run program in compatibility mode for Windows 8. Apply the change, and hopefully the error will be fixed.
In case your antivirus or Windows Defender is interfering with the launch, you will have to disable the antivirus manually or add the Rocket League as an exception in the antivirus software's library. Verify game files and re-launch the Rocket League.
Try to disable any third-party tools you are using, such as Geforce Experience or MSI Afterburner. These could potentially interfere with the launch of the game.
That's it. Hopefully you will be able to smoothly play Rocket League without any errors after going through our guide! GetDroidTips works seamlessly for you people day and night to offer the best iPhone Tips and Tricks, PC tips and tricks, Games and Android Tips and Tricks. So it does become your task to subscribe to our YouTube Channel. Moreover, there, the benefit is yours. We are offering a $150 giveaway contest for all our subscribers who watches our videos there. Now signing off here, to prepare another best guide for you. You can also comment down below with your feedback and queries with your name and e-mail ID, and we will love to help Happy gaming!