Samsung Galaxy Watch 5 or 5 Pro is one of the latest offerings by Samsung under its smartwatch range. The company claims it has a good battery life, but users complain otherwise. There are a number of causes for battery drain or decreased battery life on your Samsung Galaxy Watch 5. For instance, some applications can increase battery usage.
Samsung Galaxy Watch 5 & 5 Pro comes with fast charging capability, which can charge the battery to 45% within 30 minutes. This is great news for all smartphone watch owners, but not for Watch 5 & 5 Pro users. Despite the fast charging facility, many users complain about the fast battery drain issue on their start watch.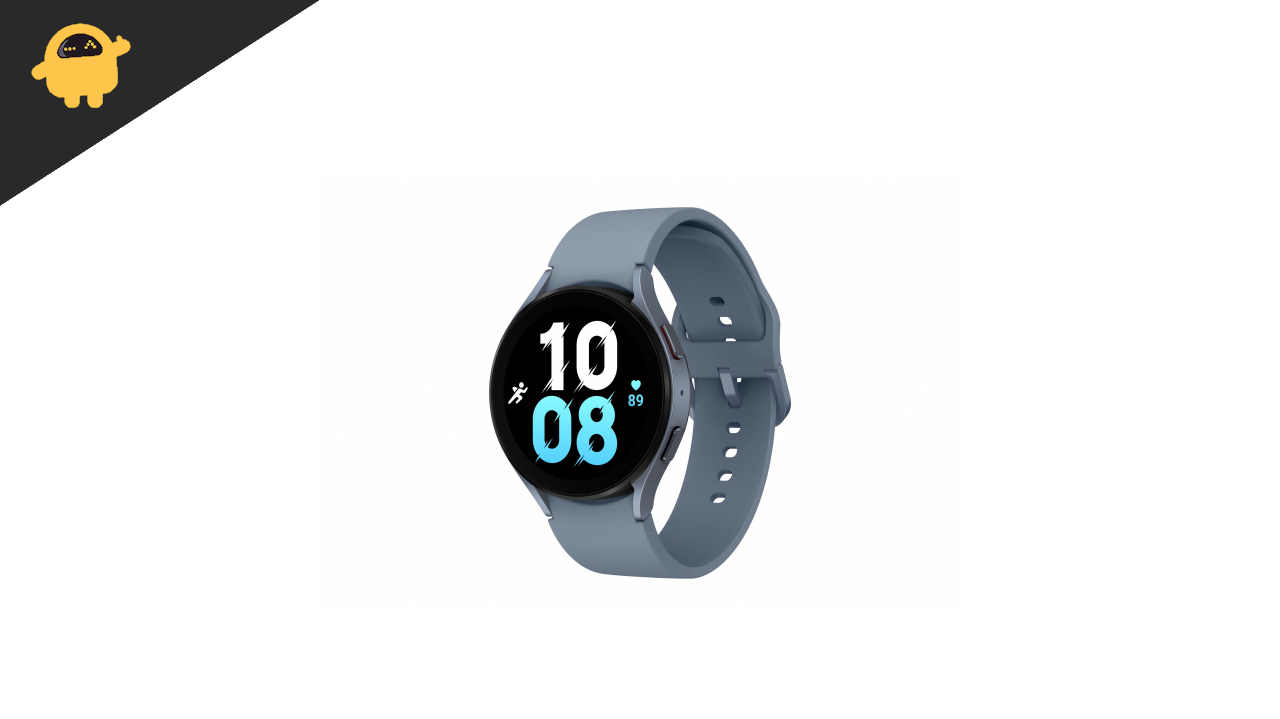 Fix: Samsung Galaxy Watch 5 / Watch 5 Pro Battery Drain Problem
According to multiple forum posts on the official Samsung Watch website, we can observe that many users are not happy with the battery life they get with their latest smartwatch. According to some reviews, the battery life of 5 services is even worse than the previous series, despite the bigger battery size.
Method 1: Update your apps
With the new Watch 5, Samsung has announced a new SDK kit to developers and has asked them to update the apps for better compatibility with all smartwatches. This is to ensure the app runs smoothly and doesn't consume much battery power. So, ensure all of your apps are updated for optimal performance because sometimes app bugs lead to excessive battery usage.
Method 2: Shut off any unneeded fitness trackers
In the modern era, people tend to have multiple fitness trackers at their disposal. You have to ensure that only one fitness tracker is connected to ensure the battery is not consumed unnecessarily.
Press the Power button on your watch, and select Samsung Health from the Apps menu. To disable the feature, swipe and tap the health menu. To return to the Samsung Health app's main menu after using a health menu, hit the Back key on the watch twice.
Sleep: Select Settings from the menu's bottom, switch off, and select OK to confirm.
Heart rate: Select Auto HR Settings from the menu's bottom, then select Never.
Stress: Turn off the switch by selecting Auto stress settings at the bottom of the menu.
Method 3: Software Update
Since the issue was raised with Samsung officials, their developers have been actively working on fixing it. There have been multiple software patch updates that intend to fix the battery drain issue. So make sure to update the watch OS as soon as possible.
Open the Galaxy Wearable app on your phone. Your watch may require you to tap the SETTINGS tab. Then select Update watch software after selecting About watch. Alternately, select Update Gear Software from the About Gear menu.
To proceed, select Update now or Download updates manually, then adhere to the on-screen directions. You can decide whether you want the software to be updated automatically by enabling Auto update or Download updates automatically. This is the time when the watch will disconnect.
After checking your watch for software updates, see if any downloaded apps have any updates.
Open the Galaxy Wearable app on your phone. Depending on your watch, you might need to click on the SETTINGS tab.
In the upper right corner, touch Galaxy Store, and then tap More options (the three vertical dots). Click My page. You must sign in to your Samsung account if you haven't already done so.
To see all the apps that have updates available, touch Update, then tap the Watch tab. At the top of the screen, tap Update all. Alternatively, you can update each app separately by tapping the Update symbol.
Method 4: Delete data and close background apps
Like any other smart device, Samsung Watch can also keep multiple apps open in the background to facilitate quick information to users like us. However, this can lead to excessive battery drain, so its better to close any unnecessary apps running in the background.
Open the Galaxy Wearable app on your phone. You might need to tap the SETTINGS tab depending on the linked watch.
Tap About watch or Gear after that. After selecting CLEAN NOW from the Storage menu, select the Back icon.
After selecting RAM, click CLEAN NOW.
Method 5: Set Media Control To Disable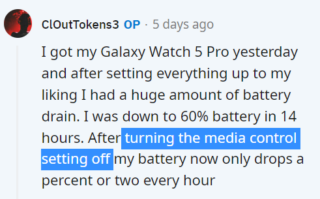 According to multiple user comments, many users were able to solve the battery drain issue by turning off the media control settings. These settings allow you to easily control media playback on your phones. But again, an active connection to media control will drain the battery faster.
Method 6: Turn off network connections
Depending on your need, you can turn off the network connection for Wifi and Cellular.
Press the Home (Power) key on your watch, then select Settings from the Apps screen. After selecting Connections, disable Bluetooth and Wi-Fi.
Turn off mobile networks if you have a 3G or LTE watch. When Bluetooth is switched off, your watch will stop communicating with your phone.
Your watch and the phone won't remotely connect through Wi-Fi when Bluetooth is disabled if the remote connection is enabled in the Galaxy Wearable app and Wi-Fi is switched off.
Remember that some apps and functionalities might not work for you if you don't have a Bluetooth, Wi-Fi, or mobile network connection.
Method 7: Disable Watch always on Option
Press the Home (Power) key on your watch, then select Settings from the Apps screen. You might need to tap Display, depending on your watch. To disable the function, tap Watch faces, Watch always on, and the switch.
Method 8: Disable voice wake-up
You may need to disable voice wake-up in the support voice assistant app, depending on your watch (Bixby or S Voice).
Press the Home (Power) key on your watch and select S Voice or Bixby from the Apps screen.
Select More options from the screen's right side (the three vertical dots).
To disable the function, select Voice wake-up and then select the switch.
Method 9: Configure your notification preferences
Having access to multiple notifications will usually drain the battery faster. According to your needs, you can check which app notification you require. Make sure to keep the notifications as minimum as possible.
Open the Galaxy Wearable app on your phone. You might need to tap the SETTINGS tab depending on the linked watch.
Toggle the switches next to Auto show details and Turn on the screen by tapping Notifications after that.
When turned off, the information of new notifications are not automatically displayed.
Turn on the screen – When off, your watch's display will not come up when you receive notifications.
Tap Manage Notifications from the notification menu's top. Next, deactivate any apps whose notifications you don't need to receive.
Method 10: Activate the power saver mode
When the battery-saving mode is on, all features on your watch aside from calls, texts, and Bluetooth-based notifications are switched off, and the home screen is shown in grayscale. This will save you a lot of battery juice, but in turn, will make your experience black & white, and performance will be constrained.
Conclusion
This brings us to the end of this guide for fixing Samsung Galaxy Watch 5 or Watch 5 Pro battery drain problem. Please note that the above troubleshooting methods should help you to fix the battery drain issue.
However, in many cases, the battery drain issue is either caused by a heavy application or hardware issues with the battery itself. Please make sure not to use any highly intensive applications with Samsung Watch.