In this guide, we will show the players how they can write songs in The Sims 4, and make money by licensing them.
One of the most appreciable features of The Sims 4 is that your in-game lifestyle is simply so versatile. It can be adjusted and tweaked as per your talents and requirements. Your Sim can carry out a number of hobbies and tasks for either earning money or boosting their skill. And one of the most alluring skills you can hone in The Sims 4 is your passion for music!
The game allows you to learn how to play a number of musical instruments – from the guitar to piano and even the organ! Apart from being a great hobby and way of relaxing, you will be able to use your musical talent to write songs and license them to make some extra money as well. Whether you are in the entertainer career or your Sim has particularly fine musical skills, this is a great way to make a bit of side income in the game.
How to Write Songs in The Sims 4?
Writing songs in The Sims 4 is not as simple as making your Sim take up the microphone and become the next singing sensation in town. There is a lot of hard work and practice in order. You must reach level 8 of the musical skill you wish to write a song with before you can start writing it at all. For example, writing a song for the guitar will require you to get to level 8 of the guitar skill.
After reaching level 8, you can select the musical instrument and choose to write a song. You will be given one or two options when you do this. As you advance to higher levels, you will get a larger number of options as well. Either way, writing a song will take you a total of at least 12 Sim hours. So you will have to be patient and work on it across a few sittings.
A bit of an additional hint here: In case you pause in between after starting a song, do not begin to write a fresh one by selecting the musical instrument. Instead, you should go to your Sim's inventory first. Over there, continue working on the song by clicking on the sheet music there.
How to Make Money by Licensing Songs in The Sims 4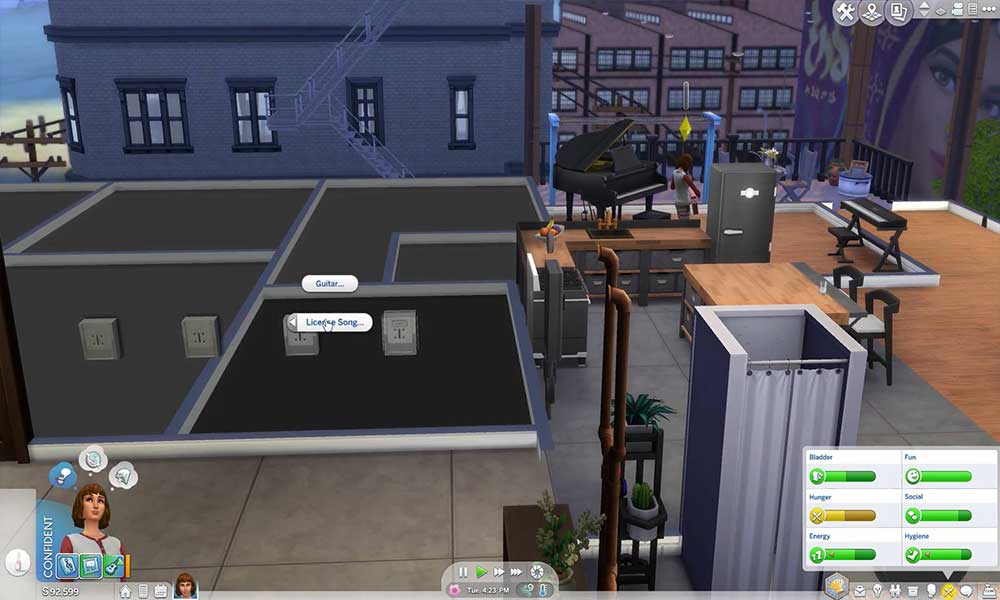 After finishing your song in The Sims 4, you will be able to license it and make money. Keep in mind, though, that you will only be allowed to license a single song per instrument every week. You will have to ensure that your Sims are skilled in playing more than one instrument. That will help you earn as much money as possible by licensing songs.
In order to be eligible for licensing a song, you will have to reach level 9 of the skill you wish to license. Fortunately, that is not too hard because writing the song mandates you to have reached level 8 anyway. You will be able to license the song by selecting a mailbox, clicking on "license," and then select the song you wish to license. After you successfully license a song, you will be given a royalty payment at 10 AM every morning. This amount can range from 100 to 1000 Simoleons per day.
Being a musical sensation and pursuing a career in music is a dream held by many. Unfortunately, many are not able to pursue or succeed at it due to various reasons in real life. Thus, it is refreshing to see The Sims 4 offered us a way to experience this dream of ours in some way. We hope our guide helps you to write songs and make money on the path to musical glory. If you liked this guide, do not forget to check out our other Windows Guides, Gaming Guides, Social Media, iPhone Guides, and Android Guides to read more. If you have any doubts or feedback, comment down with your name along with the email ID, and we will reply shortly. Also, subscribe to our YouTube Channel to win our $150 giveaway contest. Thank you.