Cybersecurity is a significant concern in these digital times. People are worried and paranoid about different digital services tracking their every move. Many social media platforms like Facebook, Snapchat, and Instagram uses the location of the user and claims to improve its service to the user by gathering the live location. However, not everyone is comfortable with it. So if you are someone who uses Snapchat and is worried about the application tracking your every move, then this is the article for you.
Snapchat tracks your location and provides features such as location sharing with friends to improve its functionality. But suppose you don't want Snapchat always to gather your accurate location information, or maybe you want to have a bit of fun with your friends and share with them that your current location is in another part of the world. Whether for fun or security reasons, you can choose the change your location information and fool the Snapchat application into thinking that you are somewhere. So how exactly can one do that? Let's find out in this article.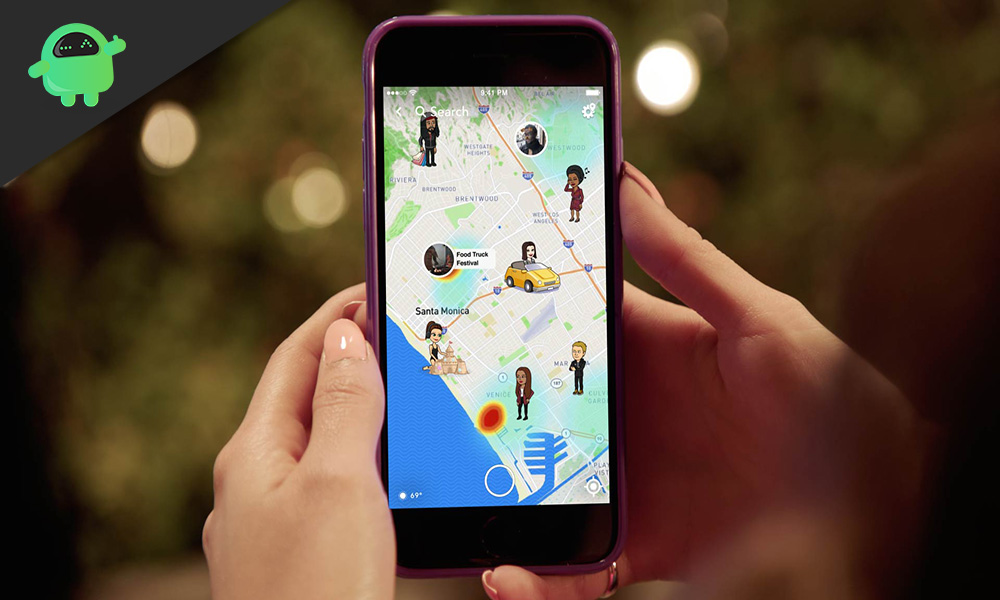 How to Fake your location on Snapchat?
We have the SnapMap feature built-in Snapchat that lets users track each other's whereabouts. When Snapchat is running on your phone, and the Snapmap feature is turned on, your friends will see your location. In the same way, you will also be able to track your friends' location, given that they have the Snapmap feature turned on in their application. Even if you turn off the application, Snapchat will display your location at the point where you were last using the application. It will stay there for a couple of hours before expiring.
Adjust the location sharing from the application:
Snapchat gives you the liberty to choose and work around the settings for location sharing from the application itself. To access and control your location settings on the application, follow the steps below.
Open Snapchat.
Go to the Camera.
Tap on Friends.
Tap on the magnifying glass icon and then choose Map.
When you are in the Map, you will see the gear icon on the screen. Tap on it, and it will open up the Snapmap settings.
Here you will see four options in total. By default, it is set to the first option, "My Friends." The other options include "My Friends, except," "Only These Friends," and "Ghost Mode."
If you choose the "My Friends" option, then all your Snapchat friends will be able to see your location in real-time. With the "My Friends, except" option, you can choose which friends you want to leave out from knowing your location info. The third option is "Only These Friends," where you can select your selected few individuals with whom you want to share your location information. Finally, you have "Ghost Mode," where you can turn off your location altogether. You will see your location on the Map, but none of your friends will have information about your whereabouts.
With Ghost Mode, you can set a timer for how long you want to stay invisible. You can set it to three hours a day or even set it to stay like that until you make the change manually.
Now, this is a feature that enables you to hide your location from your friends. It does not fool Snapchat into thinking that you are somewhere else since it always has the information. Only your friends won't be aware of it.
How to spoof your location in Snapchat?
There is no specific setting in Snapchat that lets you manually select a location. Snapchat wants you to be honest about your location information, and therefore there is no proper way by which you can spoof your location. But there are workarounds for both iOS and Android users who want to spoof their location in Snapchat. Let's first look at what you can do on your Android phone, and then we will move to the iPhone users.
For Android:
For Android users, there is an application called Fake GPS location that is free and easy to use. It is a tool you can use to fake your GPS location in Snapchat. Go to the Google Play Store and install this application. Once the installation is done, you need to set it up, and for that, you need access to the Developer settings.
To enable developer settings,
Go to Settings on your phone.
Tap on About Phone.
Then tap on the Build number multiple times until you see a message that says you are now a developer.
Now to set up the Fake GPS location application, follow the following steps.
Go to the settings page on your phone.
Tap on System.
Then tap on Developer Options.
In the Developer Options, you will find the setting "Select mock location app."
When you find it, tap on it. A pop-up will show up. Here tap on the Fake GPS app.
Now your application is all set up. Now open up the Fake GPS application and move the map around to set the marker you see on the map as your default location. Move around precisely as much as you want and once you have selected which location you want for your Snapchat application, tap on the small play button at the bottom.
Now open up Snapchat and check the Map inside it. You will see that Snapchat shows the Fake GPS location that you have set up using the Fake GPS location application as your current default location. Now you can fool your friends as well as Snapchat into believing that you are somewhere else.
For iPhone:
iOS does not provide much when it comes to settings and customizations, especially compared to Android phones. So the workaround for iPhone users for spoofing the location is a bit more tricky and requires a computer.
For this procedure, you will need a Windows PC or Mac desktop or Macbook. Then you will have to download and install iTools onto that computer. You can visit the homesite and download it from here. The iTools program comes with a free trial, but after a few days, you will have to pay a premium for it.
Once you have the iTools installed and running on your computer, you are now ready to change your location.
Connect your iPhone to the computer where you have installed iTools.
Open the iTools program and click on the toolbox icon at the top.
Then on the next panel, click on the Virtual location button.
A map will show up on the next page. Using the search box at the top, go to any location that you prefer and place a marker on it.
When you place the marker, you will see a small button on it that reads, "Move here." Click on it.
Now open up Snapchat, and you will see that it is showing up your location at the place which you just selected in the iTools program. And after you are done spoofing your location, go to iTools and then use the same process to get to the map. Then click on the small button at the top that reads "Stop simulation." Your device will then start showing up your location again on any map you open up on your iPhone.
So using these methods, you can easily change your GPS location for the Snapchat application. Some users have complained that using these kinds of applications that change the location can sometimes stay in effect even after the app is disabled. If, for some reason, you encounter a similar situation, then try uninstalling the application completely and then restarting your phone. It would be best if you also tried disconnecting the internet connection and then connecting again.
So that is all about changing locations in Snapchat. If you have any questions or queries about this guide, then comment down below, and we will get back to you. Also, be sure to check out our other articles on iPhone tips and tricks, Android tips and tricks, PC tips and tricks, and much more for more useful information.