What I most like about today's advanced technology is support for cross-platform integration. Let me simplify it. It means we can integrate different devices and control one gadget using the other. It makes the user experience more simplistic and sophisticated at the same time. The term cross-platform denotes different operating systems. For instance, do you know you that you can unlock Windows laptop using Xiaomi's Mi Band smartwatch.?
Sounds interesting right.? In this guide, I will explain how you can do it. Rest assured that you do not have to hack, root or modify any device to use this feature. This feature is officially supported by the Mi Band smartwatch. Recently, Xiaomi rolled out a new firmware update for the Mi Fit App. The latest upgrade with build 4.0.17 now allows the Mi Band user to unlock their Windows Laptop using the smartwatch. Let's see how we can accomplish this.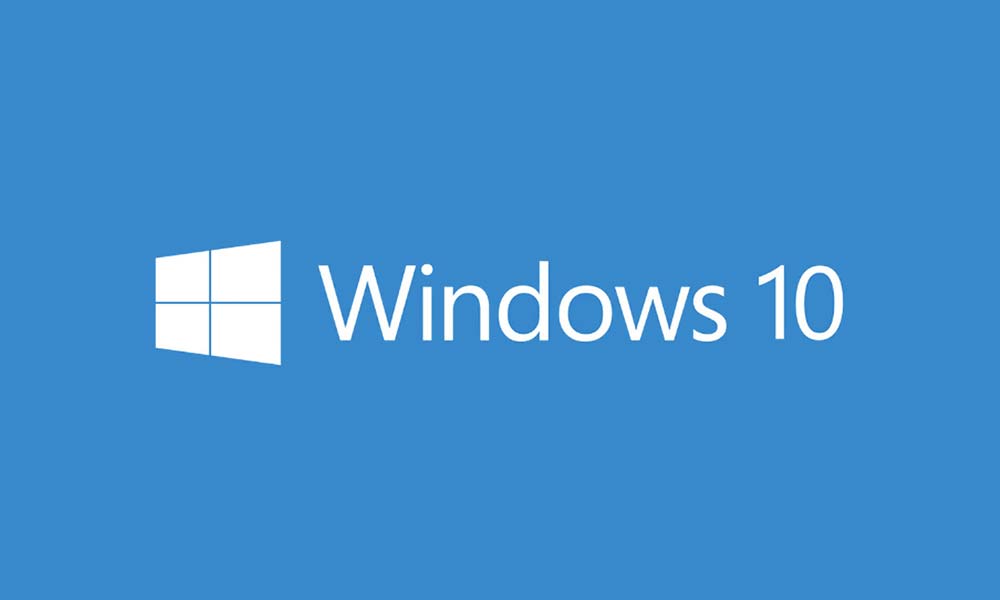 Related | How to Fix the Windows 10 Hello Fingerprint Not Working
How to Unlock Windows Laptop with Mi Band 4
First, you need to make sure that your Mi Fit App is running the 4.0.17 version. Only in this version laptop unlocking is supported. For this guide, I will be using my Mi Band 4. If you use a Mi Band 3, all the steps will work fine as well. For easy understanding, I have broken down the entire process into sections. Follow the steps carefully as the way I have put them up.
Enable Unlock Mi Notebook
Go to the Mi Fit App [Install it from Play Store if you are a first time user]
Tap on Profile
In the next screen under My Devices, tap on Mi Smart Band 4
Scroll down and look for the option Lab. Tap on it to open
You should see the option Unlock Mi Notebook
It should be disabled by default. Tap on the toggle beside it to enable it.

You will see a pop-up asking to confirm the action reminding you of possible battery consumption.
Tap on OK to continue.
Downloading the Mi Blaze App
Open your Windows laptop [The guide is exclusively for Windows OS]
Head over to the Microsoft Store
You need to download the Mi Blaze Unlock App.
There is a twist though. This app is not available for the Indian region as of now. So, you will see an unavailable message beside the app. Don't worry. We will fix that up.
Go to the Settings section on your laptop.
Click on Time & Language > go to Region

Now you need to change your Region to China [My region is India as I'm located in India. So I change the region from India to China]
At this point close the browser if it is open. [Close all the running applications. No restart is required though]
Refresh on the home screen [not mandatory]
Now click on the Microsoft Store shortcut on your Taskbar
Search for Mi Blaze Unlock
You will observe that now the app is available for download. Click on Get

Download it and let it install.
Note
After installing the Mi Blaze Unlock app, you can change the region back to your original region. That won't affect the working of the app
Do You Know | How to Open Windows Registry Editor on Windows OS 7/8/10 and Vista
Setting up PIN code
Once Mi Blaze Unlock finishes installing you would see an option Launch. Click on it. You will see a startup screen indicating that your laptop can only be connected to a smartwatch. Bluetooth must be activated on both devices. Most importantly, you need to set up a PIN code on your laptop.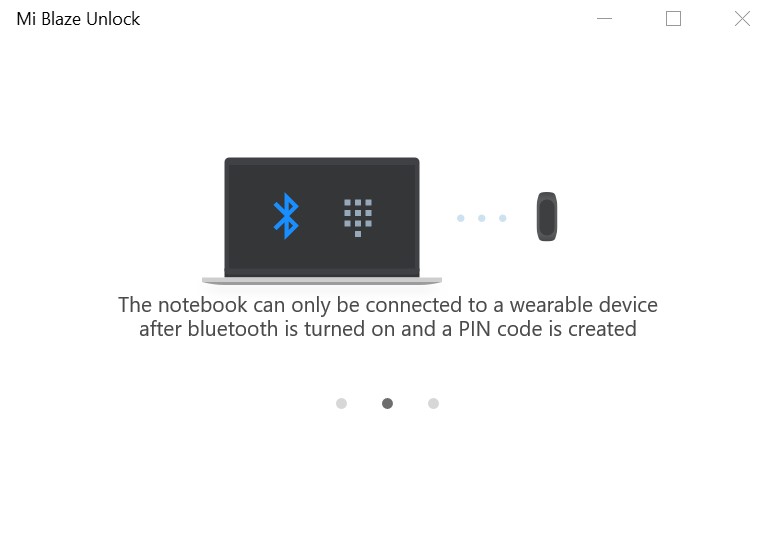 Once paired and connected all you have to do is stay near the notebook while wearing the Mi Band 4. Then hit any key on the keyboard to unlock the laptop.
Click Start


Go to Settings on your laptop

Under Accounts > go to Sign-in Options
Select Set up a PIN


You can only set up a PIN if your Windows laptop has a security password.
Create a password in case you don't have one. Then you can create a PIN.
Creating Password on Windows Laptop
In case you do not know how to create a password for your Windows laptop. Then follow this quick tutorial.
Go to Settings > Account
Then go to Sign-in options
Select Password
If you are setting the Password for the first time, then you will see the button Add.
Then you have to enter your password [make sure to set a strong password that has alphanumeric combination]
Re-enter the password
You will also have to write a password hint that you can use in case you forget or the main password.
Here is a screenshot of the Password section from my laptop. As I already have a password, instead of Add, it is showing Change.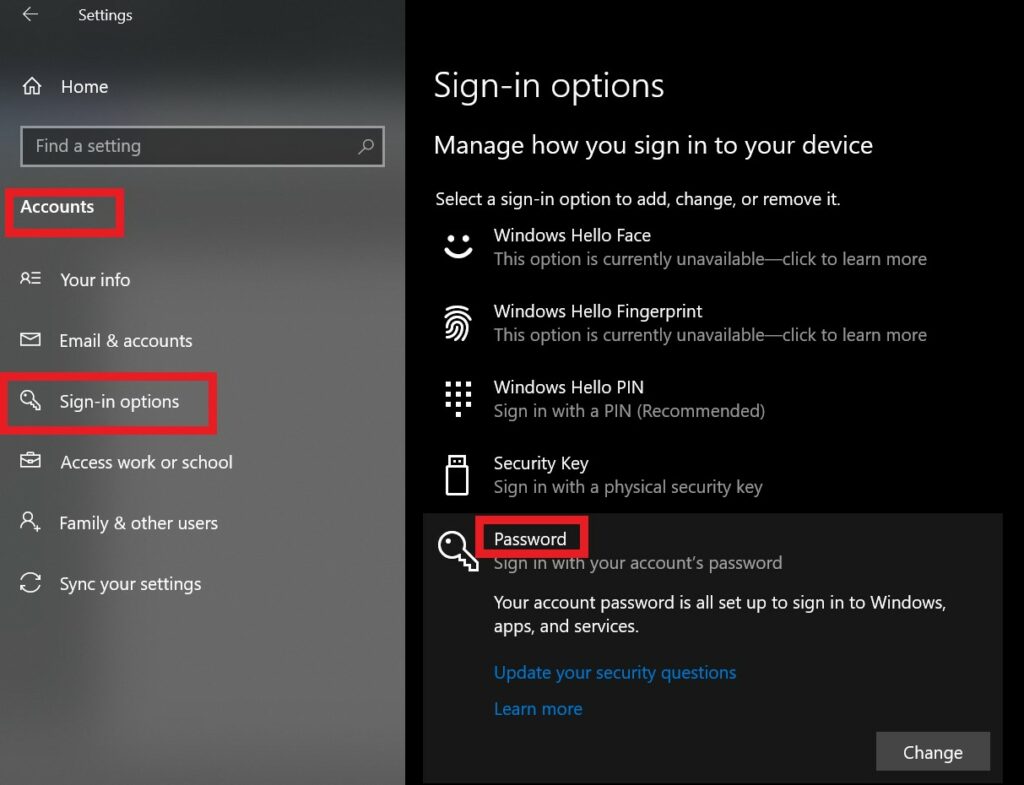 Pairing the Windows Laptop with the Mi Smart Band 4
Once you finish creating the PIN code you will be automatically redirected to the next screen
Make sure that Bluetooth is enabled on both the laptop and the Mi band.
Click on Pair

On your Smartwatch, Accept the pairing request from the laptop.
Next, you will see the message that Mi Smart Band is now paired
Note
The system will lock when the paired Mi smart band moves farther away from the Windows laptop.
Also, when the battery is low on the laptop, this unlocking feature will not work.

You May Like | Troubleshoot Windows Media Player error 0xc0000005
How to Know Windows Laptop Unlocks or Not Using the Mi Smart Band 4.?
When you walk away from your laptop, it will lock on its own. Again when you come back, all you need to do is hit any key on the keyboard to unlock and gain access back to your system. It's that simple.
Here's a screenshot of a successfully unlock message pop-up you will see once you unlock your Windows Laptop via Mi Band 4.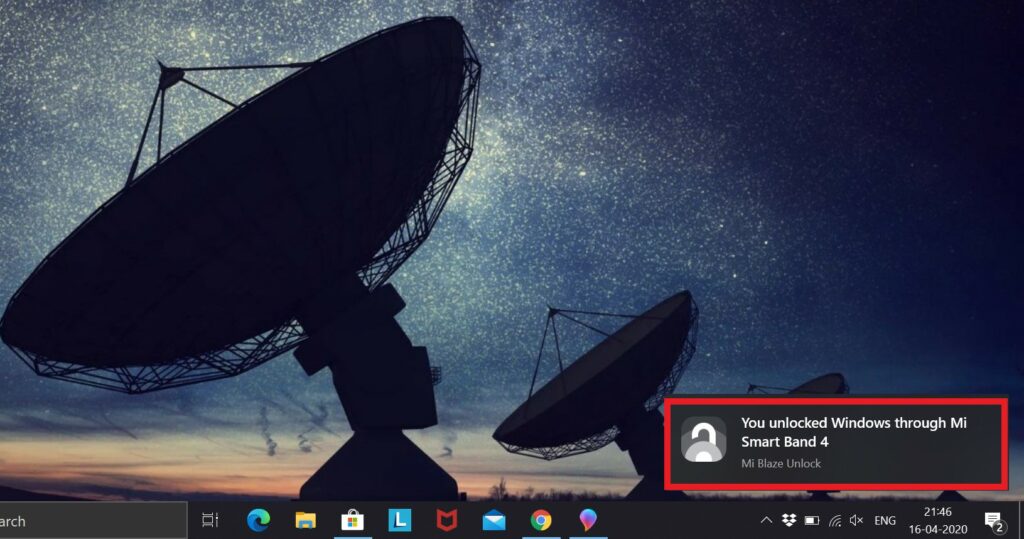 So, I hope that this guide was useful to you. Keep in mind to follow the steps exactly as I have depicted in the guide. If you have any doubt, do let me know in the comments section.
Check out Other Windows OS Guide,