From the price perspective of the devices, users are excited and a bit confused if the Vivo V20 Pro and V20 SE are waterproof phones and come with a waterproof IP rating. Well, if that is so, it will be a bonus point for all the buyers. Therefore, we will perform a proper waterproof test in both V20 SE and V20 Pro and declare the results in this article.
As we all know, Vivo is a very popular mobile brand, primarily known for crafting the best camera-centered phones. Recently the company has announced a new launch from the "V" series family. The all-new Vivo V series comprises three new devices, i.e., the Vivo V20 SE, Vivo V20, and Vivo V20 Pro. While the V20 SE and V20 are mid-range phones, the V20 Pro, on the other hand, is a flagship phone from Vivo. There is no doubt, and this new V series devices will soon be launched on the market and that too, with more flexibility and power than its predecessors.
Now, looking at all three devices and their specs, the V20 series seems to be highly promising and satisfying. While Vivo lovers are extremely eager for this new launch, there happens to rise a very common question among them.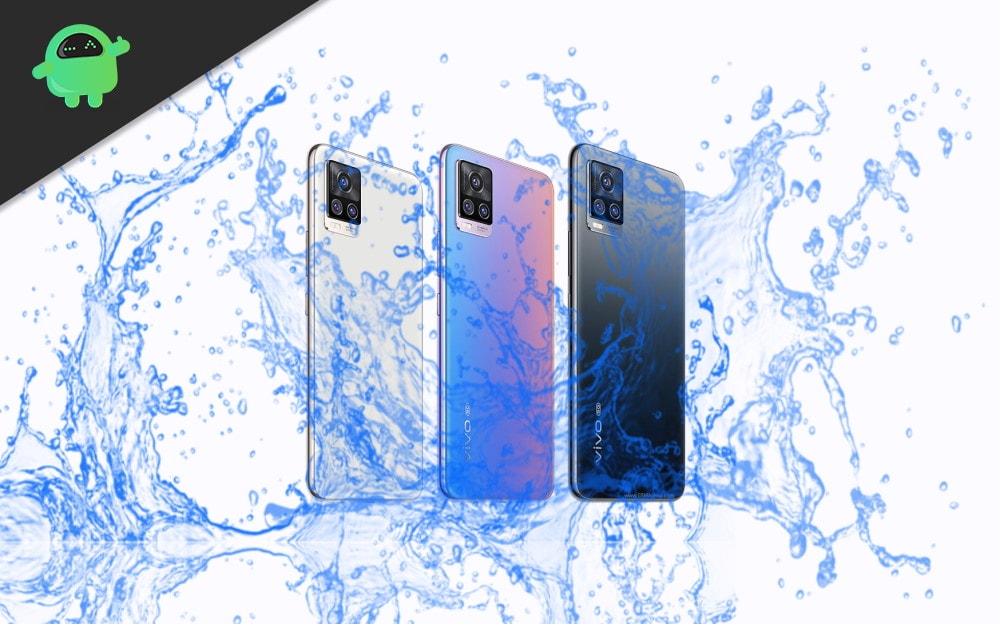 Is Vivo V20 Pro and V20 SE Waterproof Phones?
There is no doubt that the demand for waterproof cellphones is increasing at a vast rate. Although the price range might vary at quite a higher level, people still long for them. And why not? After all, they not only give you the freedom to capture underwater photos/videos but can also handle extreme situations.
They come with an additional protection layer that makes it rigorous enough to handle dust, sand, splashes of water, etc. Apart from that, the experience you get while capturing your best underwater moments is just priceless.
This is why most of the companies today are majorly focusing on launching waterproof devices at the best possible price. And users are expecting to see something very similar to the new Vivo V20 series, which is why we are here to clear all your doubts.
Vivo V20 SE Specification
The V20 SE is the base model of the Vivo V20 series that is expected to come at an affordable price. Interestingly, it comes with a 6.44 inches AMOLED touchscreen display. The V20 SE features a Qualcomm Snapdragon 665 processor and Adreno 610 GPU.
This opens a few gaming options for you and also gives a subtle and considerable performance. The device is available in two different color variants: Gravity Black and Oxygen Blue.
Besides, being a camera-centered phone, it features a 48MP primary camera along with an 8MP ultrawide and 2MP depth lens. In addition, it comes with a 32MP selfie camera with HDR mode.
The Vivo V20 SE features a 4100mAh non-removable battery with 33Watt fast-charging support. Talking of the storage space, it comes with 128GB internal and 8GB RAM, plus you also get a dedicated microSD card slot too.
Vivo V20 Pro Specification
Unlike the Vivo V20 SE, the V20 Pro is a flagship phone from Vivo that comes with similar configurations but a few up-gradation. It features the same AMOLED display of 6.44 inches and storage space of 128GB + 8GB RAM. However, the V20 Pro comes with a Qualcomm Snapdragon 765G processor and Adreno 620 GPU that gives you the ability to do high-end gaming as well.
Other than these, it comes with a 64MP primary camera + 8MP ultrawide + 2MP depth lenses. Plus, you get a 44MP front camera that captures crisp and clear selfies.
Besides, it also features a 4000 mAh non-removable battery with a 33Watt fast-charging support. While the V20 Pro comes with great power and performance, it lacks an SD card slot.
Vivo V20 SE and V20 Pro Waterproof Test
Although the expectations are relatively high, there is no official statement made saying anything about these devices to hold a waterproof certification. But anyway, we will still perform a water test on both the instruments to make sure of their true abilities.
Disclaimer
The waterproof test results are purely based on individual/team observation. These tests will only give an idea of whether a device is waterproof or not. We recommend users not to try this test at home, as it might damage your device.
| | | |
| --- | --- | --- |
| Parts | Vivo V20 SE | Vivo V20 Pro |
| Display | Working, no issues | White bubble in screen spotted |
| Speaker & Camera | Camera & speaker working | camera & speaker working |
| Charging / headphone | Charging port malfunction | working fine |
| Waterproof Test | No | No |
Finally, after successfully performing the test on Vivo V20 SE and V20 Pro, here we are with the conclusion. After the waterproof test, both devices failed to work properly. They are behaving abnormally, and the touch screen is no more responsive like before.
Also, the I/O ports seem to be highly affected by the water. Hence, we cannot ever try a charging test until it is thoroughly dried up. So, these devices are neither waterproof nor splash-proof and need to be taken proper care by the user.
Conclusion
So, after performing the waterproof test successfully on the Vivo V20 SE and V20 Pro, we came up with the result that none of them are waterproof. Both the devices ended up behaving abnormally, and none of the buttons were working too.
However, if you are more concerned with the camera, the V20 series phones do a fantastic job. You can definitely go for it in case you are looking for regular use. Just make sure you take well care of it, especially in harsh environments and near water. But if you are looking for a rigorous device that can even survive the worst, this series is surely not for you.