With the new launch of the Xiaomi Mi T smartphone Lineup, are they ready for modern use? Today we will conduct the Xiaomi Waterproof Test on Mi 10T, Mi 10T Pro, or Mi 10T Lite and share the results in order to check the water resistance on each of these devices.
Chinese smartphone giant Xiaomi has recently released its new "Budget" Flagship series of 5G smartphones. The Mi 10T, Mi 10T Pro, and 10T Lite are launched, and they are making a huge impression. Usually, these "T" series smartphones from Mi gain more importance after their predecessors, like the case with Mi 9T that came after Mi 9.
To recall, these smartphones come with 6.67-inch 1080p displays with an aspect ratio of 20:9. All phones are certified as HDR 10 capable along with 144Hz and 120Hz refresh rate (based on the model). On the performance side, both 10T and 10T pro feature the Snapdragon 865 processor. Except for the lite version that comes the Snapdragon 750G.
Looking into the Build quality, these phones look and feel premium with an aluminum body in the Mi 10T and pro. But even with a plastic build, the 10T lite pleases aesthetically. Does the question arise whether Mi 10T, Mi 10T Pro, or Mi 10T Lite are waterproof? We will conduct a Xiaomi Waterproof Test on Mi 10T, Mi 10T Pro, or Mi 10T Lite to find out the truth.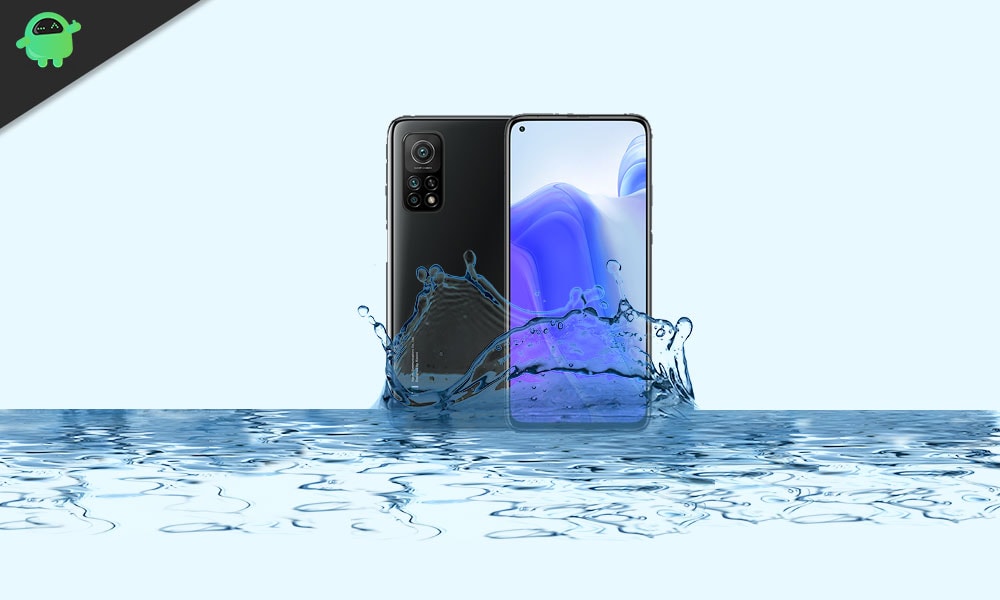 Xiaomi Waterproof test | Mi 10T Mi 10T Pro or 10T Lite
In order to specify a device as waterproof, we can refer to the IP rating provided by the manufacturer. The IP rating or Ingress Protection rating provides details about the level of protection the device offers against any external intrusions like Dust, Water, and Mechanical contact.
So to claim a device as Waterproof, the IP rating of the device should be IP x7 or IP x8, where the X can be varying because the first no. denotes protection against dust particles.
Normally you can find IP67 or IP68 ratings on waterproof or water resistance phones. In this context, the first digit 6 denotes that the device is dustproof, and the second digit 7 and 8 should mean the device is waterproof for immersion of depth up to 1 meter and above 1 meter, respectively.
IP ratings for Mi 10T line of smartphones
As mentioned earlier, the details have to be provided by the manufacturer itself after carrying out certain tests in their labs. But for the case of these Mi 10T line up of smartphones, we cannot find any ratings for these devices. Neither from the official website nor any leading specification Providers have the information on their websites.
The only protection related information we can give you is that the phone features Corning Gorilla Glass 5 for the Front display glass and Camera lens glass. At this point, the only option for drawing any conclusion is to create a destructive test on the smartphone.
Heads up! Such tests are not recommended by us. You should not try this unless the answer is vital, and you're willing to risk your device. This could kill your phone permanently and convert it into a paperweight.
Mi 10T, Mi 10T Pro or 10T Lite Waterproof Test
So we decided to test this phone with water submerging and splash tests. To simulate a splash test, we dropped the phone into a bowl full of water and removed within seconds. The phone tended to work as expected. But when we repeated the process for a couple more times and the third time, the phone got turned off. After keeping it aside in a warm place, it did turn on and worked fine.
For the submerging test, we kept the phone (turned on) inside the bowl for 30seconds. The phone turned off unexpectedly. This proves that the phone is not capable of withstanding water submerging as it did with water splash. Keeping it in a rice sack did bring back the phone to life but at the cost of the pale display. Must've got damaged while it was submerged.
This clearly states that the phone is not waterproof, making it not suitable to use in wet conditions.
Waterproof Test Results
There are no extensive specifications for the protection rating available on their website. Also, testing these phones makes it clear that it's safe not to assume these smartphones are waterproof. Although the majority of smartphones nowadays come with good built quality.
The constructions of these smartphones are really compact, providing decent protection against accidental splashes of water. Even the removal of the 3.5mm jack reduces the chances of water intrusion.
The Predecessor series (mi 10) had P2i protections that provide nano-coating for the PCB components and USB ports. Even though they prevent damage from water intrusion, the protection is not comparable to what the IP68 or the IP67 rated products offer. But it's better to have something rather than nothing.
And as in your case, we've got nothing. There is one option you can choose to make it waterproof, never bring water near to the phone.
Conclusion
So, to sum up, we cannot say that the latest flagship smartphones from Xiaomi are waterproof. Neither Mi uses such terms to market, nor these line-ups hold any good against tests. If you see anywhere claiming that these phones are waterproof, then that information will be fake. Don't fall for such things and waste your precious time.
| | | |
| --- | --- | --- |
| | Splashproof | Waterproof |
| Mi 10T | No | No |
| Mi 10T Pro | No | No |
| Mi 10T Lite | No | No |
Hence it's wise to keep your expensive equipment away from water. Even though if it's waterproof, it doesn't mean it should be exposed to water. Keep in mind that these resistance or proof specs are to provide protection against such damages when an accident occurs, not a promotion to encourage you to use in such a condition.