Pokémon is a collection of video games created by Game Freak and released by Nintendo and The Pokémon Company. The Pokémon Trainers select their First Partner Pokémon, also known as Starter Pokémon, at the start of their Pokémon adventure. New Trainers can select from a set of three first partners in each version of Pokémon games; each set is made up of Grass, Water, and Fire Pokémon.
In every Pokemon game, selecting a starter Pokemon is crucial. It's usually the one that players choose that will accompany them all the way to the finish of their trip, making it a crucial decision. Pokémon Scarlet and Violet don't make it simple: each of the region's starter Pokémon is incredibly adorable and eventually evolves into powerful fighting companions. Between the Fire Croc Pokémon Fuecoco, the Grass Cat Pokémon Sprigatito, and the Duckling Pokémon Quaxly, you have to pick one.
Now, players want to acquire them all. Some users know but some are wondering whether they can get all three starters once or can get any time during the game. The answer is yes. You can get all three starter Pokemon but you can not pick all at once. If you want to know how you can get all starter Pokemon in Pokemon Scarlet and Violet, then read the full article to know more about it.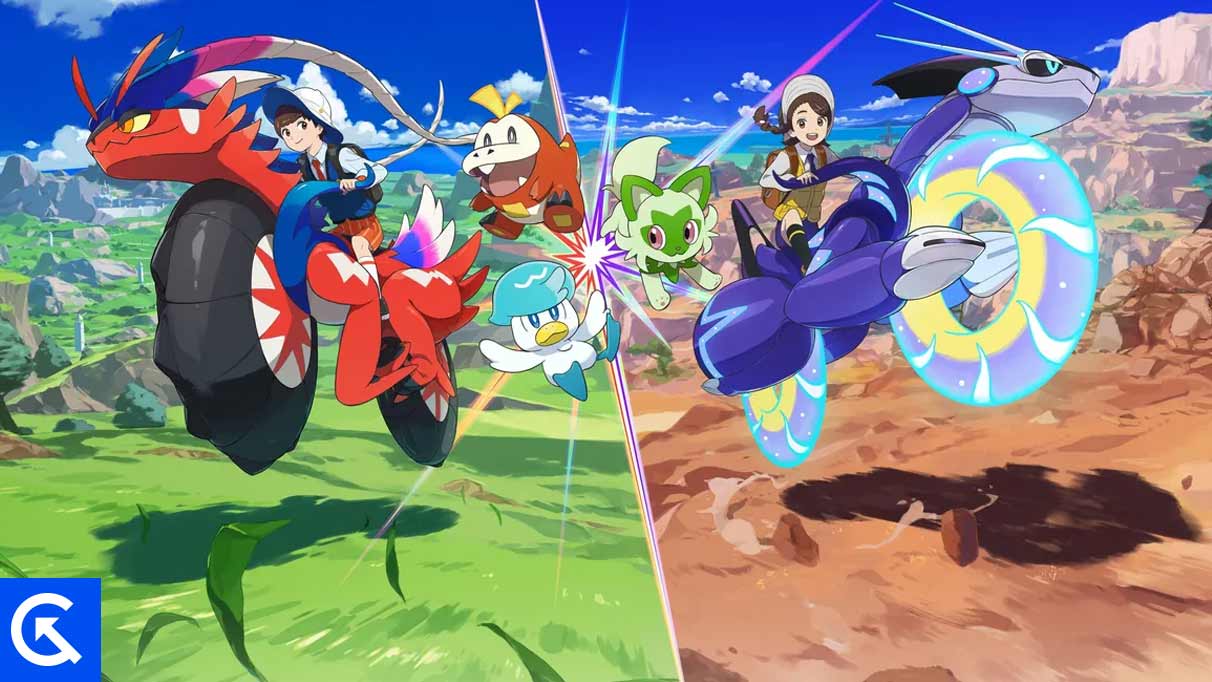 How to Get All the Starter Pokémon in Pokémon Scarlet and Violet
If you want to get all the Starter Pokemon in Pokemon Scarlet and Violet, then follow the methods that we have listed.
Trade with the Friends
You cannot capture all three Starter Pokemon in the wild but you can add them to your Pokedex by trading them with your friends. You can do it both online and locally. If you are not a new player to the Pokemon game, then you might be knowing this trick as it was used in the previous version also. All you need to do is to have your friend catch a Ditto in the wild and breed it with their starter to produce eggs for exchange. There must be two species together in the same Egg Group in order to breed any Pokemon in the Pokemon Picnic. Pokemon eggs will start spawning in the Egg Basket if both Pokemon are at the Picnic.
As everyone in your group will have extra starters, start the trading. For this, you need to follow the steps given below:
First of all, open the game.

Now, go to the Main Menu in the game.

After getting into the main menu, go to the Poke Portal.

Now, click on the Link Trade

Enter the secret code and also share it with your friends.

After that, follow the instructions on your screen to start trading.
Find a Trade Partner through Discord
If you don't have any friends playing the Pokemon Scarlet and Violet or your all friends have picked the same starter, then don't worry. You are not alone in who is facing this. There are many people who are finding for a partner to get all the starter Pokemon.
You can find your trade partner through Discord also. In Discord, you have to first join the Pokemon Scarlet and Violet server. Then go to the trading channel and explain there what type of Pokemon you are looking for and also what you have to trade. After that, the people will contact you and you can find your trade partner.
As you will find the person with whom you will trade, you will be asked by the game to review the trade before you finalize it. This is how you can inspect the Pokémon you will receive in exchange and ensure that you aren't issued a fake Magikarp.
By using special link Trade codes
A new special link trade code system has been started by the players so that those you are wishing to trade starter Pokémon and version-exclusive Pokémon, can connect with them. Without speaking to another player, you can use these trade codes to offer up particular Pokémon and know what Pokémon you should get in exchange. Basically, you enter each Pokémon's Pokédex entry number using this approach to ease trades.
Before finalizing, make sure you review the trade. As you might need to try a few times before locating a suitable partner because senders and receivers share codes for particular exchanges.
Once you have traded your first starter Pokemon, start a new Save life. Repeat the same process for the other two starter Pokemon. Simply set up the Link Trade one last time after this is finished, and ask your friend to send the three beginning Pokémon over. You should have a new account with all three beginning Pokémon if you followed these instructions.
An alternative way to get all the starter Pokemon
If you don't get a trade partner, then you can create an account, and then create a second account and unlock the trading as you reached the Pokemon Trade Center mark in your first account. After that, complete the trade and save it. Then again create a third account and start the game from the beginning, go to the Pokemon Center and complete the trade. Now, save it on your first account.
Conclusion
This was all for how you can get all three Starter Pokemon in Pokemon Scarlet and Violet. We have also shared the alternative way by which you can get all starter Pokemon in case you don't find a trade partner. Also, do tell us in the comment section whether you were able to get all the starter Pokemon or not. For more such informative guides, do visit our website.