The Online Entertainment industry has received an overwhelming response in the past couple of years and especially last year in 2020 due to the COVID-19 pandemic across the globe. The Lockdown and Home Quarantine have taught us so many aspects of our life in the past couple of months or so. Plenty of OTT platforms and online streaming services has taken someplace in our life and Discovery+ is no exception here. Meanwhile, some of the Discovery Plus viewers are encountering an error code 504. If you're also one of the victims, make sure to check out this troubleshooting guide.
This particular error appears whenever the Discovery+ streamers try to attempt the online content on their respective devices. That means the error code 504 is literally preventing streamers to watch any content whatsoever which is really frustrating. It's quite unfortunate that currently, there is no proper fix available to fix the error 504. Now, you may ask what's causing such an issue? Well, there is nothing to worry about as we've shared important information below that you should know.
How to Fix Discovery Plus Error Code 504
It seems that whenever a Discovery+ user gets a 504 error, it says "Please try again later. For additional help and troubleshooting, please visit https://gohelp.discovery.com//hc/en-us. ERROR CODE: FALLBACK". That means the error message refers to the users contacting the support site for further help. As the error is quite new for the Discovery+ users, it's not listed on the official site right now. So, the affected users may not get any useful information or tips as of now from the official site.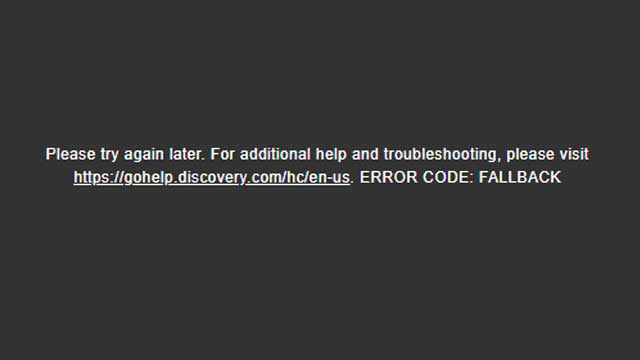 Luckily, some of the reports are mentioning that this error code 504 isn't the single problem for the Discovery+ app users because the error code 400 is another issue something like the error code 500. All of these apps frequently using HTTP similar to the web browser. Now, the problem is that an HTTP request code can cause issues with the connectivity sometimes.
An HTTP error code 504 simply indicates a Gateway Timeout Error. That means a web server is trying to load a page for you that didn't receive an on-time response requesting from another server. Similarly, the server of the Discovery Plus app is connected to requested data that haven't received an on-time response and causes such errors.
Luckily, this error code 504 is happening at the server-end from Discovery Plus which is a major relief for the affected users. That means there is no issue at your end and you don't need to worry about it. This issue can happen if there is any server downtime or outage happening in the background due to several reasons. Developers will try to fix the particular problem as early as possible and you don't need to do anything extra except for waiting for a few days or so.
Till then stay tuned for more info. For further queries, you can comment below.