Hamachi is a virtual private network (VPN) application written by Alex Pankratov in 2004. This service is in use to establish direct links between computers behind network address translation firewalls. It doesn't require configuring the system. It works on the internet that emulates the connection which exists if the computers connected over a local area network.
The main error that occurs nowadays is that the Hamachi service gets stop automatically on Windows 10. Here are some sorts of solutions provided to tackle the error cause and fix the issue with immediate effects. Follow the mentioned effective solutions and get the problem fixed at a glance.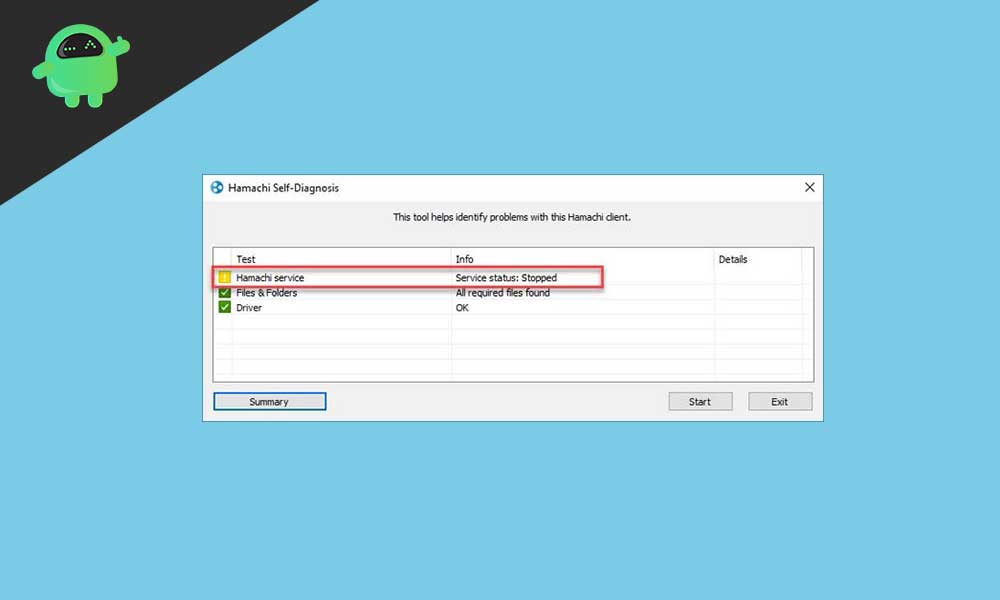 Hamachi Errors and their causes:
Hamachi is currently available for Microsoft Windows and macOS as a production version, for Linux as a beta version, and Android and iOS as a system-VPN-based client. Since Hamachi is a top-rated service; still, many users reported various issues. Some said that the service stopped messages which prevent Hamachi from running on a system. Here are some reported issues for Hamachi:
Service status stopped in Windows 10
Tunnel problem
Hamachi service stopped error, how to fix it?
There are many possible solutions to tackle the issues with Hamachi Services. Some of the solutions are here to fix the problem if Hamachi Service stopped on Windows 10. Make sure to proceed to each step mentioned below carefully. The practical solutions to fix Hamachi service stop, are:
Check WMI service:
Hamachi service will stop working if the required support services are not effectively running. One of the variant support services is the WMI service. Hamachi service will never work if there is some sort of error with WMI services. To fix the issue, you need to enable those services by following these mentioned steps:
Press 'Windows Key + R' to open the 'Run' dialogue box
Type 'services.msc.' without quotes and press 'Enter.'
Locate and double-click the 'Windows Management Instrumentation.'
Set Start-up Type to 'Automatic'
You can also click the Start button to start it
Hit 'Apply' and press 'OK' to save changes
Your service might get start automatically now. If the service is still not working, then you might proceed to the next method.
Check your antivirus:
Another cause for stopping the Hamachi service for running on your PC might be your antivirus. There is a possibility that your antivirus is blocking the Hamachi service. You need to open antivirus and check the settings for Hamachi services and make sure that your antivirus program does not prevent this service.
If there is any issue involving the request fails, then you might go to disable your antivirus program, which has not generally recommended. You may proceed to another method if you do not find any practical way to unblock Hamachi services on your antivirus. You may also try a different antivirus program in case you have more than one active subscription for other antivirus programs.
Create a script:
The other method you can check to eliminate the issue is creating a script to restart the Hamachi services automatically. It is a kind of advanced solution, but this will also fix the issue permanently. Follow these steps to create a script for Hamachi services:
Start Notepad as administrator
Type the following:

net stop Hamachi2Svc
net start Hamachi2Svc
start "C:\Program Files (x86)\LogMeIn Hamachi\hamachi-2-UI.exe"
exit

Go to 'File' and hit 'Save as' button
Choose the file location 'System32' in Windows folder in the main drive of your system
Save the file with the file type set at 'All files' and name the file as 'HamachiRestart.cmd.'
Now you have to go through creating an event in task scheduler to set the script to repeat in a few hours. You may need to have the knowledge of the Task scheduler in detail to put the efforts into it. It may be a time taking process to get the issue resolved. But this might solve the error permanently as it causes the service to restart automatically after a few hours. You may follow the next step if you do not want to involve in task scheduling.
Check service running status:
Hamachi service possibly not running on your PC due to security reasons. You may check the status of the service by following these steps:
Open the Services window
Locate 'LogMeIn Hamachi Tunneling' service
Set its Start-up type to 'Automatic.'
Head to the Log On tab
Select 'Local System account.'
Now check the box associated with 'Allow service to interact with desktop.'
Click 'Apply' and 'OK' to save changes
Change the security settings for Hamachi after this process
Go to the "C drive" or where you have installed Windows setup
Proceed to 'Program Files (x86)'
Find the 'LogMeIn Hamachi' directory
Right-click the 'hamachi-2.exe.'
Select 'Properties' from the context menu
Go to the 'Security' tab and press the 'Edit' button
Check the 'Full control' option to allow your account to get admin access
Now check for the issue if it got the solution.
Change the service settings:
When the Hamachi service not configured correctly in your system, you will get an error that occurred as a service stop working. You need to change the service settings to get rid of the issue. Make the changes as mentioned:
Open the Services window
Locate 'LogMeIn Hamachi Tunneling' service and double click to open properties
Click the 'Start button' and head to the Recovery tab
Set Subsequent failures to 'Restart' the Service.
Set 'Reset fail to count' to zero and 'Restart service' to one minute
Click 'Apply' and 'OK' to save and implement changes
Reinstall Hamachi:
If the Hamachi service is not correctly working after the implementation of the processes as mentioned above, then you might prefer to reinstall the service. There are many ways to go through this process, but the most significant idea is reinstalling the service with IObit Uninstaller PRO 7.
You need to follow the on-screen instruction after you install IObit Uninstaller PRO 7 on your PC. There is nothing complicated with uninstalling the Hamachi Service from your system. After the un-installation process, you may proceed to install it again. The service will configure automatically with all the necessary fixes.
Perform boot:
When some other applications may also involve in the process of Hamachi service, then it will sometimes become complicated to have to get through any of these procedures. You may then proceed to perform a clean boot of your system. You can follow these steps to perform a clean boot:
Press 'Windows Key + R' to open the 'Run' dialogue box
Type 'MSConfig' without quotes and press 'Enter.'
Go to the 'Services' tab
Check the 'Hide all Microsoft services' checkbox
Click 'Disable all' button
Go to the 'Startup' tab
Hit 'Open Task Manager'
Right-click each application and choose 'Disable.'
Navigate back to the 'System Configuration' window.
Click 'Apply' and 'OK'
Restart to perform boot. The issue might get a reliable solution now.
Perform System Restore:
You can also solve the issue by performing a system restore by following some simple steps mentioned here:
Press 'Windows Key + S' and search for 'system restore.'
Select 'Create a restore point.'
Click the System Restore button.
Click Next to proceed.
Enable 'Show more restore points' option if available
Select the desired restore point and proceed by clicking 'Next.'
Follow on-screen instructions and let your system restored
You will now enjoy the Hamachi service without causing any issue involved with the service.
Many users reported the Hamachi service error, which causes stopping this service on Windows 10. Some reliable and tested solutions mentioned above. All you need is to go through every detail of the procedures mentioned here. Do not forget to have a backup of your system before performing the restore or boot for your system.
Other services and settings usually cause the Hamachi service error, so to fix the issue, you might have to change them accordingly. The procedure mentioned above will help you to fix the Hamachi service stopped error on Windows 10. If you have any queries or feedback, please write down the comment in the below comment box.