Are you having the HiSense smartTV? Well, it is possible that you have a HiSense smartTV on your home because HiSense offers a wide range of advance level television at a very reasonable price. But, there's a problem with their TVs. Yes, they need to improve these kinds of errors. Today, here we are talking about the Bluetooth not working issue that users are getting while trying to connect the TV with their Bluetooth device.
There might be various causes behind this error, but I didn't find any proper reason why this error occurred. However, I still manage to find out some fixes to resolve this error for you guys. Therefore, make sure to be with this guide till the end and check if the methods we have discussed below help you or not. So, let's get started with this guide on how to fix the HiSense TV Bluetooth not working issue.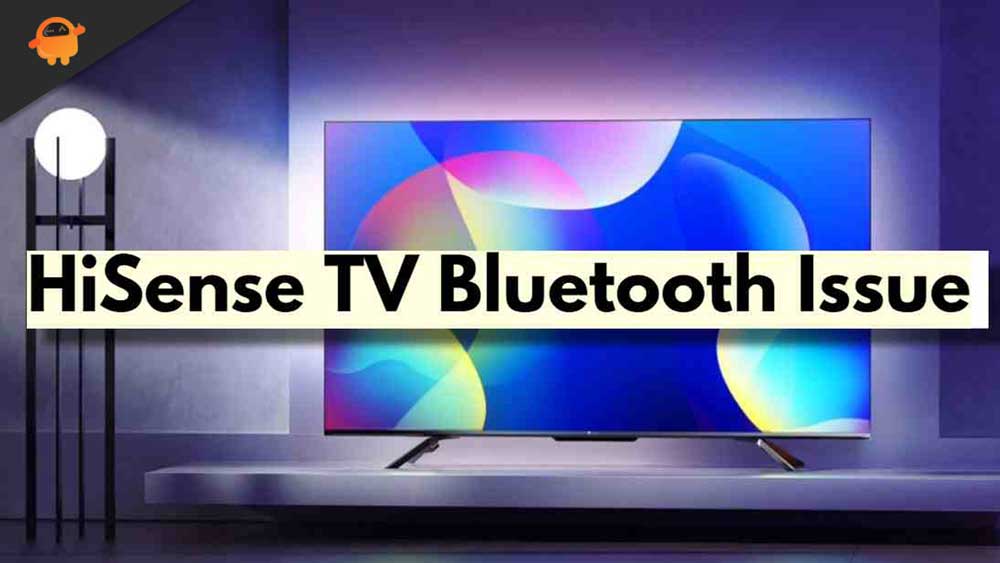 How to Fix HiSense TV Bluetooth Not Working
Bluetooth is an essential part of our device as it helps to connect your TV to wireless speakers or any other audio device. Therefore, if it is not working, then you may easily get bothered due to this. But, now, no more worries because the fixes mentioned here will surely help you get out of this situation. So, let's see how.
Fix 1: Reboot Your TV
It is possible that there are some random bugs or glitches present on your TV due to which you are getting this error. So, in order to remove those files, you can simply reboot your TV because this has the potential to remove this kind of bug.
However, many users are there who have reported that just after rebooting their HiSense TV, the Bluetooth not working issue automatically vanished. So, why not you try this out? Try this fix and check if now the Bluetooth starts working or not. Well, most probably this will help you. But, if not, then don't worry as we have more options for you in this guide, so let's check out those.
Also Read: Fix: HiSense TV Black Screen Issue
Fix 2: Make Sure Your TV Has The Latest Firmware
So, if you have rebooted your device and find that the issue won't get fixed, then there is a possibility that your device may have some pending firmware update. Yes, we generally ignore the regular firmware update because we consider that the minor updates have nothing to do with the performance of your device.
But, this theory is totally wrong, especially in the case of smart TVs. This is because developers regularly roll out performance enhancement updates for your TV. So, it is our primary duty to keep the firmware software updated. Therefore, I'll suggest you check out if there is any update available for your HiSense TV. After that, again try connecting to the Bluetooth device to check if the Bluetooth again starts working or not.
Fix 3: Check The Other Device Which Your Are Try To Connect
There are chances that the Bluetooth device that you are trying to connect to your TV may not work properly. In most cases, we have noticed that the TV has nothing to do with this issue as the secondary device that they are trying to connect to their TV.
So, you must also check if the device which you are trying to connect is working properly. To make sure this thing, you can try connecting your mobile device first, let's say to your Bluetooth home theater and check it is connecting to your mobile or not.
If it is not able to connect to your mobile device, then this means that your home theater's Bluetooth sensor may get damaged. Anyway, now it's upon you whether you want a repair or not. If so, then hover to the nearest service center and repair the Bluetooth sensor of your home theater.
Fix 4: Make Sure The Bluetooth Is Turned On
Did you check if the Bluetooth on your TV or home theater is turned on or not? Well, there are possibilities that you may have forgotten to turn on the Bluetooth on your device, due to which you are unable to connect it to other devices. So, we suggest you make sure that the Bluetooth is turned on your TV as well as the other device (home theater) to which you are trying to make a connection between your TV and home theater.
Fix 5: Reset TV
Well, if nothing helps you, then there are a few possibilities that your TV firmware files may get damaged or corrupted or faulty, due to which you are getting this kind of error. Therefore, we suggest you reset your TV because it will reinstall all the files that your firmware has when you reset your device.
Also, the main point is you do not have to do anything rather than choose the reset option. Yes, that's right! Therefore, try this and check if the issue gets fixed or not. Many users previously found this method the most useful because they get results from it.
But, look, you have to keep one thing on your mind after resetting your HiSense TV to make it a new device; therefore, you have to reinstall all the applications again. So, in case you have no problem with this, then go for it.
Fix 6: Contact To Support Team
Oopsie! Are you still stuck on the same issue? Don't worry! You just need to contact the HiSense TV support team. Therefore, make sure to contact them and explain everything that you are facing right now with their TV. Now, depending upon your convening power, they may help you as soon as possible and make your TV's Bluetooth work again. So, without further ado, try this method.
From Author's Desk
Well, there is no doubt that HiSense makes some really great devices, but still, there is something missing on their devices due to which users have to face issues like this one. Therefore, they need to keep these things in mind for users acquisition. Anyway, that's all on how to fix HiSense TV Bluetooth not working. We hope this guide has helped you. However, for further details, comment below.