With a Hisense TV, you won't be breaking the bank. They offer great value for their price. Their recent addition of gaming features, such as variable refresh rate (VRR) support, makes them competitive with others. However, there can also be quality problems with their TVs, such as motion problems and uniformity problems. When used heavily and at their highest settings, Hisense TVs last for seven years.
If your settings and usage are moderate, you can get more mileage. But, there remote is something that might bother you time-to-time. Many users recently started reporting that their remote is not working properly. That's the reason why we are here. This article will tell you how to use the Hisense TV without a remote. So, let's get started with the guide.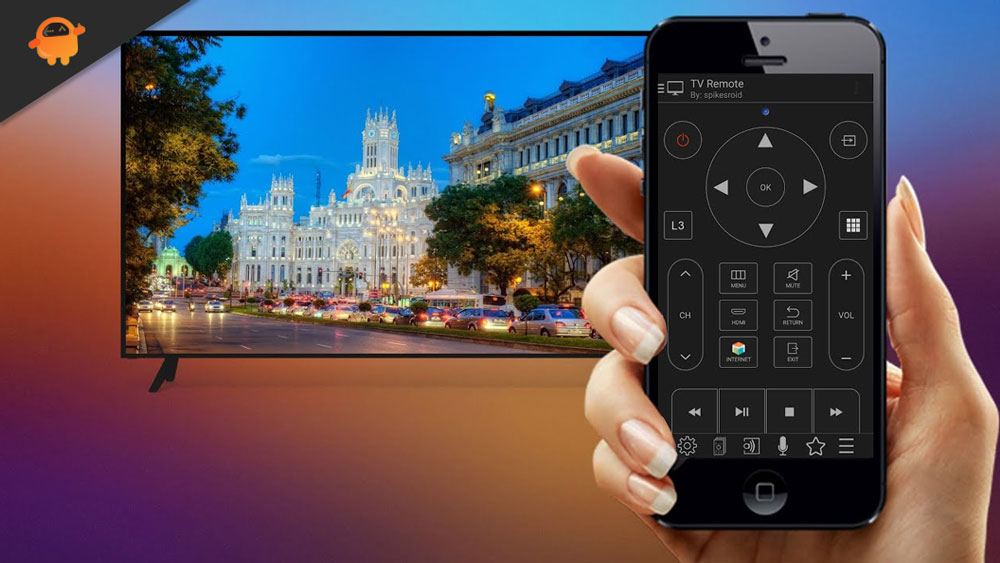 How to Use Hisense TV Without a Remote
Although it is recommended to use a TV remote to control your Hisense TV, but in case your remote is not working, then you can use the methods given below in order to use Hisense TV without a remote. So, let's check out the steps:
#1. Control Hisense Smart TV with Infrared-Enabled Mobile
A TV's remote is typically equipped with an infrared sensor that detects inputs from the TV using this sensor. Android phones with infrared sensors are widely available on the market. Using Remote apps such as MiRemote, which supports a large range of devices, you can take advantage of this quite easily. Almost all types of equipment work with remote control, including TVs and air conditioners. Only infrared sensors on your mobile device will work with this method.
#2. Use a Universal Remote
You should consider getting a Universal Remote Control if you don't have the original remote control for your Hisense Smart TV. It is possible to simply program a DirecTV remote to control your Hisense TV if you have an existing DirectTV remote lying around. You must get hold of the DirecTV Remote Code Lookup page to program the DirecTV Remote for your Hisense Smart TV. You can check out the guide here.
#3. Use Buttons on the Hisense TV
You can usually control the volume, settings, channel, and power on most TVs. Whenever you want control over your Hisense Smart TV without a remote, you can press these buttons. Using your Hisense TV without a remote is just one way to save time. It is impossible for Hisense TVs to be turned on and off without a remote control because the model does not have many buttons.
#4. Use the Roku App for RokuOS Hisense TVs
With Hisense smart TVs, RokuOS is a popular TV operating system. Here are the steps to follow in the event that you have lost the Roku Hisense smart TV remote.
You can download Roku's app on both an Android and an iOS device.

Install the Hisense Smart TV app and launch it.

Ensure that your mobile device and TV are both connected to the same WiFi network.

You can access the Remote tab after connecting to the TV.

On the app screen, press the power button to start the TV.

That's it. With a Roku Hisense TV without a remote, you can easily control the channel, adjust the volume, and browse the settings menu.
#5. Use Android TV Remote App
With Hisense's new smart TVs, you get Google's Android operating system right out of the box. You can still use Hisense TV even if you lost the remote. With Android Remote TV, you can control Hisense TV from your Android device. Find out more about the app here.
It can be found in the Android TV Play Store as well as in the App Store. So, download the app from there.

Install the app and accept the terms and conditions.

You can find the Hisense Smart TV by searching on the app.

Ensure that your mobile device and TV are connected to the same wireless network.

Your mobile device must be connected to the TV, and the code must be paired with it.

With the Android TV remote app, turn your Hisense smart TV on right away.
So here's how to use your Hisense smart TV without a remote. To enter text on the TV, you can also use the keyboard within the app. For navigation around your TV, you can also use the app's touchpad as a mouse.
#6. Use Google Assistant to Control Hisense Smart TV
You can control a lot of your smart home devices with Google Assistant, a popular voice assistant service from Google. Using Google Assistant on your Hisense smart TV is simple.
Using an Android or iOS phone, download the Google Home app.

Connect your phone and TV to the smart WiFi network.

You can view your TV in the Google Home app. To connect it to Google Home, tap on it.

Your TV can now be controlled right from the Google Home app once you connect it.

Using Google Assistant, you can even control your TV. There are various commands available, including

OK Google, switch off the TV

,

OK Google, turn the volume up/down

, etc.

It is even possible to ask the Assistant to play a YouTube video for you.
Then, using the slider on the screen of your mobile device, you can also play or pause the video and adjust the volume using the Google Home app.
So, that's how you can use your Hisense TV without a remote. We hope that this guide has helped you. But, in case you need more help, comment below and let us know.