Marvel Future Revolution is just a few months old and it has already completed more than 100K downloads only on the Play Store. Gamers can't be more excited to control their favorite superheroes on their smartphone. Although this isn't the first Marvel-based game, compared to any other present in the market, Future Revolution is an open-world MMORPG. In the game, you will be controlling superheroes from different dimensions and helping them to bring peace to the primary Earth.
Developed by Netmarble, Marvel Future Revolution is quite an interesting game, especially when it comes to its design. You will see more than one iteration of one superhero at the same time. This completely makes sense, as there are only 9 playable characters, at least at the time of writing the article. And with multiple players accessing the game from different countries, it's very common to see more than one iteration of Doctor Strange, Magik, Spider-Man, Storm, and more.
With that said, if you are looking for Marvel Future Revolution's best hero tier list, then this is the post where you need to be. Here, we have categorized all the available superheroes in the game on the basis of their respective tiers. So, without any further ado, let's check them out one by one.
Marvel Future Revolution Best Hero Tier List
The story behind Marvel Future Revolution is pretty simple. All the different versions of the earth in the multiverse are in danger, thus, different superheroes from different dimensions will have to step forward in order to save the planet. Each superhero will offer its help to the Omega Flight group.
In the game, you will get the option to choose the superhero you want to play as, i.e, the superhero that will help you to fight the villain in the game. But be very careful while choosing your superhero, as once you have made a choice, you can't reverse it by any means. Thus, be very sure before committing a superhero as your fighting force in the game.
Additionally, you will be playing along with three other superheroes in your squad. In layman's terms, you will have four slots in the team. However, you can increase it by purchasing more slots through real money. Nevertheless, below is the Marvel future Revolution tier list.
| | |
| --- | --- |
| TIER | HEROES |
| S | Captain Marvel, Captain America |
| A | Black Widow, Iron Man, Doctor Strange, Magik |
| B | Storm, Spider-Man |
| C | Star-Lord |
Now, let's take a detailed look at each superhero and the powers they possess.
Spider-Man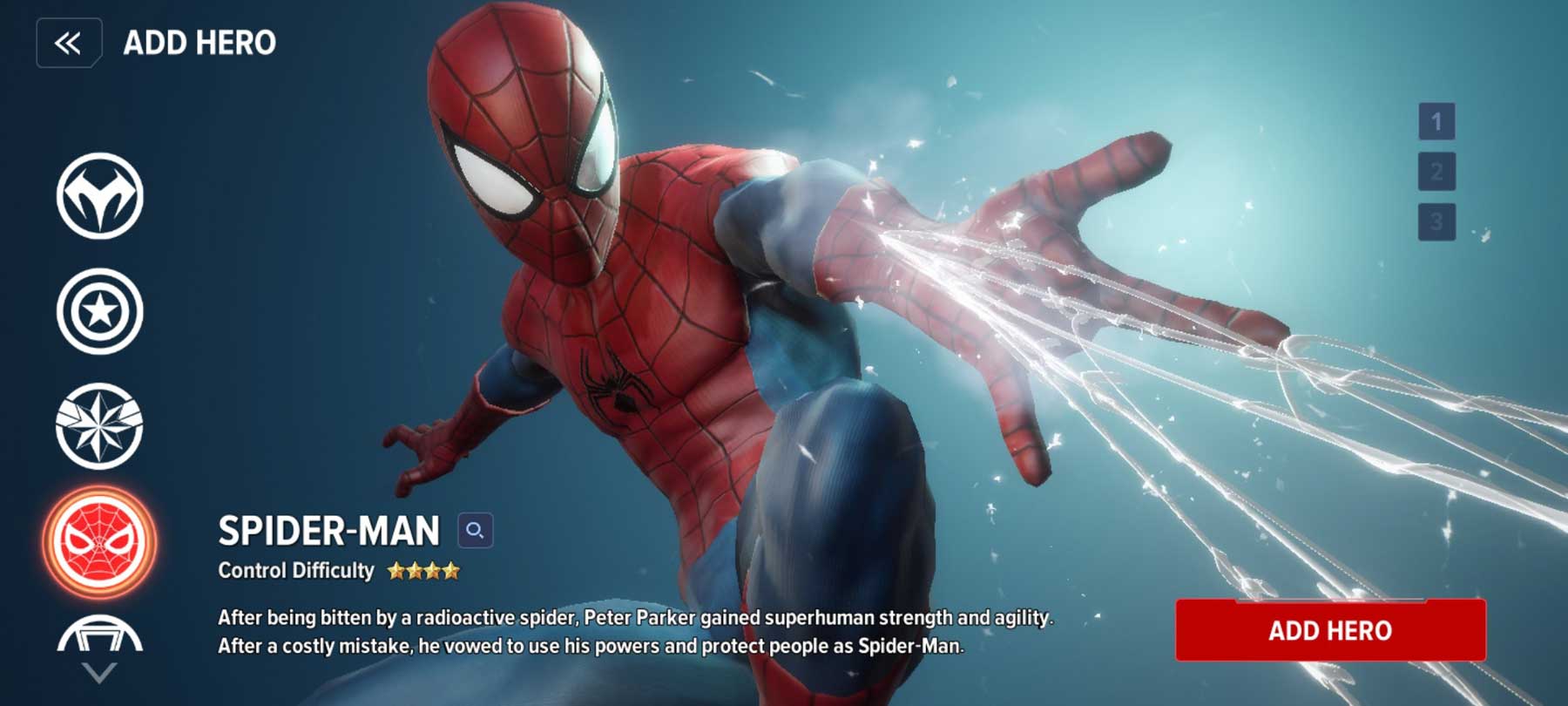 Let's begin with someone who is everyone's favorite in the Marvel cinematic universe, Spider-Man. Spider-man is a perfect combination of perfect moves that features powerful attacks. The superhero is best for players to prefer dodging and counter-attacking playing style. However, considering the fact that Non-Playable Characters on the opposite side will not deal much damage, the dodging ability of the Spider-Man will really be used.
The real strength of Spider-Man will be tested while playing the PVP mode in the game where you will be fighting against the real enemies. Furthermore, if you have to listen Spider-Man as your leading superhero, you might have to deal with his average experience. However, considering the age of Spider-Man, this sounds fair.
If you are planning to you play as a Spider-Man in the PvP battle in the future, then in such a case, you can definitely consider spending time leveling up his experience. But if you ask us, we will never recommend Spider-Man as your lead superhero. We will prefer to go with any other superheroes, someone who is specially designed for PvE battles. And we will be only looking towards Spider-Man in case we have some Squad Ranks available with us.
Iron Man

Iron Man is one of the very first Marvel superheroes. And as shown in the movies, he is an expert in PvP battle in the game as well. Talking about the powers, he features a powerful suite made of a gold-titanium alloy that gives him high mobility and different types of powerful attacks. Although Iron Man is very much similar to Spider-Man when it comes to PVP, but his shield takes in one step further in the PvE end-game battle. However, you will have to go through a lot of upgrades in order to unlock your most powerful shield.
Iron Man is more of a front attack player, thus its controls are comparatively easier than a Spider-Man which mainly relies on the talking ability. Plus, Iron Man mainly takes long-range fights, unlike Spider-Man who is an expert in close-range battles.
Storm

Storm is one of the least known superheroes in Marvel Future Revolution. However, if you are a die-hard Marvel fan, you must be aware of her abilities and powers. But for all those who are unaware, Storm is a master when it comes to PvE encounters. She has the best clear time among all the superheroes in the game. And she is able to do so because of her ability to mark multiple enemies at once and destroy them at the same time.
In laymen's terms, Storm has the most powerful AoE skills that come with so so CC capabilities. All these capabilities help her to destroy enemies with ease while keeping the innocents safe and harmless. The only downside of choosing her as your lead is that you might find her a bit slow compared to other superheroes. Thus, you might have to deal with her cast times. But once you have mastered all her abilities, it will become almost impossible for anyone to defeat you in the PvE battle.
Doctor Strange

Doctor Strange has made everyone his fan ever since his appearance in the eponymous film. And when it comes to Marvel Future Revolution, you will find Stephen's abilities very much similar to Storm. He also has his master's in AoE skills that come along with CC capabilities. However, the advantage of Stephen Strange over Storm is that you will find Doctor a bit faster. Other than this, it's almost impossible to choose a winner between Doctor Strange And Storm when it comes to PvE Battles.
Additionally, in both these characters, you will find it quite easy to increase the experience level. So, if you are just starting up with Marvel Future Revolution, we recommend you to go with either Doctor Strange or Storm.
Black Widow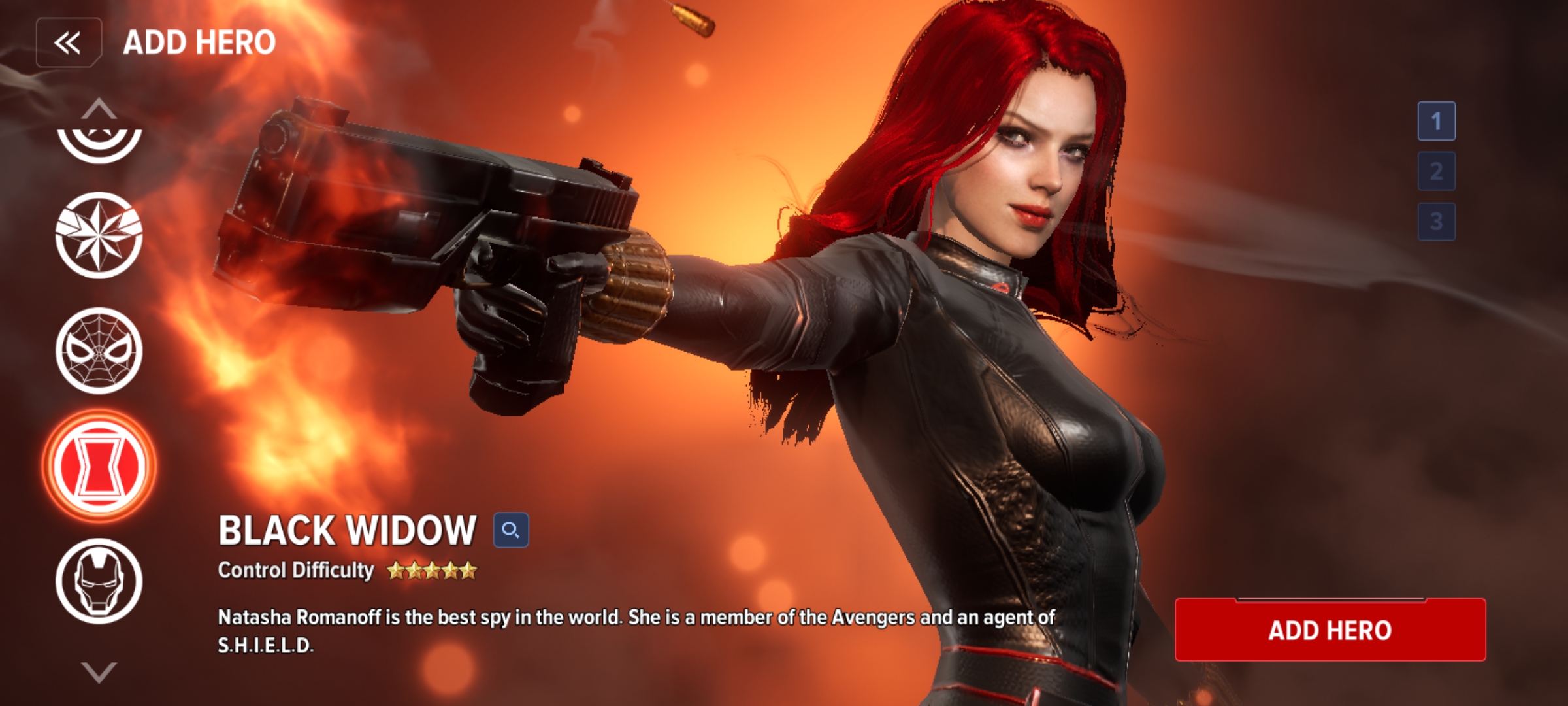 Black Widow is another interesting character in Marvel Future Revolution. Her playing style is very much similar to Spiderman, but with the better single target attack ability. You will find her a bit faster and stronger than Spidey, however, a bit weaker in various departments. She is another good choice for the PVP battle. Plus, you can also use her powers to attack the main Bosses that feature comparatively more health.
In a nutshell, Black Widow is a great replacement for Ironman and Spider-Man for PvP. However, anyone will be able to destroy her with ease in the PvE battle.
Star Lord
Marvel fans, don't be offended, but frankly speaking, we found Star Lord character more on the weaker side. To be more precise, Peter Quill aka Star Lord is a perfect example of what you shouldn't be doing when designing a character for the game. His powers and stats are comparatively way weaker than any other character in the game. Plus, his moves are way slower as well.
The only thing that you might find impressive about Star Lord is his smile, other than this, he is completely a useless character in the game. So, if you want to move forward in the game quite fast, we recommend you to not go with Star Lord, even if you are a Guardian of Galaxy fan.
Captain America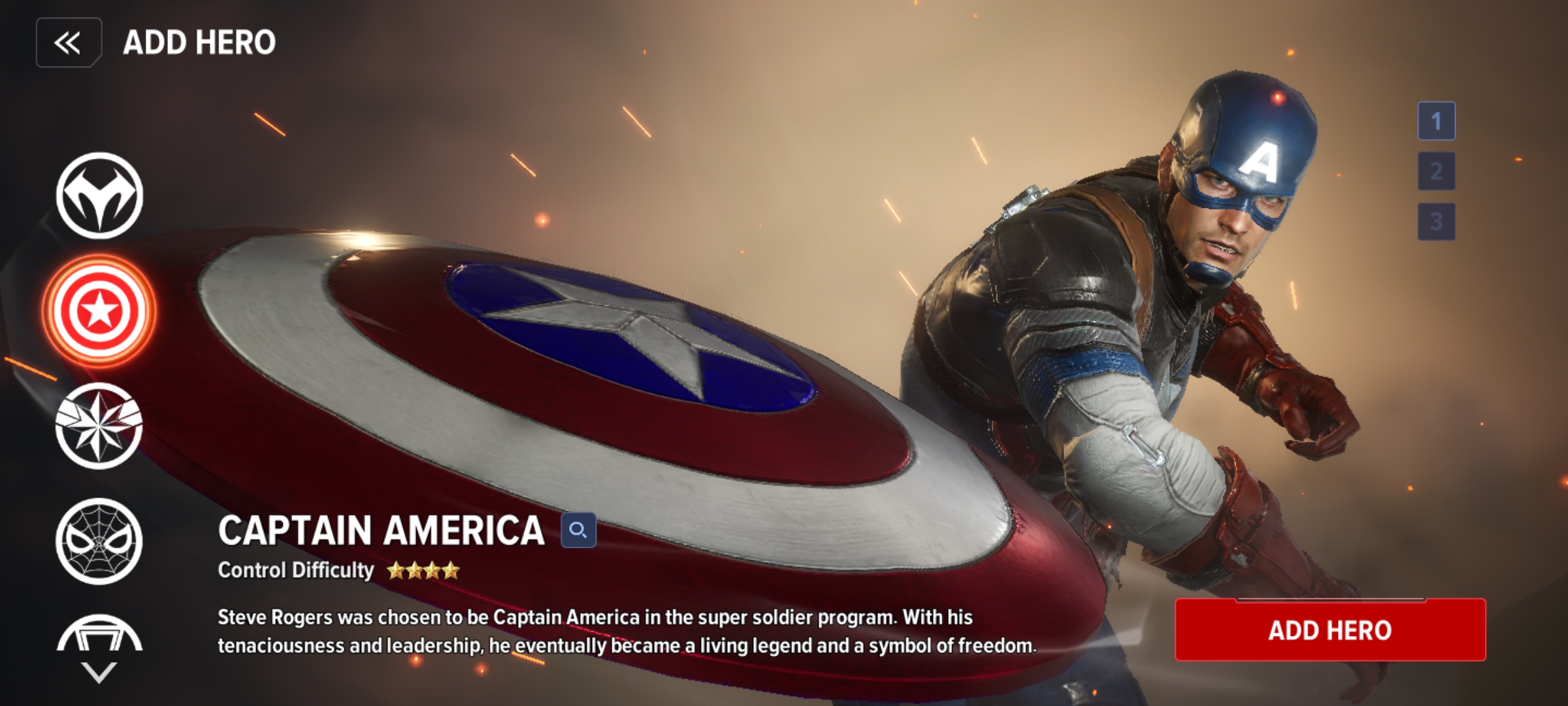 Similar to movies, Captain America is definitely a character design for the lead role. He is an expert in all the areas. From guns, shields, hammers, to armors, doesn't matter what the prop is, Captain is an expert in everything. Unlike Iron Man, his abilities are not very forward or hard-hitting. In fact, he relies on his defensive power and his ability to survive any major damage.
Although, Captain America is a very powerful, overpowered character in the game, however, when it comes to usability, he becomes one of the most difficult to use. You will have to spend a good amount of time with him to master his abilities. Not to mention, some extra hours but you will have to spend for mastering his upgraded abilities. Keeping all these in mind, we recommend you think twice before choosing him as your lead superhero.
Captain Marvel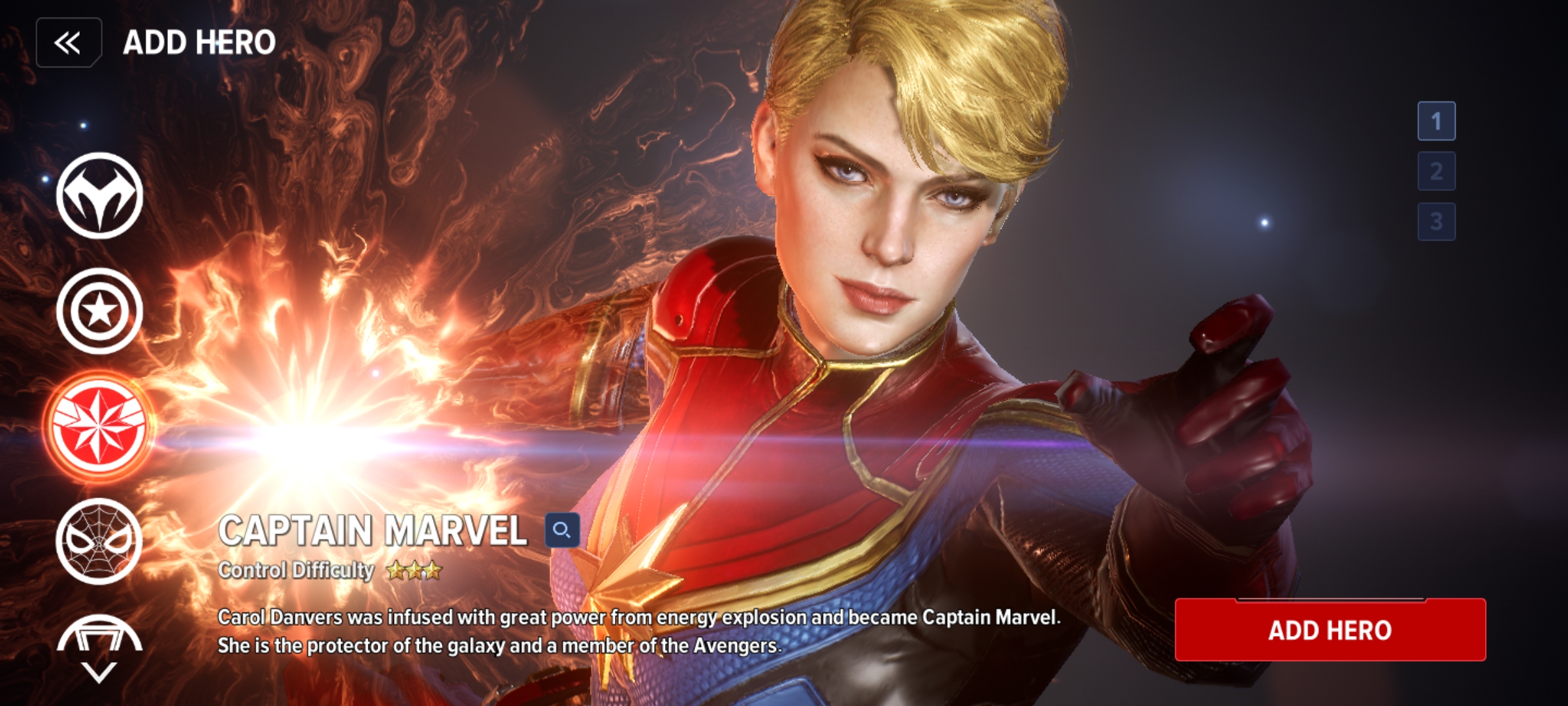 Carol Danvers aka Captain Marvel is one of the most confusing superheroes in Marvel Future Revolution. We are saying show because she is neither an expert in PvP nor in PvE. However, you might find her winning some battles in certain situations. Talking about her abilities, it's almost impossible to find the character that deals the same level of damage as her when it comes to single-target damage. Because of this, she is mainly considered the best superhero to knock out the main bosses and those enemies that other superheroes find difficult to defeat.
The only downside of having Captain Marvel as the lead superhero is her slower kill speed. This downside mainly gets exposed while dealing with very few enemies. But once you become used to her abilities, it will become a cakewalk for you to use her to defeat the main bosses in the game.
Magik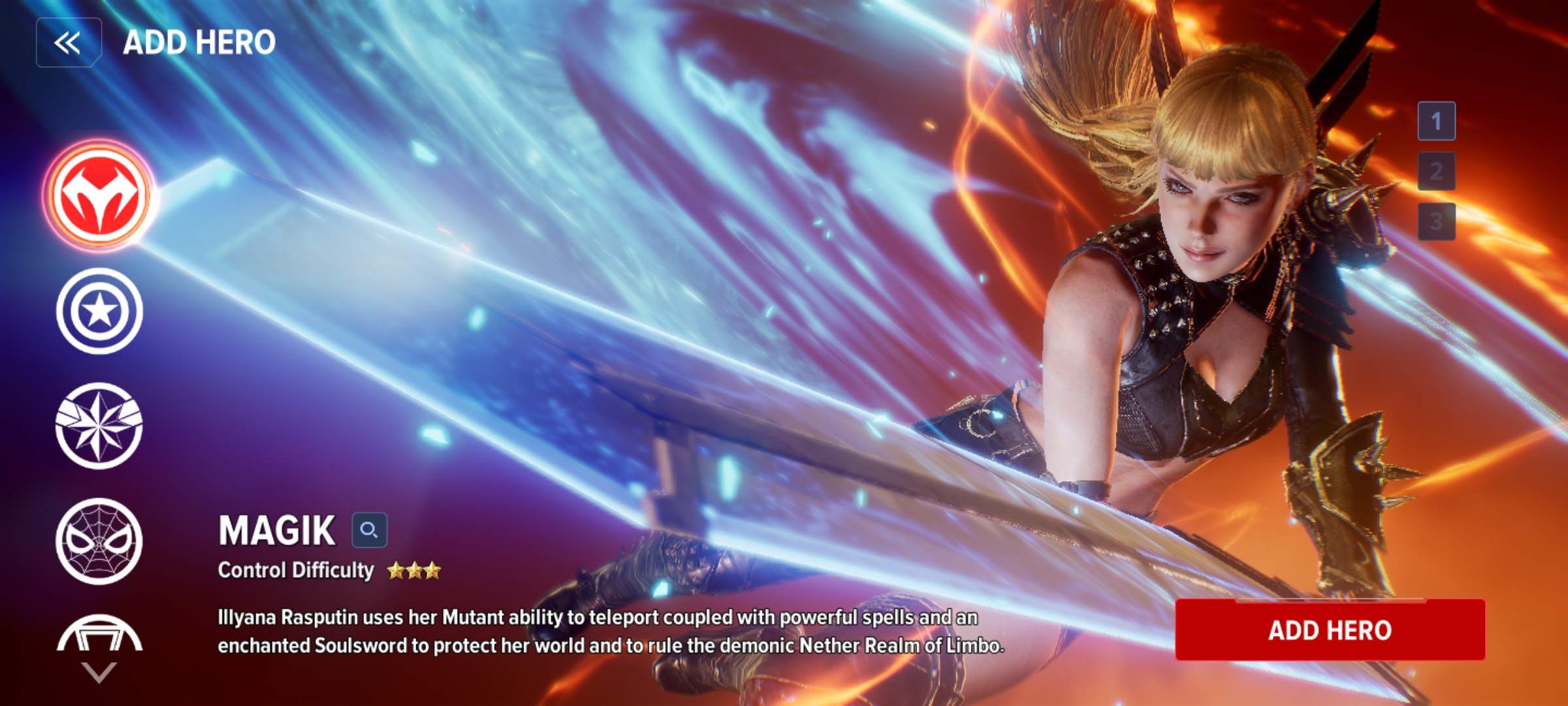 Illyana Nikolaievna Rasputina aka Magik is the latest addition to Marvel Future revolution. She is a mutant and belongs to the X-Men franchise. Her main ability is to transform herself. Plus, she possesses many other exclusive abilities including teleporting through space and time. Not to mention her magical powers that have a great impact on the Limbo dimension.
She can even use her magical powers to create armor and summon her soulsword. Overall, she can be a great option if you are looking for someone with teleportation, black magic, and blade capability.
Heros for Different Battles
Here's a list of Heroes you can use in different battles, i.e., PvE and PvP.
PvE
S Tier – Stephen Strange, Storm, Captain Marvel
A Tier – Captain America, Magik
B Tier – Iron Man, Spider-Man, Black Widow
C Tier – Star Lord
PvP
S Tier – Spider-Man, Iron Man
A Tier – Captain America, Captain Marvel, Magik
B Tier – Doctor Strange, Storm, Black Widow
C Tier – Star Lord
That's all for this post. Feel free to share your thoughts on Marvel future Revolution best hero tier list in the comments. Moreover, let us know which is the next superhero for which you eagerly waiting in the game.