Minecraft is one of the highest-selling video games of all time from Mojang. Officially released back in 2011 and in 2014, Microsoft purchased the game and its properties for a whopping $2.5 billion. Since then, there has been a number of releases in the Minecraft franchise, the most recent one being Minecraft: Dungeons. Minecraft has added a new resource, and it is better than a diamond. Yes, you read that correctly! We will discuss the Netherite Armor in Minecraft
Netherite is a high-grade material that is exclusive to the Nether. Its properties are much higher than that of a diamond, and that's exactly why this material is difficult to catch. Unlike other rare materials, Netherite cannot be simply mined. And most of the users don't know how to do that, so we decided to bring up a guide that will help them to craft Netherite Armor and Weapons. So let's gets started.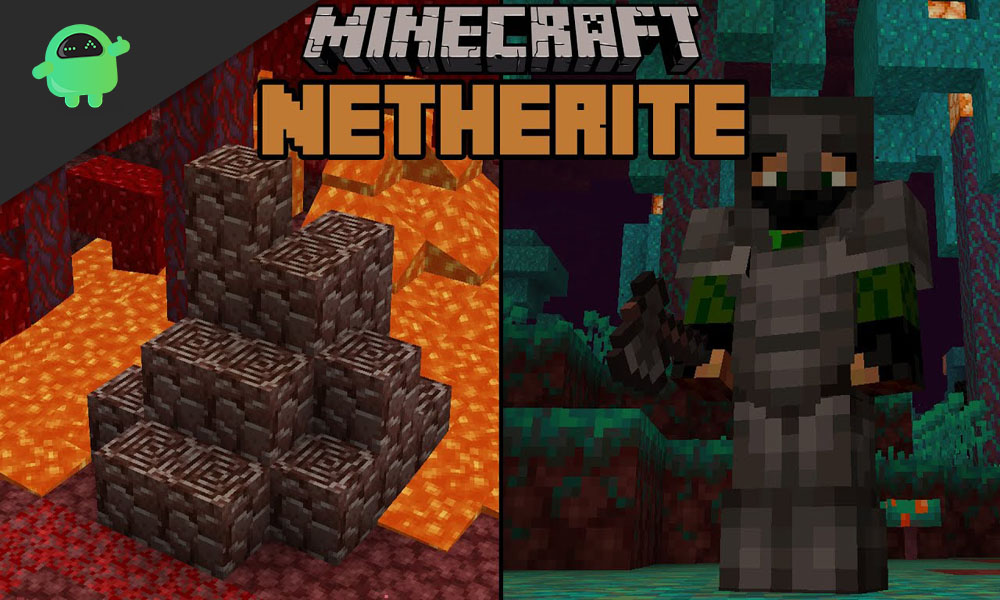 How to Get Netherite Armor in Minecraft?
Before players set out their journey to find this valuable material, they should keep in mind to have the following:
Diamond Picaxe
Crafting Table
Blast Furnace / Regular Furnace
Gold Ingots (x4)
Where to Find Netherite?
Netherite isn't just found in the wilds. Instead, players need to find 'Ancient Debris,' it's a type of rare ore. In order to do this, players must first reach the Nether. This involves creating a portal into the alternate dimension by making a Nether Portal. This portal is made with a rectangular obsidian frame in the Overworld.
Players need to keep in mind that going into the Nether isn't easy as they would need to fight their way against the evil there once inside. Netherite can be found deep inside this dark dimension. Just like for diamond, players need to go deep inside, and 'Ancient Debris' should make itself visible from Y:8 until Y:22.
How to Mine Netherite?
Players will be able to distinctly identify 'Ancient Debris' by its spiral design and brown color. Now, for players to actually mine Netherite they would need:
Netherite Scrap (x4)
Gold Ingots (x4)
Netherite scrap can be made by smelting a considerable amount of 'Ancient Debris' with any kind of fuel. Once players have at least 4 Netherite Scrap, the next step is to make Netherite Ingot from using the Gold Ingots. There has to be a 4:4 ratio of both materials for this procedure to work.
Players need to place each ingot on the crafting table to make Netherite Ingot.
Netherite Weapons and Armor
Netherite is basically a diamond upgrade, so players need to have diamond weapons or armor to begin with. Place the diamond weapon or armor along with Netherite Ingot from the previous steps into a smithing table. This will upgrade the weapon or armor into Netherite weapon or Netherite armor.
This is a list of all the items that can be upgraded:
Axe
Pickaxe
Hoe
Boots
Helmet
Leggings
Sword
Chestplate
Shovel
Upgrading to Netherite has many benefits, such as:
Netherite Weapons can impact more damage.
Netherite Armor has more exceptional durability.
Tools have a longer lifespan and increased performance.
Netherite Armor and tools float in lava
Knockback resistance with Netherite Armor
However, with all the great qualities of the Netherite, players must keep in mind that it is not as effective as Gold. Still, mining and using Netherite is definitely worthwhile for players.
This guide was to help the players of Minecraft to mine Netherite Armor in the game. After following our guide carefully, they should be able to mine it. We hope this guide helped you. If you have any queries or feedback, feel free to comment down below with your Name and E-mail ID. Likewise, check out our iPhone Tips and Tricks, PC tips and tricks, and Android Tips and Tricks for more such tips and tricks. We urge you to participate in the $150 giveaway contest by subscribing to our YouTube Channel.