Sony PlayStation gaming consoles are one of the stunning devices in the market that basically allows hundreds of newly released and even exclusive video games for PS4 or PS5 models. Apart from playing games, users can stream content, watch TV, listen to music, and more. But due to the online connectivity, the chances are high that somehow you're facing the PlayStation Error Code E-8210604A on your PlayStation console which is quite unfortunate.
Well, this particular error is appearing to the users while trying to connect to the PSN (PlayStation Network) server. As per multiple reports online, the specific error notice seems like "An error has occurred. (E-8210604A)" on the screen that can appear due to several possible reasons whatsoever. So, issues with the internet connection, issues with the PSN user account, any kind of PlayStation system glitch, outdated system version, etc. can trouble you a lot.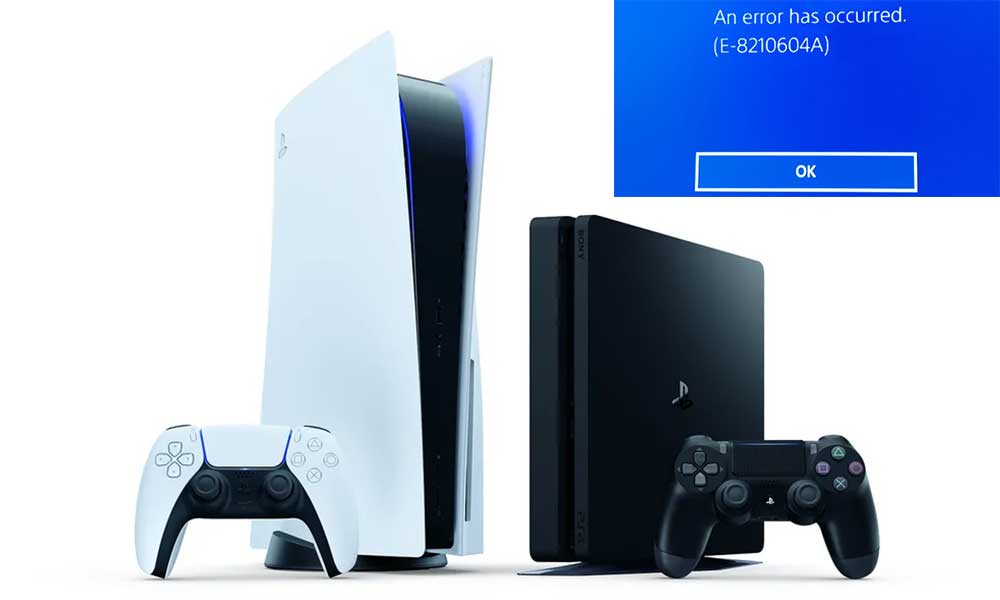 How to Fix PlayStation Error Code E-8210604A?
Interestingly, some PS Now and PS Plus subscribers are receiving the "An error occurred with the payment." error notice with the same error code. Now, if you're facing the same kind of issue with the online payment on PSN services then don't worry. Here we've shared a couple of possible workarounds for you to fix the E-8210604A error code quite easily. Now, without wasting any more time, let's jump into it.
1. Cross-check your Credit/Debit Card Info
The first thing you should do is simply check or edit your credit/debit card details properly via System Settings > Account Management > Account Information > Wallet. In this way, you can easily ensure there is no conflict or improper configuration preset into the settings menu.
2. Check your Internet Connection
Make sure to check your internet connection properly before going to any other conclusion because a poor or unstable network can easily trigger multiple issues with the server connectivity or online payment with the PlayStation services. If in case, you're using the wireless network then switch it to wired (ethernet) or vice versa to check for the issue.
3. Power Cycle your Wi-Fi Router
You should also try performing a power cycle on your Wi-Fi router to cross-check if the problem is happening due to the networking glitch or the router's firmware glitch or not. We'll suggest you turn off the router and then unplug the power adapter from the power source. Then wait for a minute or so and make sure to turn on the router again by plugging back the power adapter in. This method mostly come in handy to the affected users.
4. Re-Register your Credit/Debit Card
You should also check whether your debit/credit card is properly linked or registered with the PlayStation Store or not. Make sure to follow the steps below to link your card before using it.
For PS5:
Go to Settings > Users and Accounts.
Select Account > Payment and Subscriptions > Payment Methods.
Select Add a Credit/Debit Card.
Enter your card information, and then select Done.
When you turn on Set as Default, this payment method will be used the next time you buy something.
You're good to go.
For PS4:
Go to Settings > Account Management > Account Information > Wallet > Payment Methods.
Select Add a Credit/Debit Card and enter your credit or debit card information.
5. Try using another Debit/Credit Card
You can also try using a different debit/credit card on the PlayStation Store to purchase any item because the chances are high that somehow your existing debit/credit card has some issues or the specific bank is preventing online payments whatsoever.
6. Wait for a few hours and try again
It may also be possible that there is a temporary glitch present on the PlayStation Store or maybe your banking partner is having any technical issues at that moment. So, you can wait for a couple of hours and retry to cross-check the payment-related issue.
7. Top up PS Wallet via a PlayStation Store Card
If in case, a credit/debit card isn't required for the payment process, you can try considering topping up your wallet with a PlayStation Store card manually and then check again. To do so:
Make sure to access the PlayStation Store page using a web browser on your PC or Mac.
Now, sign in with the existing account that you're using on your console.
Click on the Sign In button > Click on the Account icon from the top-right corner.
Select Payment Management > Once you've set up a payment method, click on Add Funds.
Next, choose a funding method by selecting one of your cards.
Redeem a Pre-Paid Card option > Try purchasing the item using the PS+ subscription to check for the issue.
8. Check PSN Status
Sometimes issues with the PlayStation Network services can also trouble you with the online connectivity or even payments. It's a better idea to check for the PSN Status using this link to ensure if there is a server connectivity issue or not. At the time of writing this article, there is no server downtime or outage appearing.
However, if the PSN services are having some issues, make sure to wait for around a couple of hours and try again. If there is no issue with the server connectivity then you can jump into the next method.
9. Try Changing PlayStation Profile Email
If you're still experiencing the PlayStation Error Code E-8210604A message on your PS4 or PS5 console then you should try changing the PlayStation Profile Email with another email id. Maybe the linked email address has some issues with the PS Store profile.
First, sign in to Sony's Account Management page using any web browser on your console.
Make sure to enter the verification code if you've enabled 2-step verification.
Select Security > Go to the menu on the right side of the screen.
Click on Sign-in ID from the drop-down menu > Choose to Edit the Email Address.
Enter your new email address and click on Save.
A new email will be sent to your added email address for the sign-in confirmation. Go to your email inbox and open the specific mail.
Click on the Verify Now button > Go back to your PlayStation console and use your new email account to log in.
Now, the problem should be fixed. However, if the problem still persists then you can head over to the next method.
10. Try Removing the active Debit/Credit card
Well, removing payment methods may not gonna cancel the active subscription on your PlayStation account. In order to cancel a subscription, you'll need to visit Subscription Management. Once you delete payment info from one device, it'll be deleted from all devices which are linked to the same account. To do this:
For PS5:
Go to Settings > Users and Accounts.
Select Account > Payment and Subscriptions > Payment Methods.
Choose one of your payment methods, press the options button and select Remove.
For PS4:
Go to PlayStation Store.
Scroll to the bottom of the sidebar and select Payment Methods.
Select a payment method > Delete.
11. Make Payment through another Platform
Sometimes making purchases through a different platform or financing partners can help affected PlayStation console users complete the online payment process. To do this:
Go to the Sony Entertainment Network webpage on a PC or Mac computer.
Sign in with the same PlayStation account that you're already using.
Now, select Payment Method under Playstation Network > To add a payment system, go to the right side.
Click on Add Payment Method > Select Paypal and follow the on-screen instructions.
Then open a new tab in the browser > Go to the Paypal Sign In page.
Make sure to fill up your PayPal account info > Go to the Paypal balance link and click on it.
Click on Link a card > Follow the on-screen instructions to add a credit card to Paypal.
Next, click on Link Card to save it to your account.
Go back to your Playstation console and try adding the PS+ subscription to the checkout page.
Here you'll need to choose your Paypal account to choose your payment method.
12. Contact PlayStation Support
If none of the workarounds did help you, make sure to contact PlayStation Support for additional assistance. You should ask the support staff to create a ticket and quickly resolve such an issue regardless of whether this error message is happening at your end or at the server end.
That's it, guys. We assume this guide was helpful to you. For further queries, you can comment below.