It seems that PlayStation 5 console users are encountering internet connectivity issues quite often these days. Many reports are coming out that the 'Cannot Connect to the WiFi Network' error message appears a lot to users while using the standard or digital edition of PS5. If you're also facing the problem, you can check how to fix the PS5 Not Connecting to WiFi internet issue.
There are several errors and issues have appeared to the PS5 users since the launch but can't to connect to the WiFi is one of the major and common issues that need to be fixed as early as possible. The problem specifically indicates that there is an issue with your network and not from the PlayStation Network. Well, there are a couple of possible workarounds available that we've mentioned below to fix it.
Fix: PS5 Not Connecting to WiFi internet
We assume that there are some possible reasons behind such an issue that PS5 users must check and try manually fixing. Such as issues with your internet connection, issues with your WiFi router/modem, problems with the console's software/hardware, the console is far enough from the router, etc.
So, let's follow every step one by one until the issue gets fixed.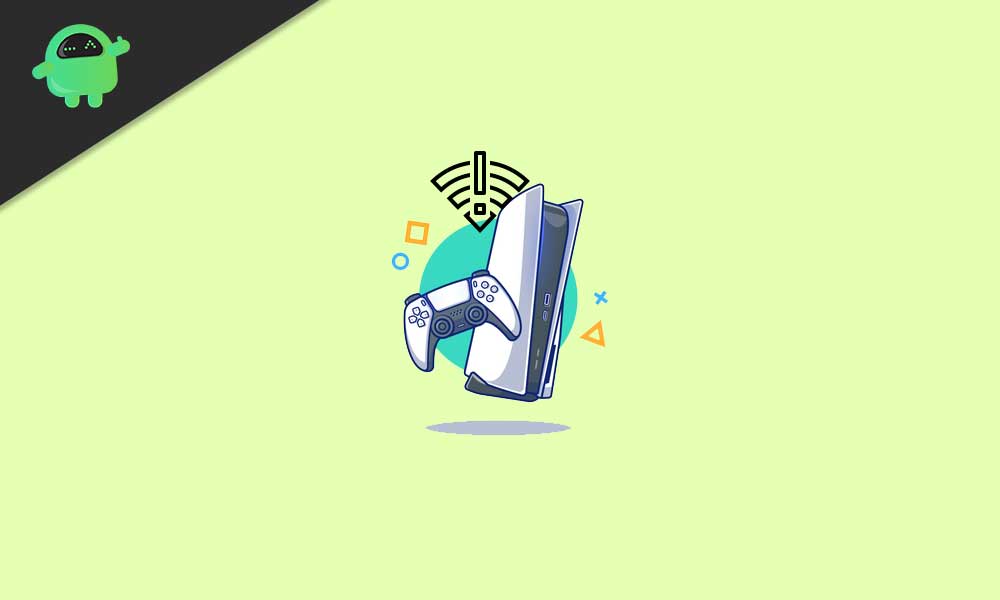 1. Restart Your PS5
This is one of the most common and easiest methods to fix multiple issues with your PS5 console. Although some users may not find it useful enough or don't interested in doing that, we'll recommend you performing this in order to cross-check the problem. To do that:
Press the PS button on your PS5 controller > From the control center menu, scroll down and locate the Power button on the right-side.
Hover over the Power button and select it > Select Turn Off PS5. [You can also choose Restart PS5]
Please Note: Restart your PlayStation 5 to refresh the system but don't put it in the Rest Mode for a longer period of time.
2. Restart Your WiFi Router
A simple reboot of your WiFi router can also fix temporary glitches of your networking device or the software cache data. If your PS5 console Not Connecting to WiFi internet for some unexpected reasons, make sure to restart your WiFi router once.
3. Power Cycle Your Router
If the above method doesn't work for you, try performing the power cycle of your router properly.
Power Off your WiFi router > Disconnect the power cable from the router.
Wait for around 30 seconds > Connect the power cable again.
Finally, Power On the WiFi router and check for the issue.
4. Check PSN Server Status
Although PlayStation Network (PSN) outage may not trouble you with your console from connecting to the WiFi network, it's recommended to at least check for the PSN server status officially. If the servers are down or going through scheduled maintenance then your console may encounter several connectivity issues.
Just head over to the PSN Service Status page. If all services are active and running well then you can follow the next method. Otherwise, make sure to wait for a couple of hours or so until the services become operational again.
5. Confirm the Correct WiFi Password
Well, it's needless to say that most users may forget their WiFi password after some time which is quite common or obvious though if not in use frequently. Therefore, using an older WiFi password or entering the wrong password can obviously occur the particular PS5 Not Connecting to WiFi internet error message.
So, ensure using the correct WiFi password.
6. Set Console Closer to Router
Make sure to place your PS5 console close to the WiFi router if it's already kept at some distance. Sometimes a slower internet connection or unstable network signal or even obstacles between the console & router may cause several connectivity-related issues whatsoever.
You may also use the 5Ghz WiFi connection rather than using the 2.4Ghz for faster connectivity.
7. Try Switching Internet Connection
Alternatively, you can try switching your existing WiFi network to a Wired (Ethernet) connection in order to cross-check the internet strength or speed. If your router is outdated or having issues with the signal strength then switching your connection may fix the issue.
You can also do vice-versa if you're using the ethernet connection already.
8. Use Google DNS Address
Using the Google DNS Address on your device whether you're using PC or console, can make a huge difference in server connectivity, or playing games, or streaming content online. As your PS5 Not Connecting to WiFi internet, you can use this method.
Go to the PS5 Settings menu > Select Network.
Head over to Set Up Internet Connection > Choose to Preferred Connection.
Choose to Advanced Settings > Now, change your DNS Settings to Manual.
Next, try using the Google DNS Address by entering 8.8.8.8 as the Primary DNS.
Then enter 8.8.4.4 as the Secondary DNS.
Once done all, make sure to save changes, and restart your console to check for the issue.
9. Reset Your WiFi Router
A hard reset or the factory reset of your device and even the networking device (router) can improve the performance and connectivity-related issues. It'll basically restore your WiFi router to the default settings so that you can set up the configuration again and start using it. To do this:
Make sure that your WiFi router is turned on and plugged into the power source.
Now, press and hold the Reset button on your router using the paperclip or a pen for a couple of seconds until LED indicators get hiccups while blinking. [It indicates that your router has been reset now]
Once done, your WiFi router should be restored to its factory default mode.
Make sure to manually set up the network configuration on your router again.
Finally, check for the issue whether the PS5 Not Connecting to WiFi internet issue has been fixed or not.
10. Perform Factory Reset to PS5
Just like other gaming devices, a standard hard reset (Factory Reset) can also resolve issues with your PS5 network connectivity. Even if your PS5 console is having issues with the download queue or download stuck error, a full factory reset can do the job easily.
Please Note: Ensure that you've backed up your PS5 data which are required because all the saved game data, saved settings, installed games will be deleted completely from your console once you perform the Factory Reset.
Go to the Settings menu from the Home page of your PS5.
Select System > Go to System Software.
Choose to Reset Options > Select Reset Your Console.
Now, make sure to select the Reset button.
This process may take some time to complete.
Once done, if your PS5 turns on but won't get into the main menu then you should reset your PS5 in the Safe Mode. To do so:

Power off your PS5 console > Press and hold the Power button until you hear a second beep.
Now, make sure to press the PS button on the PS5 controller.
Select the Reset PS5 option from the Safe Mode.

Enjoy!
11. Contact Your ISP
If none of the methods worked for you, try contacting your ISP (Internet Service Provider) for further assistance with your network connectivity or stability. If in case, everything seems working for you except for the PS5 console that means there are some issues with your PS5 for sure.
12. Repair or Replace Your PS5
You can also head over to the PlayStation Connection Support webpage to select My PS4 or PS5 can't connect to the Internet link to cross-check the service status again.
So, if you feel that there is a manufacturing fault or hardware issue troubling you, try contacting PlayStation Hardware Support with the necessary details or proof and Sony should repair or replace your PS5 console if they found any hardware issue.
That's it, guys. We assume you've found this guide useful. For additional queries, let us know in the comment below.