Screen Flickering issues with PS5 have been a matter of concern in recent times, as the number of complaints keeps increasing with time. To begin with, it is not as serious as it seems, and you must be easily able to fix it by working on a few workarounds. However, users often mix up between sudden glitches and screen flickering, which must be avoided before working on these fixes.
If you have encountered sudden glitches while your gameplay, it is probably some defect in the game itself. Such glitches would end up with a new update. But if you encounter a similar screen flickering issue even when you are on your Home screen, that might be the real issue to be taken care of. Fortunately, there are a few effective tricks to fix the PS5 Screen Flickering issue that we have covered in our article today.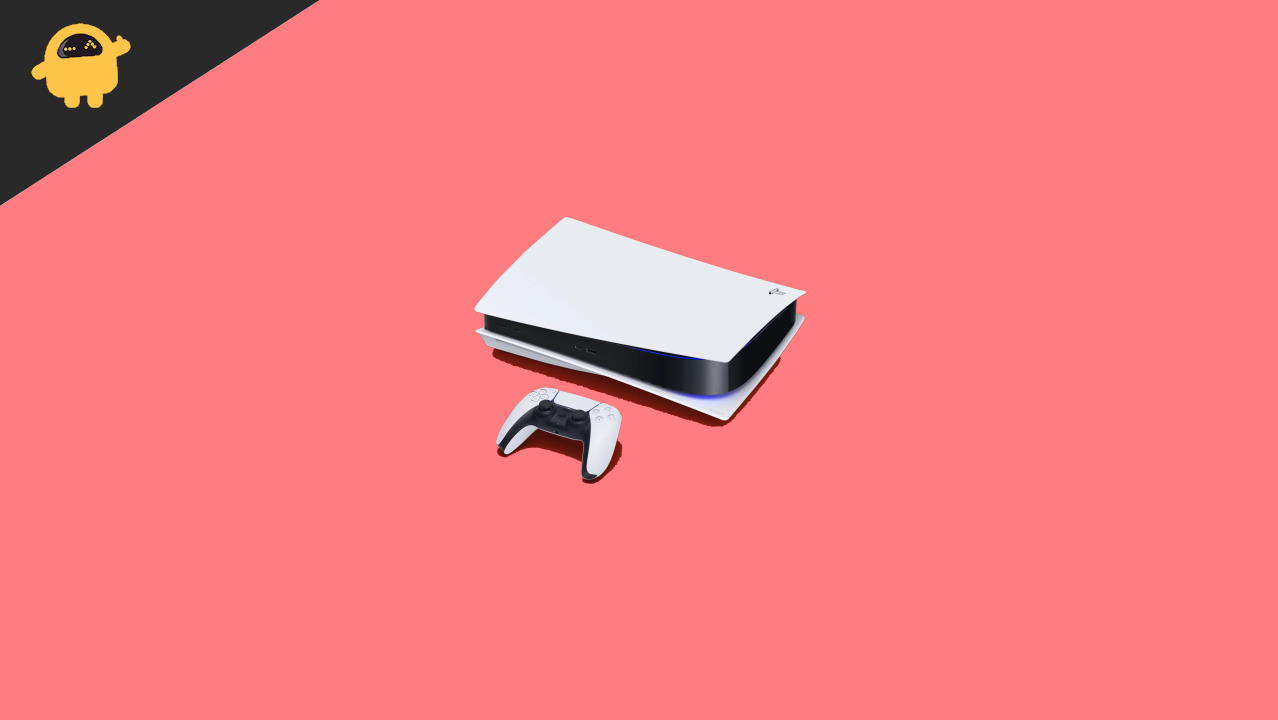 How to Fix PS5 Screen Flickering Issue?
Generally, a screen flickering issue may occur because of your console's 4k video transfer rate to HDMI. Moreover, it can also happen for not using a high-speed HDMI 2.0 cable or due to an old firmware version or the RGB color settings of your PS5. So, working on these specific areas might help you quickly identify and fix your PS5 screen flickering issue.
1. Restart your PS5 console
Usually, the first thing to strike our mind whenever we face a problem is probably to run a restart on the device. The same trick applies to your PS5 in this case as well. If you are encountering sudden screen flickering issues, you must try restarting your console and TV. The steps to restart PS5 are as follows:
Press and hold the power button for a few seconds.
Once you hear two beep sounds, release the power button. Your console has been turned off now.
Disconnect the PS5 and TV from their power sources for 1 to 2 minutes.
Reconnect them to the power sources and switch on the devices.
If the screen flickering issue was due to some temporary glitches, performing a restart must kill all those problems. However, if it still doesn't fix the issue, carry on with the next fix.
2. Examine the HDMI Cable
Another common reason why you might face such a problem is because of an unreliable HDMI cable. Now, there may be multiple factors why your HDMI cable is not a reliable one. First of all, if you are using a faulty HDMI cable, issues like this are always common.
Apart from that, you should also make sure you are using a high-speed or at least a 2.0 HDMI with your PS5. If you are using an HDMI below 2.0, PS5 cannot deliver the proper graphics to your display. Hence, issues like screen flickering may occur more often.
Another factor that might be responsible is if the HDMI port specification does not match between your PS5 and TV. Well, whatever the reason be, here's how you can examine your HDMI cable:
Firstly, switch off both devices.
Remove the HDMI cable from both ends.
Check if it is labeled as 'High-Speed' or at least it is a 2.0 HDMI cable.
If the cable is up to the required specifications, switch both ends and connect it with the TV and PS5. Again, switch on the device to check if it has resolved the issue.
If the screen flickering still appears, try connecting to a different HDMI port on your TV.
A good way to avoid such issues is by using the HDMI that comes in-box with the PS5. It comes with an HDMI 2.1, which is capable of delivering the graphics to your screen properly. And in case your TV doesn't come with support for HDMI 2.1, the cable always comes with backward compatibility support itself.
3. Change your 4K Video Transfer Rate
Your 4K Video transfer rate to HDMI is another potential reason that might cause the screen flickering issue in PS5. Therefore, if the first two methods didn't work out, you might try lowering your video transfer rate.
Given below are the steps to change the 4k video transfer rate from your PS5 to HDMI:
On your PS5 Home Screen, go to the gear icon to open the Settings menu.
Go to 'Screen and Video'.
On the left menu, select Video Output.
Now, set the 4K video transfer rate to -1 and restart PS5.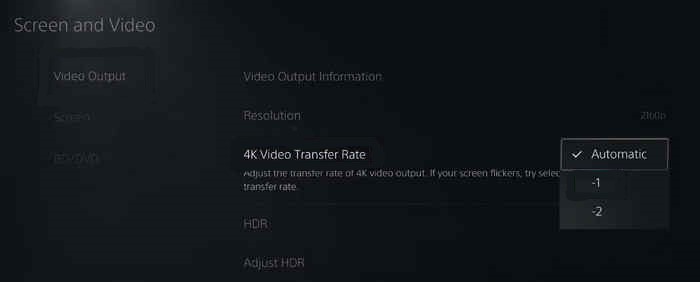 Check if this resolves the issue. If not, follow the first 4 steps and set the transfer rate to -2, and restart the console again.
4. Disable RGB & Resolution Settings
As mentioned above, the RGB color settings or resolution settings may also cause problems like screen flickering and more in PS5. Therefore, if the problem still keeps persisting after changing your video transfer rate, you must try changing the RGB settings on your PS5 or disabling the HDCP or HDR.
Here are all the steps you should know to perform the above-mentioned actions:
Disabling HDR in PS5
Open the PS5 Settings menu.
Go to Screen and Video. Select Video Output.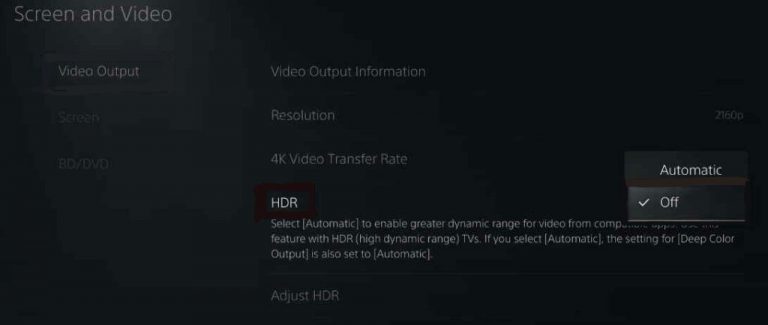 Change HDR mode to 'Off'. By default, it is set to Automatic.
Disabling HDCP in PS5
Open PS5 Settings.
Go to the System option.
From the left menu, select HDMI.

Besides Enable HDCP, click on the slider to disable HDCP on PS5.
Changing RGB Settings in PS5
Go to your PS5 Settings menu.
Select Screen & Video option from the menu.
Click on Video Output on the left pane.
Now, click on RGB Range and select Limited or Full.
Similarly, you can also make changes in the screen resolution from the Video Output pane.
5. Update TV Firmware
If you are not using the latest firmware for your TV, you must try upgrading it. Most TV manufacturers bring up new updates as soon as any new gaming console has been launched in the market to keep up the compatibility and offer the best experience to the gamers.
Upgrading the firmware will add more support to your TV and bring up new features to make your device compatible with the console and deliver the best user experience.
Conclusion
The screen flickering issue with your PS5 can sometimes be a temporary issue. Hence, a simple restart would fix all such issues. However, in case it gets more persistent, we have seen all the possible causes and their solutions, too. You can try the above solutions to fix your PS5 screen flickering issue, and don't forget to tell us which trick did work out for you.