Save for Web feature in Adobe photoshop if a nice addition or extension to save your photos for the purpose of posting them on social media or your personal website. The feature takes less storage space which is ideal for web-related work, but due to many profile issues or internal error, you right see Save for Web error while saving the file in Adobe Photoshop. Here is how you can fix it.
Photoshop is a brilliant piece of tool that can be used to edit photos professionally. Among other competitions and other alternatives (GIMP, for example), Adobe Photoshop is widely used just because of its popularity and user-friendly UI. Although if not done properly, you can experience some issues with the tool.
No matter how experienced you are, you may find one issue at least. One such issue that some people are facing lately is about lately is the Save for Web related issue. This feature basically helps you to save images as jpeg or jpg. But because of this issue, you cannot save files.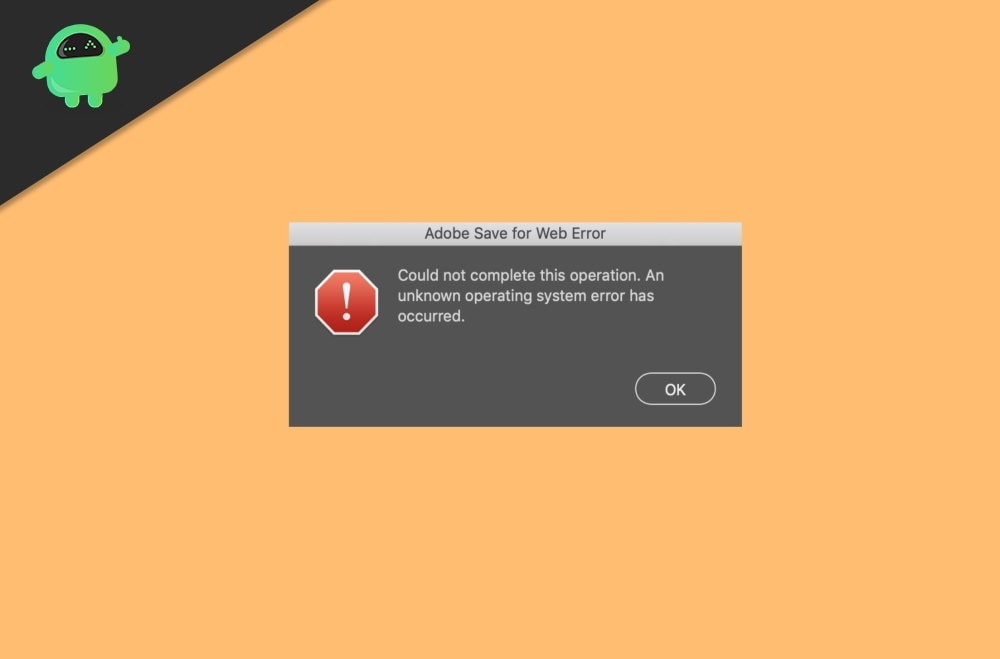 How to Fix Save for Web Error in Adobe Photoshop
The issue is very common and can be fixed with a simple restart of the program. But in case this tactic fails to work, you can follow the below methods to fix the issue on your own.
Disclaimer
GetDroidTips will not be responsible for the loss of any creative work by following this guide. Make sure to save your work/ take a backup before following this guide to avoid losing any photoshop project.
Method 1: Check Image Size and Canvas Size
This error often happens when you try to export large images. Check your image size as well as the canvas size in Adobe photoshop to avoid this error.
This error happens when the image size is larger than the canvas size or vice versa.
So change the canvas size to the image size to solve this issue.
Try converting the size from inches to pixels and then changing the canvas size to it to avoid this error.

Now after checking this, try exporting your image from the save for web feature. It should work now without any issue.
Method 2: Reset Preferences
In case you tried changing some preferences and messed them all up, it might cause this issue. So you can also try resetting the preferences, which will help to overcome this issue.
To reset preferences in Adobe photoshop:
Press and hold: Alt+Control+Shift keys at the same time when opening photoshop.
Now this will prompt you to delete preferences.
Click on okay and wait for it to complete.

That's it you have successfully reset the preferences in Adobe photoshop. Now try exporting the image and see if you face any issues.
Method 3: Update the Photoshop app
Sometimes this issue can also happen when you use older versions of Photoshop. So it becomes mandatory to update your software to avoid bugs and get the latest security updates.
To update Photoshop:
Open the CC app on your PC.
Click on Updates and let it search for all available updates.
When you find any available updates for Photoshop, click on install.
Let it download and install the update for your system.

Once the process is complete, check if the problem is gone.
Method 4: Reinstall Adobe photoshop
Now, if nothing works then, you can finally try reinstalling Adobe photoshop. But before doing anything, take a backup of your projects just in case.
To reinstall Adobe Photoshop:
Press Windows Key and R at the same time.
Now, in the run box, type appwiz.cpl
Find adobe photoshop and right-click on it.
Click on uninstall and follow the onscreen instructions.

Now, install photoshop again just like you did it before and check if the issue is solved.
Conclusion
So as you can see, the issue is fixable easily. But sometimes, you may have an entirely different issue. In that case, these steps cannot help you to solve the issue. You have to make a search specifically for your case. But most people who have this issue found the above-mentioned steps helpful, including me and countless others.