2018's Sea of Thieves is an action-adventure multiplayer fighting video game that has been developed by Rare Ltd and published by Xbox Game Studios, available for Windows, Xbox One, and Xbox Series X|S platforms. In this title, players can get a role of a pirate to complete voyages from different trading companies in an open-world exploration. Meanwhile, some players are experiencing the Sea of Thieves Services is Temporarily Unavailable error on the PC.
Multiple reports are coming out that whenever players are trying to get into the game or join/host a game server, this particular error message appears a lot due to the network issue. It basically says "The Sea of Thieves Services is temporarily unavailable. Please try again. (Lavenderbeard)". Now, if you're also facing the same error for a while then you can follow this troubleshooting guide completely to fix it. You can perform the methods below one by one.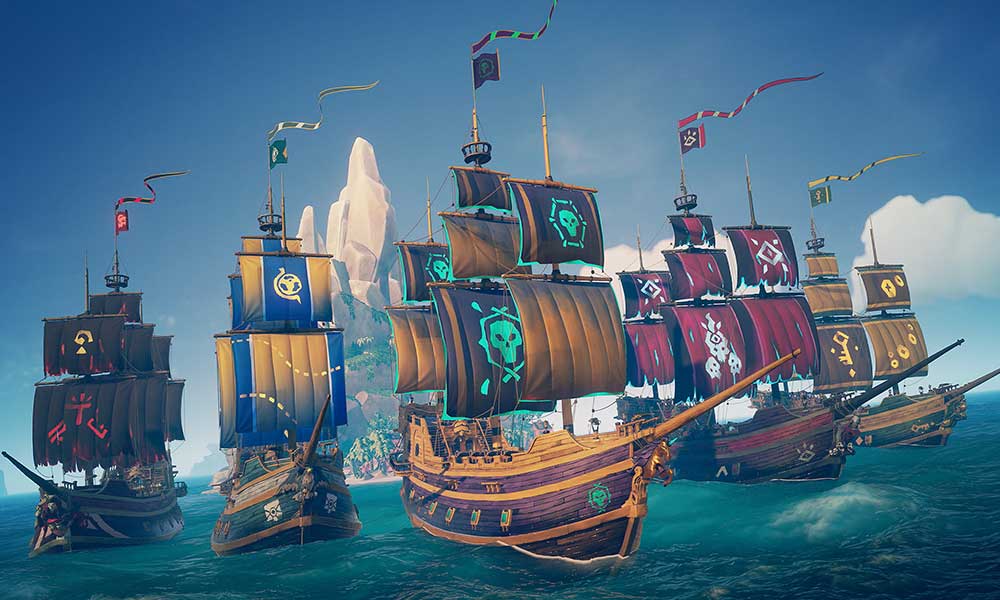 It seems that the Sea of Thieves temporary unavailability of the services error is happening due to a couple of possible reasons such as issues with the server operations, temporary glitches or cache data issues with the gaming device, issues with the Xbox credentials, issues with VPN or proxy server, etc. While the SSL certification & TLS certification can also trigger problems whatsoever. You may need to whitelist the game to the firewall or reinstall the game.
1. Check Sea of Thieves Server Status
First of all, you should check out whether the Sea of Thieves servers are running properly or not. Sometimes issues with the game server's connectivity can eventually trigger the service temporarily unavailable error whatsoever. If in case, you're having this specific error then make sure to visit the official Sea of Thieves Game Status webpage to get the real-time server status whether there is an issue or not. You can also visit Is The Service Down page for the same.
Additionally, you can head over to the Down Detector Sea of Thieves webpage to get all the real-time reports, live outage map, last 24 hours status, etc details. If there is a server outage or downtime at the moment then you should wait for around a couple of hours before trying again. Otherwise, try following the next method.
2. Restart your PC or Xbox Console
In some cases, a normal reboot to the system of your Windows PC or the Xbox console can fix multiple bugs or glitches completely. So, if you haven't restarted the device yet to refresh the system, you should try it out.
3. Check Internet Connectivity
It's highly recommended to check your internet connectivity properly because the internet network may become unstable or slow enough to connect to the game servers. If in case, you're using a wired (ethernet) connection then switch to a wireless (Wi-Fi) connection or vice versa. Otherwise, you can try using a different internet connection at your end to cross-check the issue. Sometimes a mobile data hotspot can also become helpful to know the issue.
4. Power Cycle your Wi-Fi Router
The chances are high that your Wi-Fi connection is working fine but somehow the router is having some issues with the connectivity like temporary glitches or DNS cache. It's better to perform a power cycle on your Wi-Fi router to ensure there is no issue happening due to the router. Just power off the router and then unplug the power cable from the router. Now, wait for around a minute or so then you can connect the power cable again and turn it on.
5. Run the game as an administrator
Make sure to run the game exe file as an administrator to avoid user account control regarding privilege issues. You should also run the Steam client as an administrator on your PC. To do this:
Right-click on the Sea of Thieves exe shortcut file on your PC.
Now, select Properties > Click on the Compatibility tab.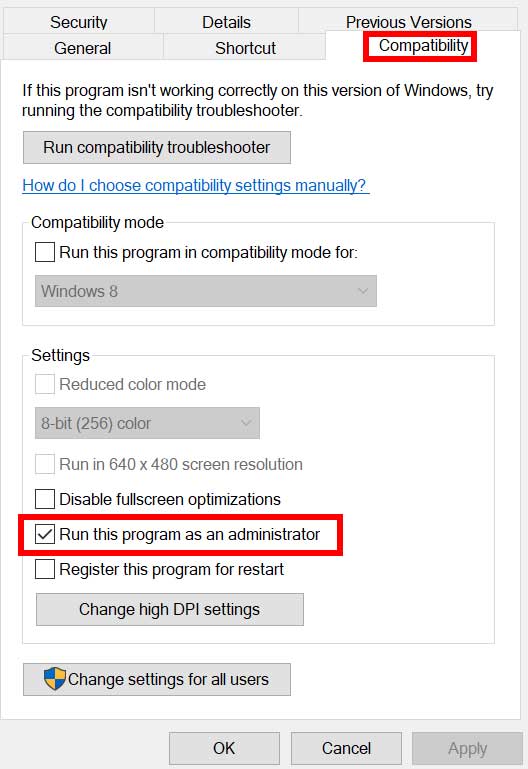 Make sure to click on the Run this program as an administrator checkbox to checkmark it.
Click on Apply and select OK to save changes.
Make sure to do the same steps for the Steam client too. It should help you to fix the Sea of Thieves issue on your PC.
6. Disable VPN or Proxy Servers
Try not to use any VPN apps or proxy servers on your PC or even with your Wi-Fi router because it may occur server connectivity issues a lot. Though VPNs are useful for accessing geo-restricted content or game servers, it eventually increases server connectivity time or you can say high latency whatsoever. Higher ping or latency can trigger server connectivity errors, request timed out, can't connect to the servers, etc issues.
Try turning off the Proxy server on your Windows PC if you're using it. Just like the VPN service, a proxy server can conflict with the online game servers while connecting. To disable proxy:
Press the Windows + I keys to open Settings.
Click on Network & Internet from the left pane.
Go to Proxy > Make sure to Turn OFF Proxy Server Settings.
You should also turn off the Automatically detect settings toggle.
7. Release Xbox Credentials
Plenty of PC gamers may experience server connectivity issues with online multiplayer games due to the Xbox credentials. You should release the Xbox credentials by following the steps below to fix it.
Open the Start menu on Windows > Search for Credential Manager.
Click on Windows Credentials > Head over to Xbl_Ticket.
Now, remove each entry having a 1717113201 string/value.
Restart your computer to apply changes > Then log into Sea of Thieves and check for the issue again.
8. Disable SSL 3.0 and Enable TLS 1.2
Sea of Thieves (SoT) servers may encounter connectivity issues due to the SSL 3.0 and TLS 1.2 misconfiguration. It's always recommended to re-configure it (if possible).
Open the Windows Start menu > Search for Internet Options.
Now, go to the Advanced tab > Make sure to disable SSL 3.0 (unchecked).
You should enable TLS 1.2 (checked) from the list.
Once done, you can reboot the PC to apply changes.
9. Whitelist the game via Windows Firewall
It's also worth mentioning to allow the game exe file to the antivirus software or you can say whitelist the game file to properly run it on the PC. Aggressive antivirus software can eventually block the doubtful game files to run and connect to the game servers. To do it:
Press the Windows + I keys to open Settings.
Click on Privacy & Security from the left pane.
Click on Windows Security > Go to Virus & threat protection.
Go to Manage Ransomware Protection from the bottom of the page.
Make sure to Enable the Controlled folder access toggle > Now, go to Firewall & network protection.
Then select Allow an app through firewall > Here click on Change settings.
Click on the Allow another app… button and click on Browse.
You'll have to add the specific SeaOfThieves.exe application file from the installed game directory.
Once selected, click on Open then click on Add > Finally, try launching the game and connecting to the servers.
10. Update Sea of Thieves
Sometimes you may not be able to update your game version whenever a new patch update is available due to several reasons. But we'll always recommend you to follow the steps below to check for updates and install the latest patch (if available). It'll obviously include new features, stability improvements, bugs fixes, and more. To do this:
Open the Steam client > Go to Library > Click on Sea of Thieves from the left pane.
It'll automatically search for the available update. If there is an update available, make sure to click on Update.
It may take some time to install the update > Once done, make sure to close the Steam client.
Finally, reboot your PC to apply changes and launch the game again.
11. Verify and Repair Game Files
The chances are high that somehow your installed game files become corrupted or missing due to some unexpected reasons or any other rogue program. If so, you may encounter multiple issues with the game launching, lags, errors, server connectivity issues, and more. You should always perform the following steps to easily repair the missing or corrupted game files via the Steam client without any additional effort.
Launch Steam > Click on Library.
Right-click on Sea of Thieves from the list of installed games.
Now, click on Properties > Go to Local Files.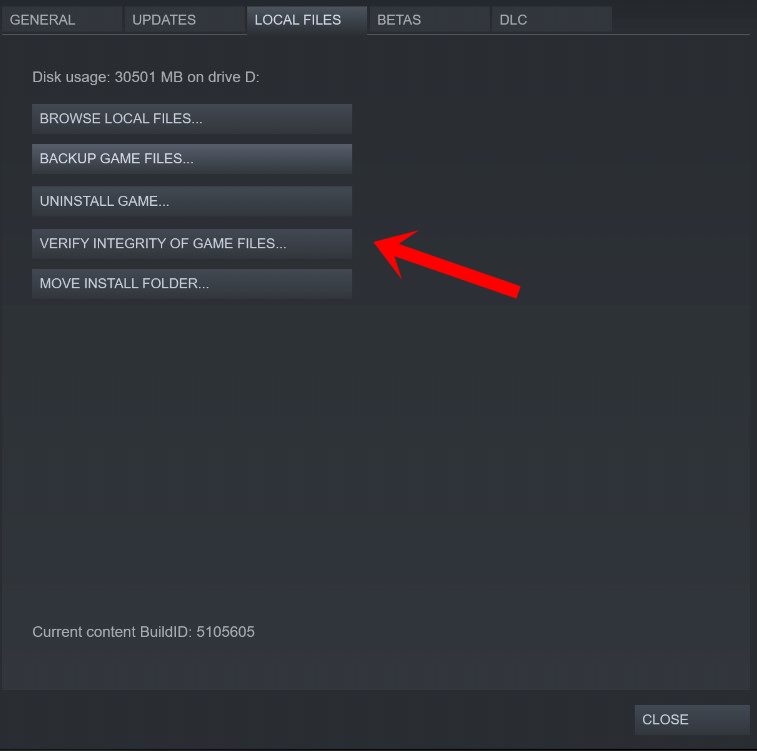 Click on Verify Integrity of Game Files.
You'll have to wait for the process until it gets completed.
Once done, just restart your computer.
12. Flush DNS and IP Config
Make sure to flush the DNS cache on your computer to easily remove stored cache files related to the internet configuration. It can also help the PC and the internet settings to freshly connect with the game servers without any corrupted or older cache data. To do that:
Press the Windows key on the keyboard to open the Start menu > Type Command Prompt and search for it.
Now, right-click on Command Prompt > Select Run as administrator.
Click on Yes to run with the admin access > Once the command prompt window opens, type the following command and hit Enter:
ipconfig /flushdns
A successful message will appear > Close the command prompt window.
Once done, make sure to run the following command line by copy-pasting and pressing the Enter key one by one:
ipconfig /release

ipconfig /renew

netsh winsock reset

netsh int ip reset

netsh interface ipv4 reset

netsh interface ipv6 reset

netsh interface tcp reset
Once all is done, you should reboot the PC to apply changes.
13. Reinstall Sea of Thieves
If none of the methods worked for you then try reinstalling the Sea of Thieves game on your PC to check if that helps you to fix the server connectivity issue or not. To do so:
Launch the Steam client on your computer.
Now, go to Library > Right-click on the Sea of Thieves game.
Head over to Manage > Select Uninstall.
If prompted, click on Uninstall again and follow the on-screen instructions to complete the uninstallation process.
Once done, make sure to reboot your computer to apply changes immediately.
Open the Steam client again and install the Sea of Thieves game again using the same Steam account after searching for it.
Enjoy! You might not get the Sea of Thieves Services is Temporarily Unavailable error anymore.
That's it, guys. We assume this guide was helpful to you. For further queries, you can comment below.