Steam Deck is one of the popular handheld PC gaming consoles by Valve Corporation that's doing really well as a standalone device. The best part is that Steam Deck can be used in the Desktop Mode as well as can be connected to an external monitor for a better visual experience. However, screen tearing issue can be a common issue to you while playing video games on Steam Deck. If you too, you can fix the Steam Deck Screen Tearing Problem for sure.
Well, Screen Tearing is kind of a visual glitch or mismatch with the frame rates whenever the monitor's refresh rate doesn't get properly synchronized with the in-game refresh rate. Either the in-game refresh rate is mismatched with the display refresh rate or issues with the gaming device configuration can trigger the screen tearing issue in most cases. So, if you're also one of the victims to encounter the same issue, you can follow this troubleshooting guide.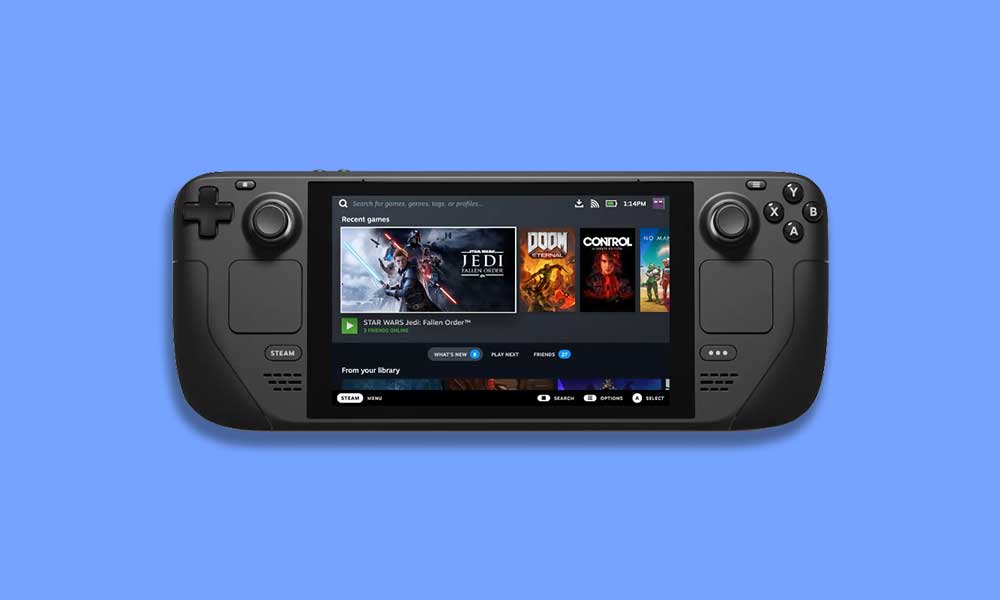 Fix: Steam Deck Screen Tearing Problem
If we talk about the screen tearing issue on gaming devices or display devices, it happens quite often even on other gaming consoles as well as PCs. So, there is nothing to worry about it because it becomes common among PC gamers as well as Steam Deck users during playing PC titles. Luckily, here we've shared a couple of possible workarounds for you that should come in handy. Now, without wasting any more time, let's get into it.
1. Reboot Steam Deck
First of all, you should try rebooting your Steam Deck by following the steps below to ensure there is no temporary system glitch conflicting with the performance. To do so:
Press the Steam button from the left side of the Steam Deck.
Select Power > Choose Restart.
Once done, check for the issue again.
2. Force Reboot Steam Deck
You should force reboot the Steam Deck console manually by following the steps below if you still face the same issue. It's better to force reboot Steam Deck if it's having some glitches or visual stutters or screen tearing.
Press and hold the Power button for at least 3 seconds.
If it remains unresponsive, try long-pressing the Power button for around 10 seconds to reboot the system again forcefully.
3. Set Layers Acceleration Force to Enable
You should try enabling the Layers Acceleration Force option from your Mozilla Firefox browser by following the steps below. This specific method might help you in fixing the screen tearing issue on your Steam Deck. To do so:
Open the Mozilla Firefox browser on Steam Deck Desktop Mode.
Now, type about:config in the address bar and hit Enter.
If it prompts, click on Accept the Risk and Continue to proceed.
Type layers.acceleration.force-enabled and check if it's set to True or not.
If it's set to False, make sure to set it to True.
4. Check for SteamOS Updates
An outdated SteamOS version can trouble you greatly regarding bugs, stability issues, security issues, etc. It's better to check for SteamOS updates on Steam Deck manually by following the steps below.
Press the Steam button on the left side of the Steam Deck.
Go to Settings > Head over to the System tab.
Select Check for Updates on the right side.
If there is an update available, tap on Apply.
Now, wait for the software update to complete.
Then tap on Restart to apply changes.
5. Enable Compositor on Startup for Display/Monitor
If the above methods didn't help you then make sure to enable compositor from the system settings menu for your connected display monitor. Although this option should be turned on by default, you can check for the same, and if the option is disabled, ensure to turn it on. To do so:
Press the Steam button on Steam Deck to open the Steam menu.
Now, scroll down then select Power > Select Switch to Desktop.
Wait for your Steam Deck to switch to Desktop Mode.
Once done, search for Compositor and open it from the Steam Deck Desktop Mode.
Here you'll need to tick the Enable compositor on startup checkbox.
6. Contact Steam Deck
Last but not the least, you can contact Steam Support to create a support ticket for the same. The chances are high that Steam support will investigate this issue and try fixing it asap.
That's it, guys. We hope this guide was helpful to you. For further queries, you can comment below.