One of the most difficult-to-obtain game consoles this year isn't a PlayStation or Xbox. There is only an online version of this product. Most casual gamers probably haven't heard of it. I'm talking about the $400 Steam Deck, a console that's just as practical as it sounds. With a touch screen and the guts of a supercomputer, the hand-held device consists of a thick slab of bulky black plastic.
This is like a child born from a Nintendo Switch and a gaming computer. Also, Steam is a great way to buy games, especially when they're on sale. However, sometimes glitches occur Steam Deck Store not loading or greyed out that you can't seem to fix. That's the reason why we are here. This article will tell you some effective ways to easily resolve if the Steam Deck Store is not loading or greyed out. So, let's get started with the guide.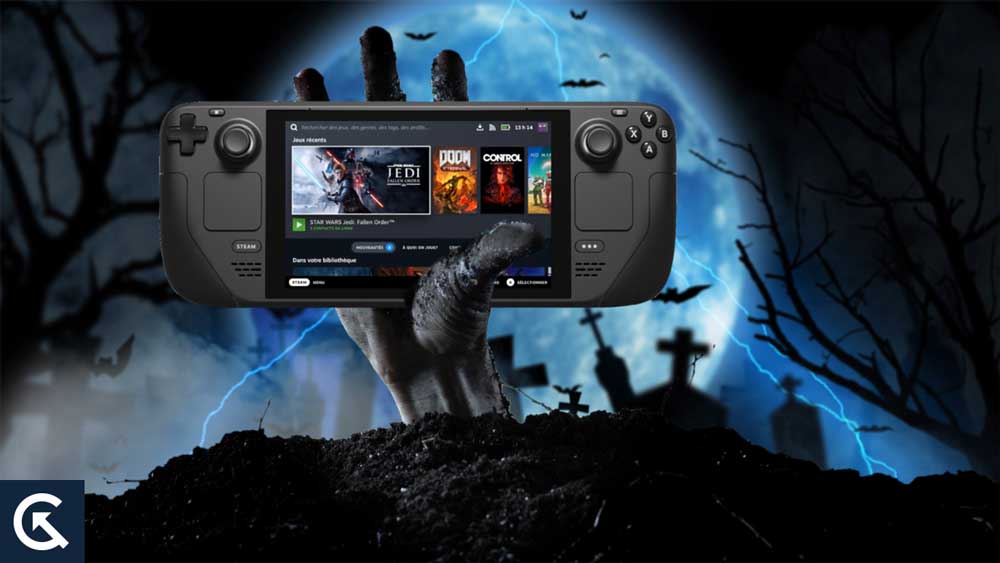 What Causes the Steam Deck Store Not Loading Error?
Generally, this glitch is caused by a communication issue between the Steam servers and your local network. For online payments to be verified, secure certificates must be used. It is possible that your payment provider and local network don't match if connection errors occur with Steam's certificates.
Steam pauses the transaction whenever an error occurs until the error is fixed, and no further payments can be made until the problem is resolved. This is why you are getting the Steam Deck Store not loading or grey out error. Nevertheless, don't worry about this, as we have some fixes that will help you resolve this problem, so let's check out the fixes.
How To Fix Steam Deck Store Not Loading or Greyed Out
There are some fixes that will help you resolve if the Steam Deck Store is not loading or greyed out. Therefore, if you are experiencing this issue, you should perform the fixes we have mentioned below:
Fix 1: Check to See if the Steam Server Is Down
There is a possibility that Steam servers are experiencing an outage, although this is very uncommon. If this is the case, updating purchases properly will not be possible. To find out if there is an outage, you can use Downdetector.
Steam needs to be restarted if the servers are down, so you just need to wait for them to return. Check your cart if you have still not received the item you paid for. Upon payment completion, you can go ahead as usual.
Fix 2: Restart Steam
If Steam is not working, restarting it is one of the simplest things you can do. It is not uncommon for Steam to experience temporary bugs and errors, causing Steam Deck Store not to load or greyed out type issues. Then, restart Steam by closing it and waiting at least a few seconds. You should now be able to click all the buttons in the Steam Store once you have completed the steps above.
Fix 3: Check Your Network Connection.
It is also possible that your PC has an unstable network connection causing some Steam Store buttons to not work. To access Steam's features, including the Steam Store, you'll need a good internet connection.
To determine whether your network is the culprit, run a test on your browser using Fast.com to measure the speed of your uploads and downloads.
Your internet connection may need to be reestablished if the test indicates your router or modem is the problem. You may want to unplug your router and let it rest for a few moments before plugging it back in. After you have completed this step, run another test to ensure that your network is operating properly. Your ISP can fix your service if you continue to face network issues.
Fix 4: The Problem May Be with the Product
It is possible there is an error in Steam Store for the item you're buying. It is possible to fix the Steam Deck Store not loading or greyed out by canceling that particular purchase and then buying it again later on. In order to cancel purchases, follow these steps:
Launch Steam.

Then, click the profile icon in the upper right corner to edit your profile.

Select "

Account details

" from the dropdown list.

Click "

View purchase history

" under "

Store & Purchase History

."

In this section, you can see a list of all your purchases. Select Type from the dropdown menu. A "

Purchase

" item means payment has been made, and a "

Pending

" item means payment has not yet been made. Click on the item if it is awaiting.

On the next screen, click "

Cancel this transaction

."

Click "

Cancel my purchase

."

Go back to the Steam Storefront. See if the Steam Deck Store is not loading or greyed-out issue is now resolved or not.
Fix 5: Your VPN Might Be the Problem
There are different prices for games on the Steam Store, depending on the region, and your account will only be available in the region you live in. Steam Deck Store is not loading, or greyed-out errors may occur if your Steam location and VPN location are different. To fix this, follow these steps:
Shut down Steam. It should be completely closed, not just minimized. To show hidden icons, click on the "

Show hidden icons

" arrow on the taskbar. You can exit Steam by right-clicking on the icon and selecting the exit option.

Right-click your VPN in the hidden icons menu.

Select the exit option.
Fix 6: Error in Steam App
You may experience Steam Deck Store not loading or greyed-out errors when using your local Steam application on rare occasions. A corrupted local file or an interrupted update may cause it. If this is happening, you can fix it by clearing your Steam cache. The steps are as follows:
Launch the Steam app.

In the upper left corner, click "

Steam

."

From the dropdown menu, select "

Settings

."

Go to the "

Downloads

" menu on the left.

On the window's bottom, click on "

Clear Download Cache

."

After Steam has finished updating, restart it.

Check your cart to determine if your Steam Deck Store is not loading or greyed-out error has been resolved.
Fix 7: You Can Buy the Game on Steam
It might be a temporary fix, but the Steam website could let you continue your purchase if your Steam app isn't working. To do this:
Launch Steam.

Enter your credentials under "

Login

."

When two-factor authentication is enabled, a verification code will be prompted for you to enter.

To purchase the game, go to its store page.

Place it in your shopping cart, then check out.
Fix 8: Reinstall Steam.
If the Steam Store buttons still don't work on your PC, we suggest reinstalling Steam. So you can make sure it has the latest version and that its installation files are not corrupted.
It will be necessary for you to re-download all your games if you reinstall Steam, so make sure you have enough bandwidth to do so.
To reinstall Steam, follow these steps:
To start, open the

Control Panel

.

Then click

Uninstall a Program

and locate Steam there.

Finally, right-click Steam and select

Uninstall

.
You can download the installer from Steam's official website once you've completed the above steps. You will need to re-login to your Steam account afterwards to ensure you can now access the Steam Store buttons.
Fix 9: Proceed to Steam's Help Desk
It might be a good idea to contact Steam's customer service team if none of the solutions provided seem to work. In addition, you can get in touch with support if a problem can't be solved automatically by following the guide.
So, that's how to fix if the Steam Deck Store is not loading or greyed out. We hope that this guide has helped you. Furthermore, if you need more help, comment below and let us know.