Apex Legends is a Battle Royale game that is developed by Respawn Entertainment in collaboration with Electronics Art. The game is in its fourth season. And now a new event started making its way into the game. This is an exciting event as others, but the users here are facing a problem. They are unable to download the game event files that are required by the game to start the Event. So this guide is for the users who are facing the same issue in their Apex Legends. So let's start the guide.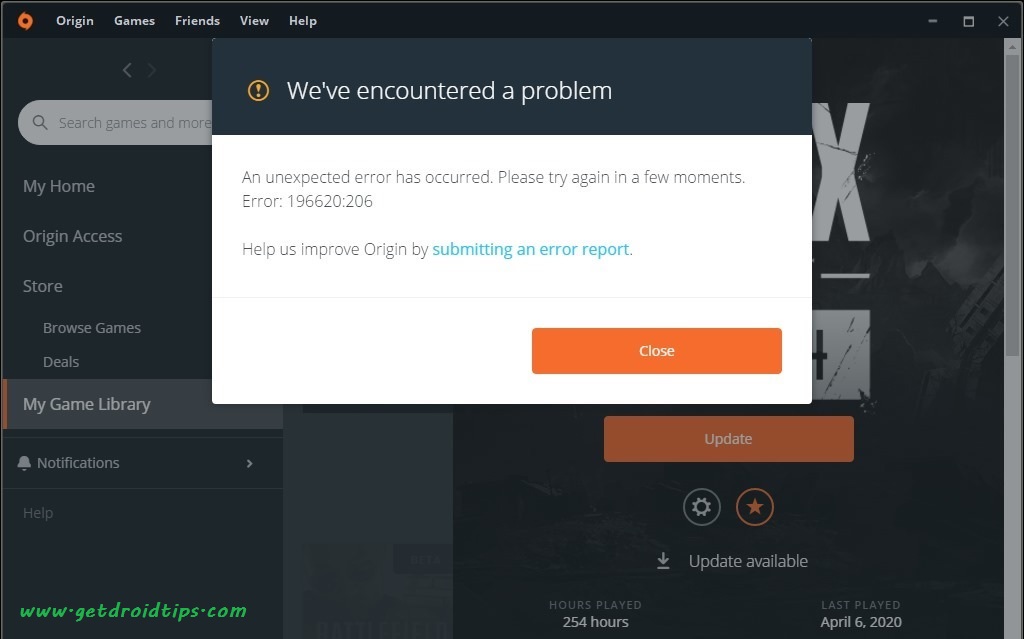 What is the Issue?
The issue is more of a bug than a critical error. Apex Legends has got a new event. Completing the challenges in this Event will fetch you gun skins and more. The issue is the size of the event update is 1.8GB. So whenever the user tries to download the even, the download gets failed with the error code 196620:206. This is the only error after the event update came, so most of the players are experiencing this issue. Due to this, their gameplay is getting ruined as they are unable to enjoy the game events. As we know, online games are famous for their events because events bring great prizes.
So if you are among those who are unable to download the event update in-game, are regularly seeing the error "An unexpected error occurred. Please try again in a few moments Error: 196620:206". Then probably you are in the best place. As in this guide, we will discuss all the fixes that will surely help you overcome this. So, without further ado, let's get started.
How to Fix Apex Legends: Download Failed Error 196620:206?
Now we will discuss the best fixes that will help you solve your download fail error code 196620:206. But before proceeding, make sure you have a fast internet connection. And follow each step accordingly, and don't try to do anything more than discuss. So now you're ready for the fixes.
Fix 1: Restart the Origin Launcher
Let's keep things simple and start with restarting your launcher. It can quickly fix your issue. After restarting the launching, run the game and try to update. If the update fails again. Close the game and restart Origin launcher by right-clicking on to and selecting "Run as Administrator." This will definitely help. If this does not seem to help you, consider moving to the next fix.
Fix 2: Restart your PC
You may have tried this before, but believe me, after trying the first fix, this thing will definitely help. Try to hard boot your PC by pressing the power key for 10 seconds. Then wait for approximately 10-15 minutes and start your PC. Now open Origin Launcher with Admin rights, and launch your Apex Legends. The download of the Event will start flawlessly. In any case, this did not help; our ultimate solution definitely will.
Fix 3: Repair the Game
Somehow if any of your in-game files or data is corrupt, repairing your game will definitely fix your issue. To repair your game follow the steps below.
Double click on Origin Launcher, to open the game
Then click on Apex Legends
And move to "Settings" and click on that
There you will find an option "Repair your Game."
Click on that and wait for sometime
After doing this, Origin will check for the integrity of the game files, and if anything is corrupt, it will fix that. Now you can restart your game and check the download will start flawlessly.
Wrap-Up
This guide was to fix the error of downloading failed in the event of Apex Legends. And the error code was 196620:206. If you have followed each fix correctly, then you will definitely enjoy the gameplay and the Event. We hope this guide was helpful to you. If you have any queries or feedback, feel free to comment down below with your Name and E-mail ID. Likewise, check out our iPhone Tips and Tricks, PC tips and tricks, and Android Tips and Tricks for more such tips and tricks. Thank You.