If you have been looking for means to get your artist needs to be done on your computer, then look no further. Read on to discover some of the best free drawing apps for Mac that you must check out in 2020!
The modern-day and age has allowed for people to discover, create, and share their art online. Many people have also taken this up professionally, and their livelihood depends on it all. If you go around in the design sectors of many organizations, you will notice that people have started depending on technology for drawing and visualizing their ideas. This is all thanks to the sheer convenience that the modern tablets and drawing tools bring to the table.
Talking about the devices that all the digital artists use nowadays, we have the iPad Pro on the top of everyone's preferences. Other drawing tablets are also used widely because they act as good substitutes for pen and paper. Many people still depend on the old school drawing tablets that connect to your computer via an interface, and that's absolutely fine. However, something that is common for all digital artists alike is the software they use to draw and manipulate their artwork. Today, we will be solely focussing on MacOS and the best options available for those who use it.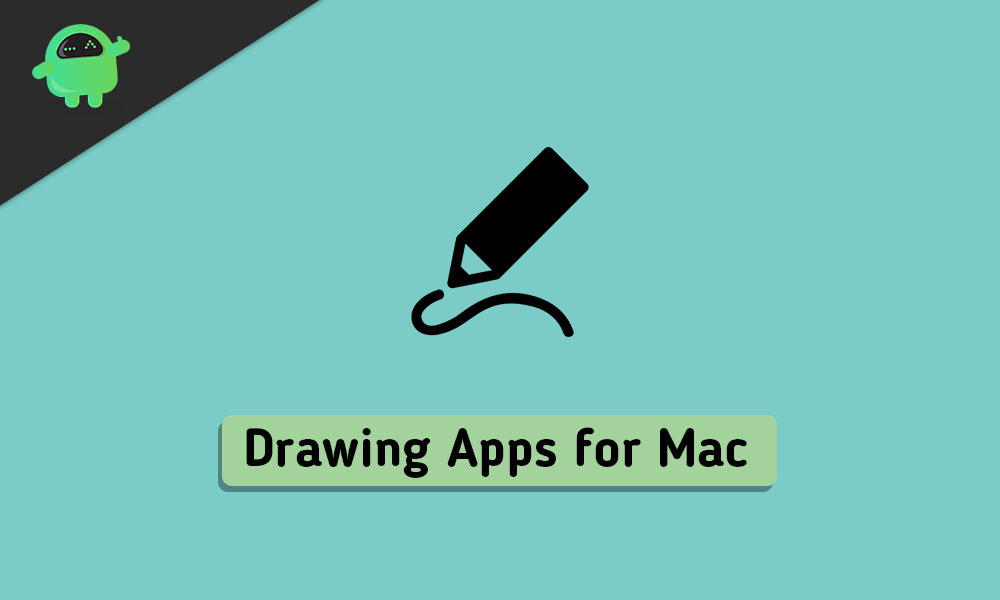 Choosing a good drawing app might be quite easy in today's world since there are dozens and dozens of free as well as paid services that help aid your creative work. However, with so many options out there, it is essential for you to pick the right one and stick to it. We recommend this because once you start using a complicated drawing software and get familiar with it, you will find it insanely difficult to switch to another app and relearn everything from scratch. This is why we have compiled a list of some of the best free drawing apps for Mac that you must check out in 2020!
Best Free Drawing Apps For Mac
All of the apps mentioned below have been tried and tested by yours truly, and I recommend only those apps or programs that provide a fulfilling user experience. As far as availability goes, most of the apps we've mentioned below are free, to begin with, but run on a freemium basis which means users can opt into buying the premium versions which unlock a whole lot of other cool features. Overall, if you don't plan on spending any money on any drawing apps for Mac, you can still enjoy most of the listings here too! With that being said, let's take a look at our top picks!
#1 – FireAlpaca
The first one on our list also happens to be one of the most simple drawing apps for Mac out there. If you own an aged Macbook or an older Mac computer that might not necessarily be able to cope up with the more powerful drawing Softwares out there, this one is a perfect choice for you. FireAlpaca has been tailor-made for people lowballing on entry-level equipment, such as most beginners looking to kick start their artist careers. When it comes to the features, you still get most of the important ones such as different brushes and strokes. However, if you wanted something a little more advance than this, we recommend you look for any other drawing app on this list. You can grab FireAlpaca for free for your macOS device by following the link given below :
Download FireAlpaca
#2 – Krita
Up next is a drawing software that most comic artists will appreciate a lot. Krita is a very powerful drawing cum editing tool that will breathe new life into your artwork. What makes Krita even better is the fact that you can fully customize the UI to your own accord. This means you could basically have your own version of the drawing software which suits your needs the best. When it comes to the drawing tools, almost everything has been designed by keeping comic artists in mind, although you could still draw illustrations if you really wanted to. Krita is also available for free if you are a Windows or Linux user, making it one of the better-known drawing software out there. Furthermore, you can also follow the free tutorials and tips on their official website if you are a novice in digital art. You can grab Krita for free for your macOS device by following the link given below :
Download Krita
#3 – MediBang Paint
Similar to Krita, MediBang Paint also has options that are geared towards the likes of a comic artist instead of a more general digital artist. However, drawing illustrations and other sketches with this isn't as difficult as it might seem. If you are a comic artist, however, you will fully appreciate everything that MediBang Paint has to offer. You gain access to 50 different brushes, and over 800 different backdrops to suit your artwork the best. Probably my favorite part about MediBang Paint is the cloud sync integration that it has. This means you can start your drawing on your Macbook or computer, save it, and later continue drawing it on your iPad or iPhone. That is a really convenient feature to have, if you are always on the go but cannot afford to skimp out on your work either. You can grab MediBang Paint for free for your macOS device by following the link given below :
Download MediBang Paint
#4 – Inkscape
If you were on the lookout for a replacement to Adobe Illustrator, then Inkscape is your best bet. With this free drawing software in hand, you can start designing and editing your own vector arts in no time. What makes this even better is the fact that it is extremely rich when it comes to the feature set, and also has a user interface quite similar to that of Adobe's suite of apps. You can expect all the functionality of a vector creating tool such as being able to create nodes, use path conversion, and more with Inkscape. So if you are a graphic or web designer who has been on the search for a good companion app to suit your vector needs, this is the best option out there. You can grab Inkscape for free for your macOS device by following the link given below :
Download Inkscape
#5 – Autodesk Sketchbook
Ending our list of some of the best free drawing apps for Mac in 2020, we have Autodesk Sketchbook. It is by far one of the most powerful drawing software that you can use for free and has been recommended by all professionals alike. When it comes to the editing tools, you have access to anything imaginable, such as 140+ brushes, a proper layering system, and multiple blending modes. The user interface of Autodesk Sketchbook is also something to applaud for since it manages to pack in all these powerful features while still looking good. Even though Autodesk Sketchbook is free of cost, we would only recommend it to people who have a bit of experience when it comes to the digital artwork. You can grab Autodesk Sketchbook for free for your macOS device by following the link given below :
Download Autodesk Sketchbook
That's all folks! We hope you enjoyed our roundup of some of the best free drawing apps for Mac to try out in 2020! Which one among the list is your favourite, and how many of these drawing apps for Mac have you already known or have been using? Know other good services that allow you to complement the art skills that you feel people might find interesting? Do let us know in the comments section below, we'd be delighted to hear from you guys!