Instagram is one of the best social media messaging apps. The app is widely used by users because of the features that Instagram is offering. Most of the users use this for posting content, and videos and making new friends, and getting fame. Instagram is working on both content and connectivity between users. So, because of it, the app is being used for both communicating with people and sharing our thoughts & information on it. Instagram has tried its best in making the app easier to use for users. So, that's why the users are scrolling through the app for the whole day for new content. At first, there was not much content on the app as the users were getting to see only the posts of the person that they follow.
But, now Reels have been introduced for it. The Reels are short content videos with limitations of 15, 30, and 60 seconds. So, in the reels section, you will get to see the reels from all the account which is not private. We also get other features like video calling, explore, reels tab, Live, and much more. A lot of people are posting great content on Instagram as well as doing some performances which are great on Insta Live. You also might have thought to download those Insta Live Videos because the content/information which is provided in them is loved by you.
But, you might know that Instagram does not allows you to download videos to your storage. You can save the post which will be stored in a particular section called "saved" but we know that you don't want that. So, to resolve this problem. We are here with the Live Video Downloaders for Instagram.
Best Instagram Live Video Downloaders
So, we are here with the best Instagram Live Video downloaders through which you will be able to download the Insta Live Videos. Therefore, check out the apps below.
InstaDownloader
InstaDownloader is one of the best Instagram Live Video Downloaders that you can use, to locally save the video on your device. It is very easy to use and comes with a simple user interface. Through it, you will be able to download any kind of posts, videos, reels, and live videos from Instagram.

You can simply use this to download the live-streamed video which has been finished by the creator. Also, even you don't have to register for an account. So, you only have to do is to go on their website. Now, copy the link of the Live Video that you have to download and then paste the link there. After it, the download will start.
Video Downloader For IG

Video Downloader For IG is another way for downloading Intsa Live Videos. It is an android app that you can easily install on your android phone and then try downloading the Insta Live Videos. The app lets you download Insta Posts, and Videos very easily. Also, the benefit of using this app is that it provides a much faster speed than other Instagram Live Video Downloaders. You will be also able to save the story of the users without letting them know.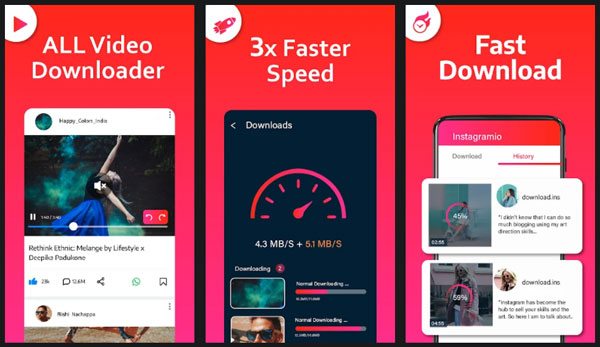 The app comes with a great UI and it is highly responsive on all Android Phones. It will be a good choice for those who regularly download posts and videos from Instagram. It also has some other features such as a collage maker and a hashtag generator that might also help you if you share posts regularly or if you are a creator.
KeepPost
KeepPost is another website that will let you download photos, videos, reels, as well as live videos from Instagram. The KeepPost comes with a simple design and it has no ads which makes its user interface useful for the users. You might have seen that a lot of online tools come with a lot of ads which makes them bulky. And, as we have told you that it has no ad policy then it will be great for the users who don't like ads.
The website has a very simple layout and comes with an address bar only where you have to paste the link to download the content. So, copy the link of any post from Instagram and paste that onto the address bar. After it, download it in HD quality.
Inflact
Inflact is another great way to download any kind of content which you find on Instagram. It includes photos, videos, reels, live videos, and even the profile picture of users. It comes with a very clean user interface with no annoying popups or ads. You can easily access the website of Inflact on any device without any barrier of platforms.

The Inflact is similar to other Insta Live Video downloaders. You just have to copy the URL of the post, video, reel, or live video which you want to download and paste it into the address bar. The website also allows you to bulk download a bunch of posts or live videos at once. It also comes with some great features. But, you have to pay for it. Also, you can use this website to download Facebook, Twitter, and TikTok posts, videos, and much more.
DownloadGram
DownloadGram is another website that can be used for downloading Instagram Live Videos, Posts, Videos, Reels, and much more. It is very much simple and comes with an easy-to-use user interface. The website is easily accessible by any device whether it is iOS or Android, macOS or Windows. You can use any platform to access it.

The DownloadGram comes with a minimal user interface where you just have to paste the link of the Instagram posts, videos, live videos, or whatever type of content you want to download. And, after it, you will be able to download it. You will also notice that it is very much simple to KeepPost. Also, there is a catch, KeepPost is hosted on the DownloadGram. So, we can say that both tools work similarly.
Conclusion
So, in this article, we have discussed the solution to the problem that you are not able to download the posts, videos, live videos, reels, and much more that are being posted on Instagram and which you like more. Therefore, we have listed the Best Instagram Live Video Downloaders through which you will be easily able to download the content from Instagram. Also, the apps that we have mentioned are based on different checks and we hope that you will not face any errors while downloading. So, if you have downloaded the Live Videos through any other website or app, then do share them with us in the comment section.