The pickaxe is a cosmetic item of Fortnite, and it is tough to imagine Fortnite without it. But players don't like to use the same looking pickaxe every time. And so we have skins, and there are quite a bunch of options when it comes to skins of Pickaxe in Fortnite.
You might need a pickaxe skin that goes well with your outfit, or one that looks cool overall. So how do you which one is best for your taste? To make it easier, we have compiled this article where we have listed the top ten pickaxe skins that will surely pique your interest. If you are looking for a new skin, you might find one here that best meets your needs.
Top Pickaxe skins on Fornite: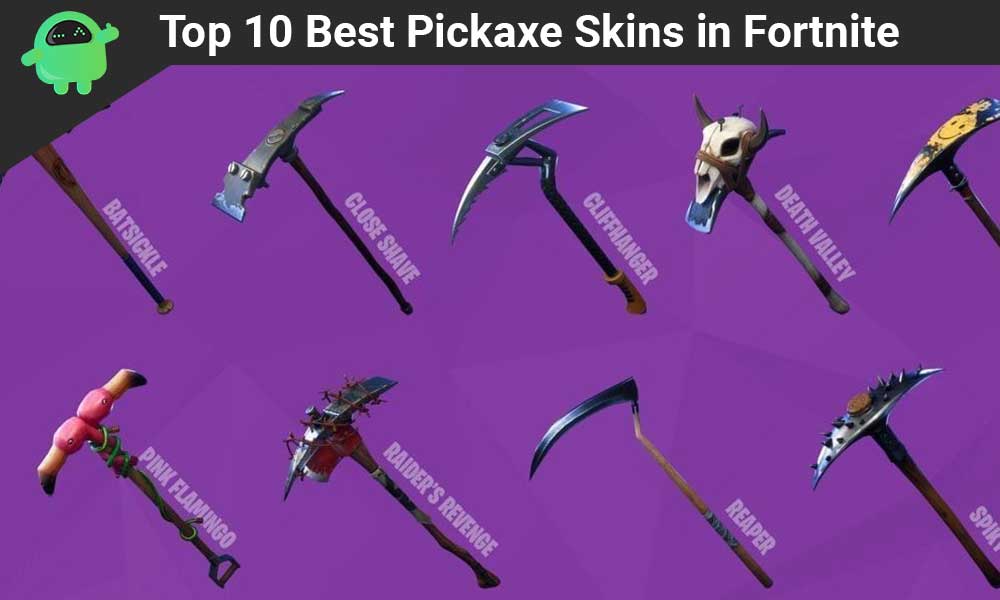 Reaper: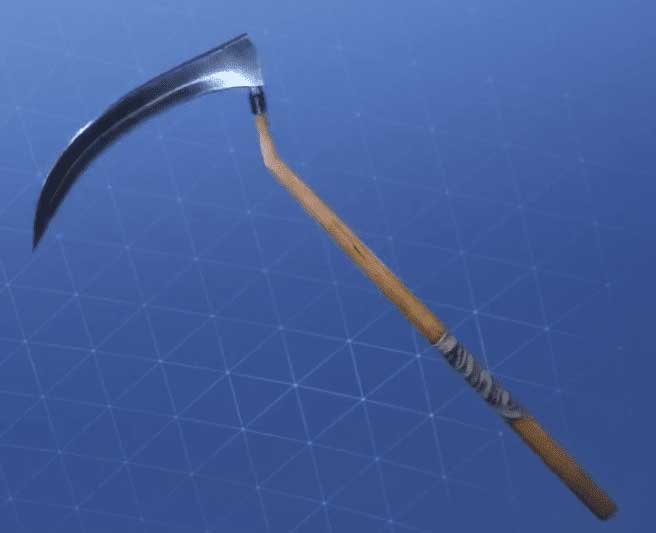 Just as the name suggests, this skin refers to the Grim Reaper's Scythe. This is a rare skin in Fortnite and something that everyone wants to get their hands on. Whenever this skin is pushed out by the developers, there is a notification from Fortnite which says that the Reaper is back. It does not look fancy and lavish like most other skins but maintains a more subtle and classy look overall. The minimalist design with almost silent sound when you swing it makes it a delight to use to chop down trees, walls, and even enemies in the game.
Skull Sickle: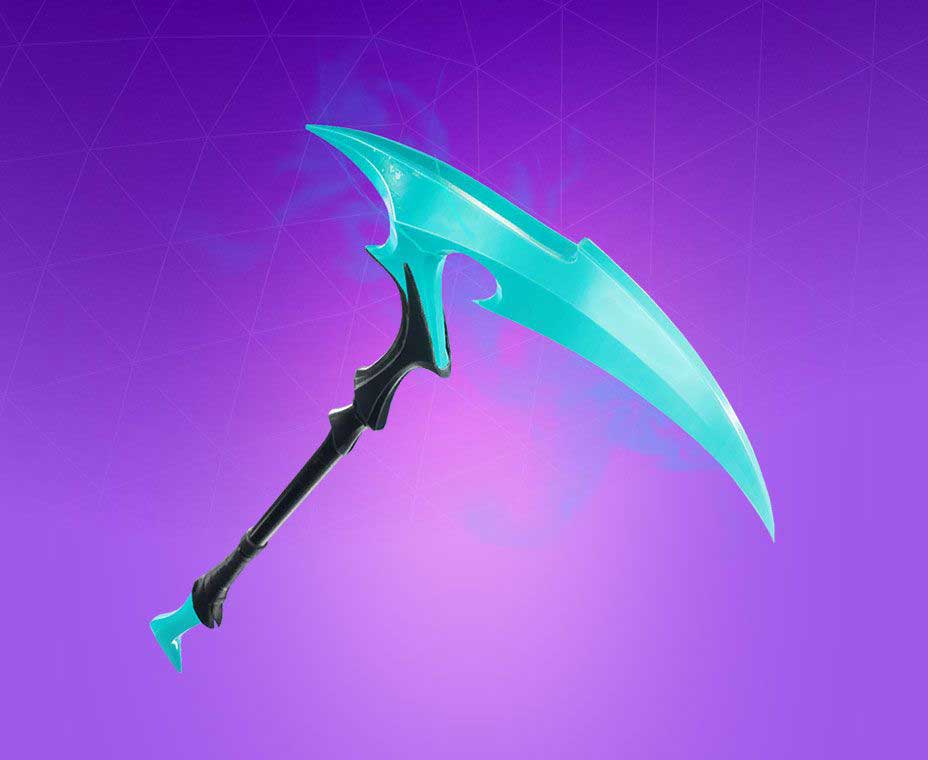 This is a Halloween themed skin of pickaxe that was launched somewhat a year later after we saw the Reaper skin for the first time. It has three color options in total, but whichever color you pick up, you will be satisfied. The modernized look with a pleasing sound when you swing it makes it worthy of being included in the list of top ten skins.
Candy Axe: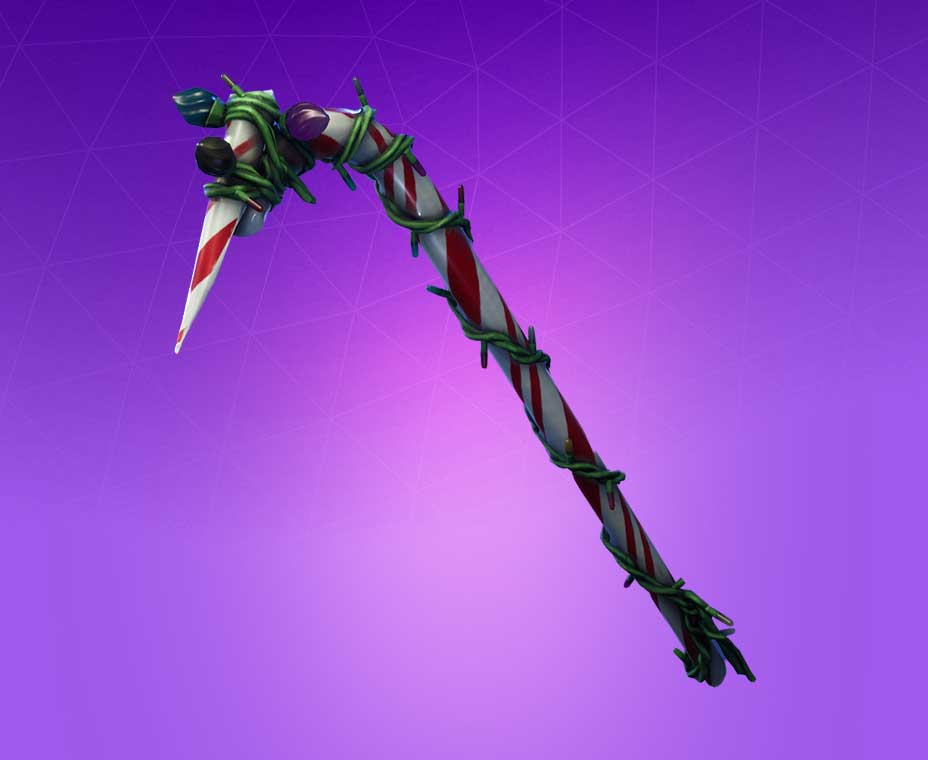 This is a skin we see mostly in the store during the holiday times. A lot of players even fancy using these during the Christmas season. It looks like a big candy with a pointy tip and Christmas lights all wrapped around it. This is one of the first reactive cosmetics in Fortnite, and as a result, the light glows more and more as you get more eliminations. This makes this a must-have skin for the holiday season.
Stellar Axe: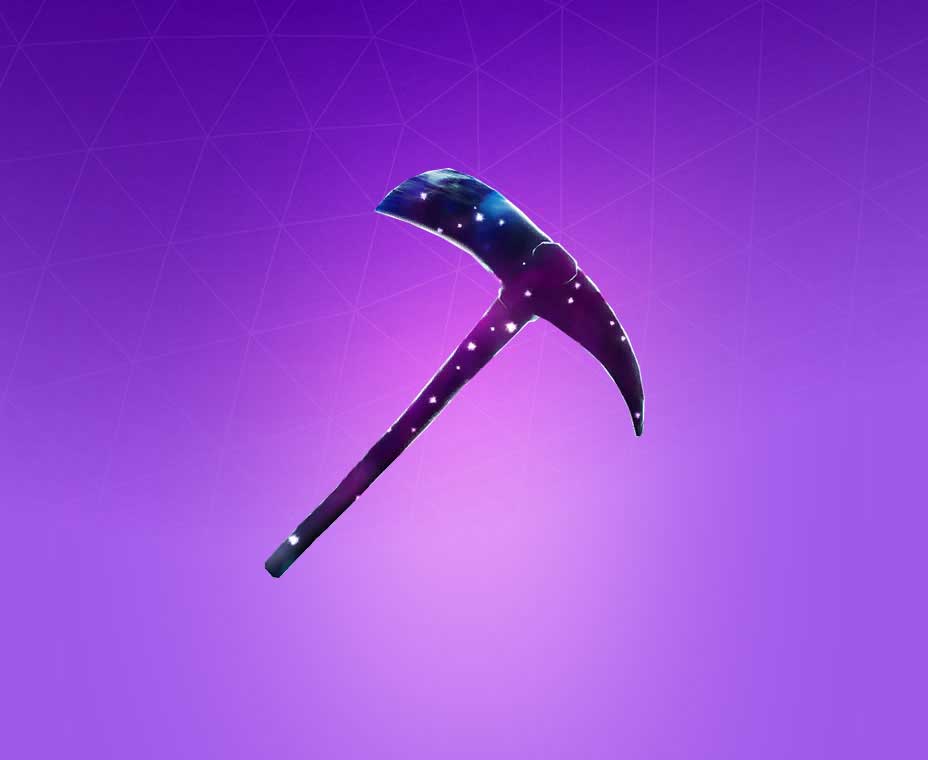 This skin takes things further when it comes to glowing. It comes with a galaxy like design with stars and dark blue shade all around indicating the universe. It will surely catch the eyes of many when you are in the lobby with the sparkling design all around. Overall the swinging sound is also quite pleasing.
Bitemark: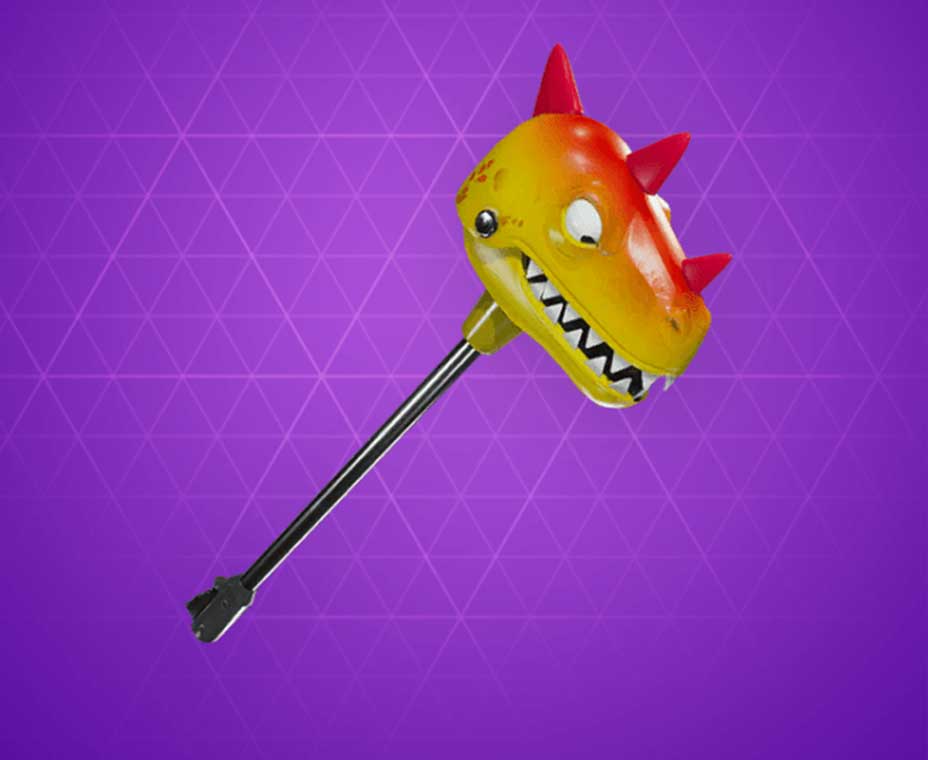 This skin was an instant hit when it made a debut in 2018 along with the entire set of Dino Guard. The design is unique with a dinosaur-like head on the top side of the pickaxe. There have also been several third-party adaptations to this skin, which speaks for its popularity in the community.
Crimson Scythe: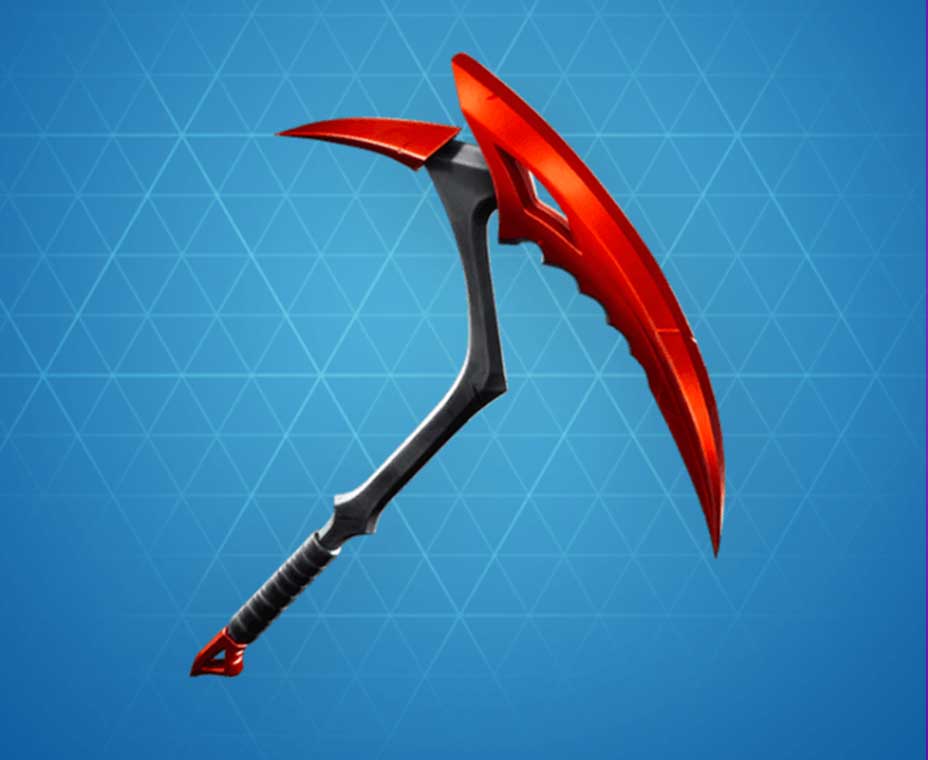 Similar to the design we see on the Reaper, the Crimson Scythe looks quite the killer. The name comes from the design that the top part of the scythe is crimson while the handle maintains a classy metal black like color. The swinging sound here is also quite quick and pleasing overall. This skin for the pickaxe can be acquired by purchasing the Inferno's Challenge Pack that was added to the store in 2019.
AC/DC: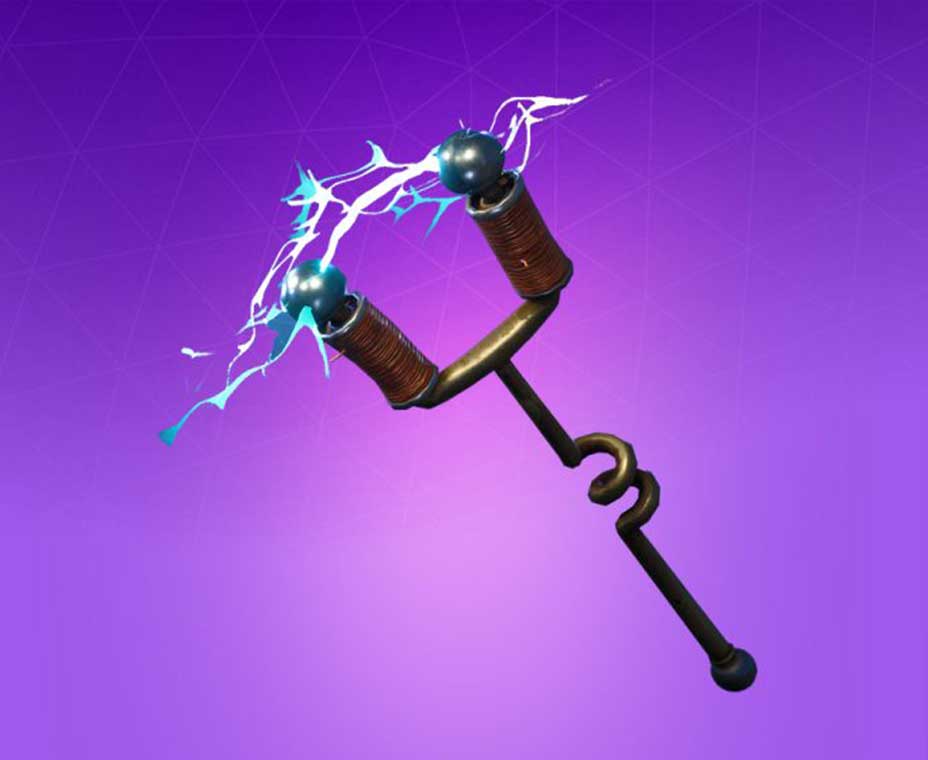 This is easily one of the earliest and rarest skins of a pickaxe that we have on Fortnite. The top end of the pickaxe resembles the design of two-tesla coils with electrical effects running all around. The sound it makes resembles what we are used to hearing from electrical pulses.
Rainbow Smash: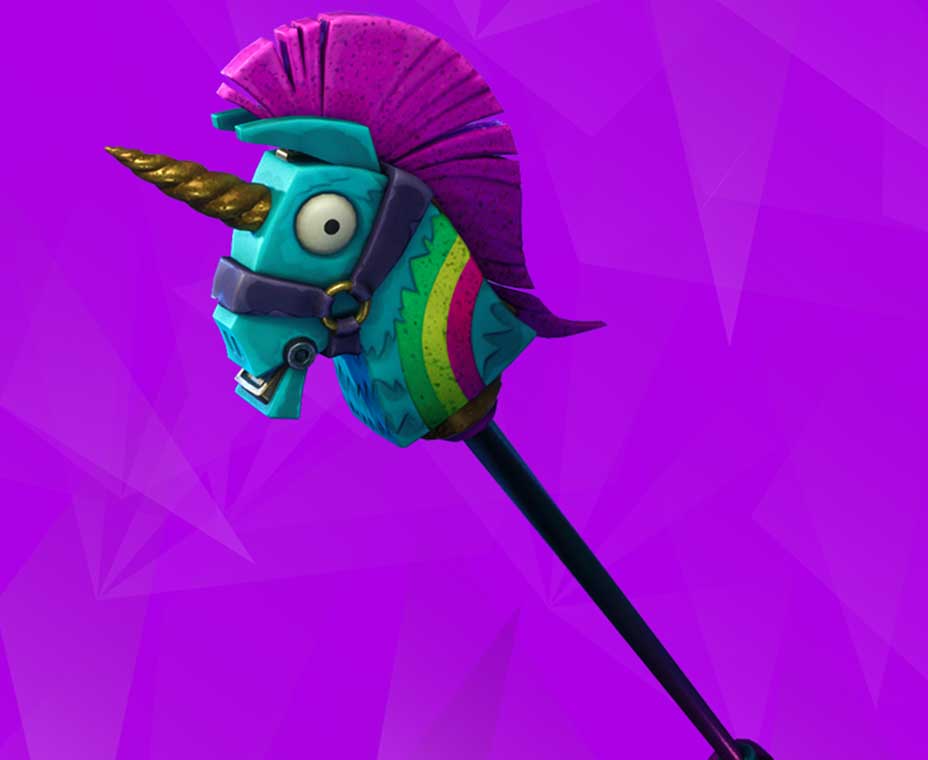 The most used pickaxe skin used by streamers online to date is still the Rainbow Smash. The design is unique with a unique head like structure at the top with the rest of the body with a rainbow-like design. Every time you score a pickaxe kill on this skin, the pickaxe lights up, adding an extra bit of satisfaction to the recent kill. However, if you are into cosplay, then this skin would be an excellent addition to have in the game as one can try a bunch of different outfits with this rainbow-themed pickaxe.
Vision: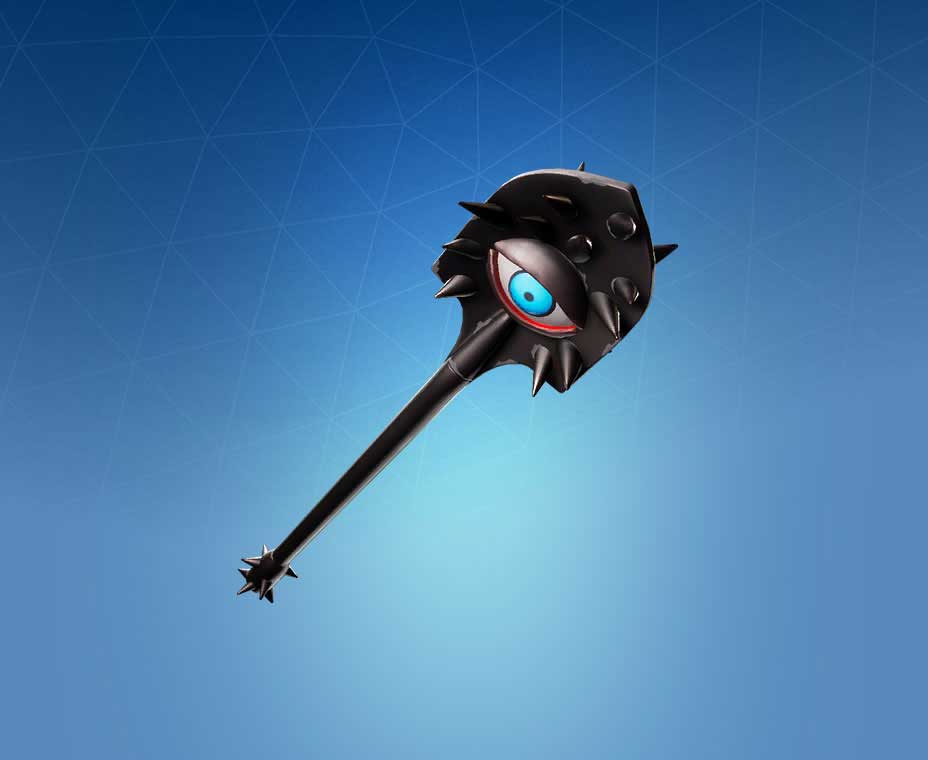 Spookiest looking of the bunch is the Vision pickaxe skin. It seems more like a shovel, though, and less like a pickaxe. The spooky thing about it is that there is an eye in the center of the shovel's head. Players have reported that the eye is closed when someone swings it, and it becomes dizzy when a player continuously swings it. It comes and goes from the store from time to time, so you might have to be a bit patient if you are looking for spooky skin like this.
Trusty No 2: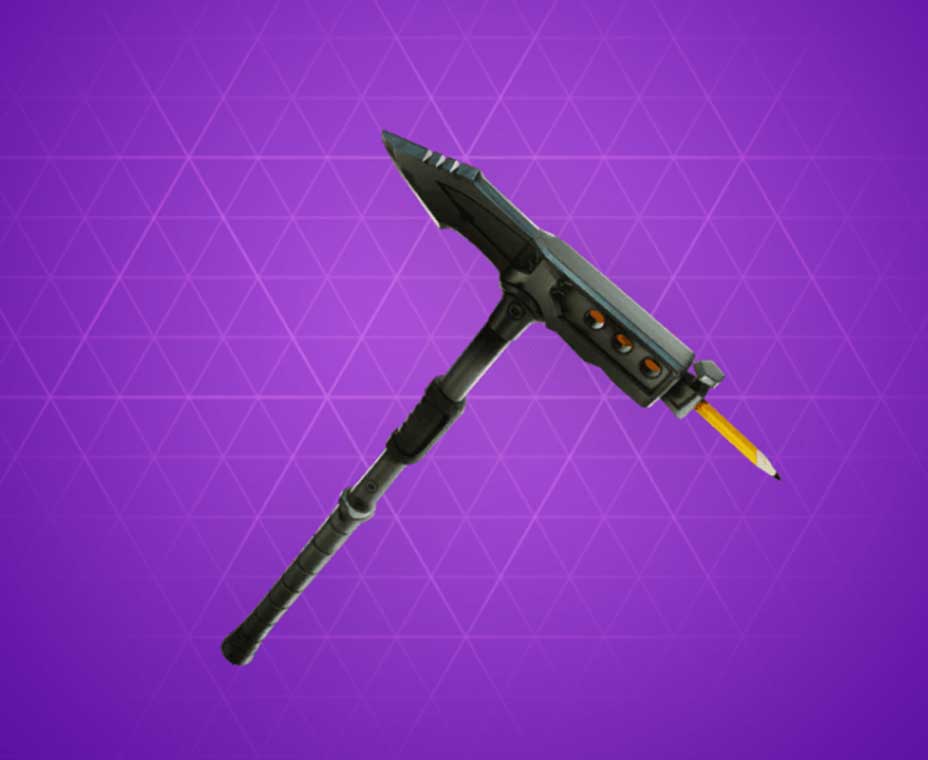 This is unique looking skin for sure. At one end of the head of the pickaxe, we get a swiss knife-like design. Attached to the back of that knife is a pencil, which makes the other end of the head of the pickaxe. Weird and different for sure, but the overall small form factor and quiet noise while swinging makes it easily one of the best skins out there. The overall black color of the skin makes it a real minimalist overall.
So there you have it, a list of top ten Pickaxe skins we see in Fortnite. This list is in no order, as it is challenging just to pick one winner. Different people have different tastes when it comes to design, but the overall list mentioned here surely has an option for everyone. If you have any queries, then comment down below and let us know. Also, check out our other articles on iPhone Tips and Tricks, PC tips and tricks, Android Tips and Tricks, and much more for more useful information.