Spotify is a piece of widely used music app streaming service to use on Apple and Android devices around the globe. Where it comes with certain unique features, one of those is Animation Video background. The Spotify music video turned on by default and played a featured Music video animation in a loop, it seems quite interesting, but some users did not like this feature. However, Spotify features an Animation music video known as Canvas offers you a short video that plays in a loop on track.
Users complain about this feature because they were facing difficulty finding music control quickly. Not to mention, it consumes some amount of internet and affects battery. Today we are going to teach you how you can disable Spotify music playing video on song tracks on your iPhone and iPad. Meanwhile, While your Video animation is on the controls hide automatically to the bottom makes it difficult to control your music such as Pause and Play quickly.
Also Read: Latest iOS 15 update causes Spotify Background Playback issues
Why do you see a video while playing music on Spotify?
It is a modern type of music cover art used to display on your screen instead of using an everyday Cover art is replaced by a small animation video, which plays when you were playing a video. As if not, it was only available for the mobile platform, including Android and iOS devices. Whereas, the animation video orientation is on Portrait, not in Landscape. Furthermore, The Canvas used in those music videos was designed by the artist of their music.
Spotify claims it well-optimized its software to consume little battery and very little data while playing canvas. Spotify was on their initial stage of creating a portrait, and they confirm that they added canvas every data means the Canvas feature is going to optimize more in the future.
How to Turn off Spotify Canvas Background videos on iOS
It is quite easy to turn off the Canvas using a toggle in the setting's menu.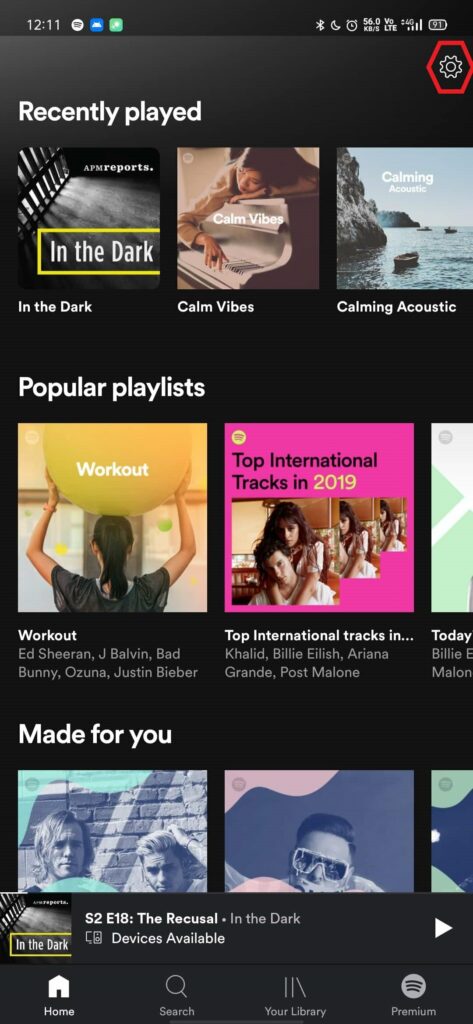 First, you have to open the "Spotify" app on your iPhone or iPad.
Then click on the "Settings."
(Placed on the top-right corner of the screen.)
Then, The setting menu opens.
Scroll and find out the "Canvas" menu.
Now, Toggle to turn off the "Canvas" to disable animation video album.
That's it, Next time it would not appear on the Spotify app.
Moreover, Music animation video does not come with every single album. Even, You can't disable the videos on playlists.
How to Disable Spotify Canvas Background videos on Android?
The steps were quite similar to the iOS app, but it's having additional steps in the settings.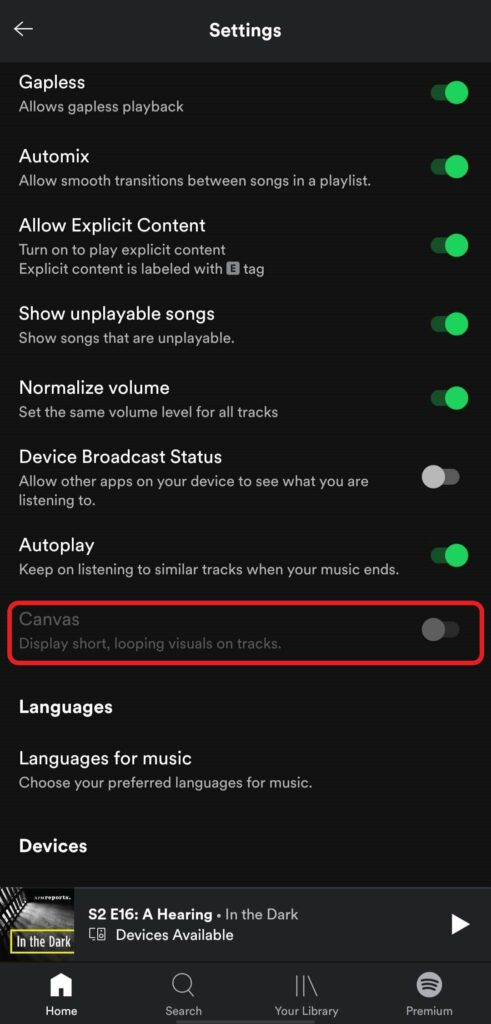 Open the "Spotify" app on your Android device.
Then, Tap on the "Setting" placed on the upper right corner of the device.
Scroll down and click on the "Playback" from settings.
Now, choose the "Canvas settings" and then toggle to turn off.
(Which disable the short animation video played on song tracks.)
That's it, and Now only the music album art appears on display.
Note: The Music album art of the song still shown as usual, but its worth it because it consumes less space and data on your mobile.
Re-enable Spotify Canvas music video.
You can still enable if you later want to allow the Canvas feature, then you have to follow the same step. In the end, you can toggle to turn on the Spotify Canvas. Even you can turn off the "Behind the Lyrics" feature based on your preference on Spotify setting.
What fo do if you are Unable to Turn off Canvas?
Reportedly, Some users having a problem to disable the Canvas feature but it again on automatically.
It might be because Spotify's latest app comes with minor crashes and bugs, suggesting wait for some time to receive the next update, or you can re-install the app. Then again, install the app and later try again. Additionally, the Spotify Canvas feature is a premium feature if you have not purchased the premium, then you didn't need to do anything.
Hopefully, You can continue with your music without any videos playing Spotify music, and this article helps you to disable the Spotify animation video on loop. We assume that you successfully disable the Spotify music video feature on your device. Share your opinion, if any queries then let us know in the comment section down below.