Apparently, many iPhone users are reporting issues where they are not able to activate their new iPhone or ar after-sales iPhone. There are many sich issues reported after the release of iOS 11 and further. Because of this new issue, you may fail while activating and will see an error code saying -"Could not activate iPhone error." This usually happens with an old iPhone, but the same can be seen on newer models on the iPhone as well. So if you're experiencing the iPhone activation error, then you're not alone! The great news is that it can be fixed with a little troubleshooting. Today we will help you troubleshoot and how to fix iPhone activation error or could not activate error.
iPhone forcing activation page and receiving activation error from applehelp
iPhone is not activated – I keep getting this error after every few days. When it happens I have to restart to get cell signals back. I don't know what's wrong. from ios
Although there are many reasons why you might face the iPhone activation error, we will list them one by one and give your fixing methods for them. Luckily there are numerous fixes which you can follow to fix the iPhone Activation error easily. The most easiest way to check up your internet connection. As the iPhone activation service is connected with internet services. So a weak or unsecured internet connection might cause this issue. Overall, Apple gives OTA updates to fix such minor software issues from time to time. So be sure to check the updates section of your iPhone. There are more troubleshooting methods to help you fix iPhone could not Activate error.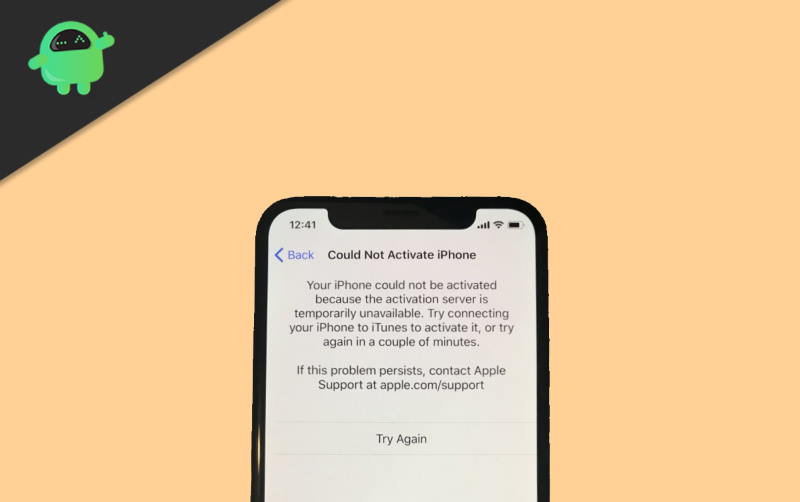 Why does the iPhone Activation Error occur?
It can be pretty stressful while you are trying to set up your iOS device, and it shows you an error. However, you must not lose your mind and try to tackle the issue calmly. The main reasons for the iPhone activation errors are:
The activation server might be down
Your carrier may be experiencing issues such as low data speed.
Activation Lock is set, or Activation couldn't be completed
SIM card might not be supported, or your wireless carrier has an invalid plan.
iTunes Couldn't Verify Your iPhone.
If you are facing and Activation error, then I'm sure it is for one of these reasons. You can always go to Apple's page for support and help. If you are not confident to deal with the issue on your own.
How to Fix iPhone Activation Error or Could Not Activate Error
There is no exact specific method to resolve the Activation Error issue, but there are helpful tips that, most of the time, resolve the error. You can always do your own research or contact someone from Apple to help you. But if you wanna do things by yourself that follow the following steps to troubleshoot and fix iPhone Activation Error or Could Not Activate Error.
Check the Apple System Status Page
To find a quick solution to resolve the activation error on your ios device, the first thing you should do is to open your browser and check the Apple System Status Page. You will quickly know whether or not Apple's service is experiencing downtime or not. Sometimes due to technical issues and heavy traffic, the Server of Apple goes down, which plays a vital role in activating your iOS devices.
To figure out the exact situation, check that the box on the left of iOS Device Activation is green or not. If it's not green, then the Server is down in which cases you will have to wait for some time, then you can try activating your device again.
Restart your iPhone
It is a very simple and effective way to troubleshoot your iOS devices if the other methods don't work; give this a try.
Press and hold both the sleep/wake button and the volume button. Slide to Power Off. This will require your Face ID. To switch on the phone, press and hold the sleep/wake button. You can Switch off the phone without the requirement of your face id. Press and hold the sleep/wake button and then slide to power off. To turn on the phone, hold down the sleep/wake button.
Remove the SIM Card and insert it again
Sometimes you can get no SIM Card error during the activation process. So to fix this first switch off your phone and then take out your SIM card and insert it again. Double Check if the card is inserted Correctly and Switch on the device and make sure that you have an active plan of Wireless carrier.
If this Doesn't resolve your problem, then contact Apple's customer care because this might be your Mobile hardware problem, or your SIM card is damaged.
Ensure that your iPhone is not Locked to a Mobile Network
You won't be able to activate your iPhone if your device is Locked into a mobile network. You should contact your mobile carrier to enquire about it. If it's locked, you can take the help of the mobile network's websites to unlock it. If your device is locked to a mobile network, you cant get rid of sprint activation error or iPhone activation error.
Check your Cellular or Wi-Fi Network
iOS devices need a strong and reliable network during the activation process. If you have a sloppy Network, you will have an error. So during the activation process connect to a reliable, fast wireless network
Ensure that the Owner of the iPhone Has Removed Activation Lock
For those unfamiliar people, Activation Lock prevents anyone from using your device its a part of Find My iPhone. So make sure the owner has removed the Activation Lock.
If the Activation Locked is not removed, then you should contact the owner and ask him/her to disable the lock. Apple allows to deactivate the lock through iCloud, so it shouldn't be a big deal.
Activate your iPhone using iTunes
iTunes is an Apple Cloud-based Music Streaming app. Make sure you have iTunes updated to its latest version on your macOS and follow the steps given below.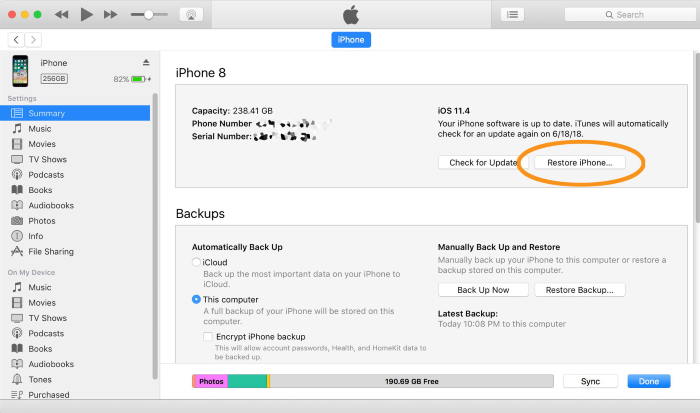 Switch off your iPhone and connect the iOS device to your computer. After connecting your device, turn on the iPhone and launch iTunes/Finder.
Now your device will appear in the top-left of the windows in iTunes. Select your device.
A popup will appear asking you to Activate your iPhone. You need to login to your Apple account using your apple id and password. After login, your phone will be activated.
Recovery Mode to Restore your iPhone
Restoring your iPhone using recovery mode will fix the most stubborn issues when nothing works. This is the last option. Follow the following steps given below to re
Connect your iPhone to the computer and launch Finder if you are using a mac. If you are using windows, then launch iTunes.
Press and hold Sleep/Wake and the Home button to put the iPhone into Recovery Mode. Keep holding the buttons after the iPhone restarts and until you see the Apple Recovery logo.
Locate your iPhone on your computer and click on Restore iPhone. After that, click on Restore/Update as per your need and then let the iTunes/Finder do the job for you.
Conclusion
Facing the iPhone could not activate is a major issue users face. If you are not able to activate your iPhone, then you can't use many of their services such as iMessage, facetime, and iCloud. All of these services are very much essential for your iPhone to function. So, fix the iPhone activation error by following these troubleshooting tips given above. And in case you find any difficulty following them, comment down below. Our technical team will give you the necessary support and guidance, fixing the issue immediately.