When you have updated your iPhone or iPad and connect it to your desktop, you get a message, "Trust this Computer," then you usually press Trust, and the device connects and starts charging. But we have brought this article because many 0f the users complain that whenever they connect even to a trusted desktop, this message pops up. And if this is the case with you or your friend. You're in the right place. So, let's get started.
Why do you see "Trust This Computer" Every Time?
One of the most common issues of iPhone users is that they see a "Trust This Computer" notification every time they connect. Even if they have marked the computer as trusted, even then it continues popping. You can take it as both good and bad. Good in the sense that also, if someone else is using your computer, they cannot do anything. And the bad in this sense that every time you're getting this irritating notification. So today, we will learn how to irradicate this issue on iPhones and iPads.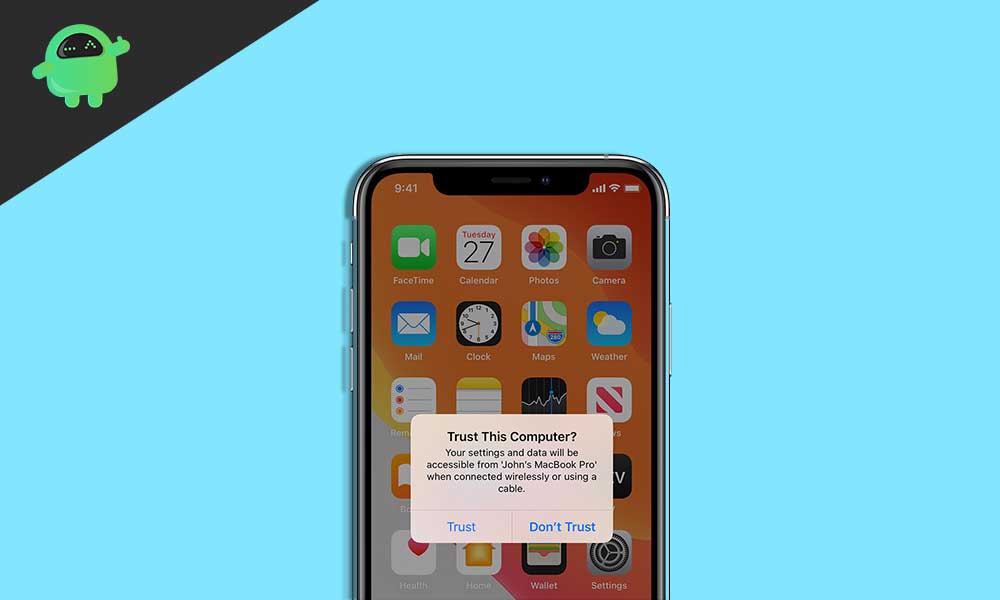 If the message "Trust This Computer" continues in a loop while connecting the same device, keep reading.
How to Disable "Trust This Computer" Message on iPhone and iPad
Now we will discuss how to disable this "Trust This Computer" notification every time you get while connecting. Well, before going to that, we want to say that you first go and check that you are using the authentic cable that was provided with the iPhone or iPad because, without that, these tricks won't work.
1. Update iTunes
Although it is not an exact solution to this problem, in most of the cases we have seen that updating iTunes solves this error. If you are using a Windows PC, go and check for updates if available and update as per the requirement of the system. You will probably come up with this problem. If you're running a Windows device, you must notice that when an iPhone is connected, the popup helper comes into play. And if not, then probably there is a problem with your Windows device. Try reinstalling the iTunes helper and try again.
2. Reset Trust Settings
Resetting the Trust setting on your iPhone or iPad device solves this issue permanently. To reset, follow the steps below.
Step 1: Open Settings on your iPhone.
Step 2: Click on General and scroll down to Reset and click.
Step 3: After that, select Reset Location and Privacy, it will ask for a passcode. Enter it.
Step 4: Tap on Reset Settings.
Resetting the settings mentioned above will reset all the devices with which you've previously connected. So after connecting o your device, you will see the notification of Trust This Computer once more but not after that. You may surely try this as we found out to be the best solution.
3. Disabling Apple Device
This setting will permanently disable the "Trust This Computer" alert. But it has a twist to it. It will stop the sync procedure of the iPhone or iPad with your PC. If you're comfortable doing this, then follow the steps below carefully.
Step 1: Connect the iPhone to your computer.
Step 2: Open "control panel" and move to "hardware and sounds."
Step 3: Right-click on your iPhone and select properties.
Step 4: Head to the hardware tab and check the box "disable."
The problem with this is that it will disable sync or data transfer, although it will charge your device. If this is the thing, you want you can do it.
4. Check Mobile Hotspot
If the hotspot on your iPhone or iPad is turned on, it can also cause this problem every time. This is due to the fact that whenever you connect your iPhone with your computer and the hotspot is on, and it thinks that the computer is requesting for hotspot over the cable connection. So if this is the reason, you can disable your hotspot and try connecting your device. We have actually seen this problem a couple of times. The problem will be sorted out.
About "Trust This Computer"
The "Trust This Computer" is an Apple exclusive feature. It is really helpful in this modern world. Whenever users try connecting their iPhones or iPad, they result in connection problems, and this is probably the reason behind. IF you are facing the same issue, we hope our article has seriously helped you. This is because there were the only reasons that may cause connection issues with your iPhones. And no other problems are there due to their secured environment.